Guardians of the Heart
(Secrets on Sterling Street, #2)
by Loree Lough
Historical Romance
Paperback & ebook, 272 pages
August 3rd 2015 by Whitaker House

Nell Holstrom wanted no part of her grandfather's barren gold mine that had taken the lives of her mother, father, and younger brother; even if there may still be hidden wealth inside. Instead, she went to Denver and took a job as housekeeper at the old Stone Hill Inn.
Asa Stone was barely more than a boy when his father dragged him and his brothers to fight with Colonel John Chivington. But Asa refused to participate in the raid on the peaceful Cheyenne and Arapahoe; and when the smoke cleared, his father and brother lay among the slaughtered. Besieged by guilt, Asa wandered the West for years before returning to Denver to rebuild the old inn he'd inherited.
Together, Nell and Asa work hard to restore Stone Hill. But when disaster hits the inn, Asa retreats into despair and Nell is forced to return to her family's mine. Asa faces the hard fact: He'll never be the man Nell deserves. Can he overcome the dark secrets of his past? And will Nell still love him when she learns the truth?
The First Book in the Series
Currency of the Heart
(Secrets on Sterling Street, #1)
by Loree Lough
Historical Romance
Paperback & ebook, 256 pages
January 1st 2015 by Whitaker House

Young widow Shaina Sterling hates living a lie. Desperate to keep bill collectors from the door, she secretly sells valuable possessions piece by piece, and hopes Denver's elite never discover that his lavish lifestyle left her a near pauper.
She's unaware that as her husband lay dying, successful rancher Sloan Remington made him a promise. And Sloan guards her secrets as carefully as he looks after her safety.
When fire devours Sterling Hall, leaving her homeless and penniless, he brings her to Remington Ranch to manage his household. His kindness makes Shaina beholden to him … and threatens to expose the secret that could destroy him.
Will trials and tragedies bring Sloan and Shaina together?
Or will secrets—and the cost of exposing them—drive them apart forever?
Amazon – Barnes & Noble – Book Depository
A "Just for You" short story to enjoy
A Promise to Jake by Loree Lough
When a mysterious package arrives shortly before Christmas, a wealthy author is                            forced to remember what's truly important about the holy day…and about life.
PART 1
Cradling the phone between chin and shoulder, Homer O'Tuathail used one hand to tear a speaking invitation from the fax and deleted an e-mail message with the other. "Hold on, Bobby," he muttered into the mouthpiece, "now the doorbell is ringing."
"You have a portable phone…you walk, I'll talk."
Chuckling, Homer shoved back from the desk and headed for the foyer. "Better be careful, 'cause you know what they say…."
"What who says?"
"The sages. The powers that be. The wise men: 'All work and no play turns nice-guy literary agents into slave drivers.'"
"If I was a nice guy, who'd whip you into shape?" Bobby asked, laughing. "So who has the audacity to ring your bell at the dinner hour?"
Homer opened the door in time to see the brown delivery truck pulling away from the circular drive. Retrieving a small package from the marble bench beside the door. "Sticker on the front says "'Do Not Open Until Christmas.'"
Bobby sighed. "Presents come from out of the blue to the man who already has everything."
Homer snorted good-naturedly and headed inside. "Yeah. Right. Everything…except time." He kicked the door shut and read "Knoxville" on the return address label. Who did he know in Tennessee? Jake Donnelly used to live near Gatlinburg, but last Homer heard, he'd moved to Dallas.
Jake.
No matter how many months passed between conversations, Jake, with his slow southern drawl and feet-on-the-ground logic, was an island of sanity in Homer's frenetic world. How long since they'd last talked? Five years? Six? Lately, it seemed his life had spun out of control. Maybe all he needed was a 'Jake fix' to get a handle on things. Homer made a mental note to give his old pal a call, soon as Bobby hung up.
"So what's in the box?"
Homer gave it a cursory glance. "Don't know. Don't care. Only thing I'm interested in right now is a good night's sleep. Hate to be rude, but I've been up thirty-six straight hours. Can you cut to the chase, tell me why you're calling?"
"You're going to New York. Red-eye flight, tonight. Reserved you a suite at the Sheraton, walking distance from—"
"You're not serious."
"As a heart attack."
Homer drove a hand through his hair. "What's so all-fired important it can't wait until after the first of the year?"
"Schweetheart," came the terrible Bogart imitation, "ish Letterman important enough for ya?"
Bobby had the 'schmooze' part of agenting down pat. And the lingo part, too. But wait a minute. Had he said Letterman?
Ever since Homer's first best-seller, decades ago, Bobby had succeeded in booking Homer on all the major late night talk shows. All but Letterman, that is. "Whose feet do I have to kiss to make that happen?"
Bobby laughed. "Only mine, Homer m'boy, only mine. And speaking of feet, get yours moving or you'll miss your flight."
He groaned. "You know how I feel about last-minute stuff."
"Oh, quit whining. This is the opportunity of a lifetime. You're a last-minute replacement for Zac Efron on tomorrow's show. The network has been airing commercials all week, and you know what that means…."
It meant nearly every female over thirteen would tune in for a glimpse of their favorite Hollywood heart throb. "'And market studies show that women buy most of the books sold in the U.S.,'" Homer said, quoting the agent.
"Nice to know somebody listens when I talk. Now hear this: I spared you the pre-interview nonsense by emailing your bio to Letterman's people."
Homer was about to ask why Zac cancelled when Bobby added, "By the way, your flight takes off at eleven."
"Aw for the luvva Pete," he said, glancing at his Rolex. "I have two hours to pack and get to BWI?"
"A literary genius and a math wiz to boot. Maybe I'll call you Einstein from now on. Sure beats that moniker your mama gave you."
Homer growled under his breath. In the early days, he and Bobby had gone round and round on the subject, but Homer held his ground: His name was all his parents had left him; he'd go back to being a short-order cook rather than change it. In the end, Bobby gave in. "I guess if a goofy name could work for that old-time singer, Engleburt," he'd said, "it can work for you." And he began parlaying Homer's rugged good looks with his less-than-sexy name.
It had been a wise choice, signing with Bobby Barnes, but like everything else about his fast-lane life, certain negatives couldn't be avoided. "You know how I feel about last-minute trips," he repeated.
"But Homer. Picture it. Letterman, hawking your latest book-turned-screenplay. It'll be the next box office hit, I tell you!"
Homer got the picture, all right, and he had to admit, he liked what he saw. "Still—"
"Don't worry, hot shot, you're going first class all the way, as usual. Just don't let the pomp and circumstance bloat your brain."
"What're the chances I'll get a fat head," Homer said, chuckling, "with you running around, pin in hand?"
Bobby's laughter crackled through the line.
"Hang up, you greedy schmuck. I have a lot to do if I'm going to make that fligh—"
"Oh, cry me a river why don't you. Besides, if I know you, your suitcase hasn't been opened since you got back from L.A. last week."
Homer grinned, knowing that 'packing' would require little more than replacing the dirty underclothes in his overnight bag with clean ones. "You know me too well, pal."
"That's why you pay me the big bucks, schweetheart."
Homer exhaled. "I have a good mind to cancel this red-eye, book a flight for first thing in the morni—"
Bobby resumed his Bogart imitation: "You don't get on that plane, you'll regret it. Maybe not now, maybe not tomorrow, but shoon, and for the resht of your life."
Homer chuckled. "You can be such a jerk."
"Yeah, but thanks to you, I'm a rich jerk. Now go pack, or I'll sharpen my pin."
Homer hung up and radioed the garage, and while waiting for his driver to fire up the Jaguar, he turned off lights, shut down the computer, and locked up. He could have done it all in one-tenth the time if he'd trade this ridiculous McMansion for his little cabin in Buckley, West Virginia. The area reminded him of Ireland, and much as he loved the place, getting into and out of the Yew Mountains wasn't quick or convenient. So for now, he'd live here, and spend his free time there.
The Jaguar's horn blared, and Homer hurried into the front hall. He'd just finished keying in the alarm code when he noticed the package from Tennessee on the foyer table. Tucking it under his arm, he booted the suitcase onto the porch and slammed the front door.
"'Evenin', Homer," his driver said.
"'Evenin', Sam. Sorry to bother you at this hour."
Grinning, Sam shrugged. "Hey. That's what you pay me the big bucks for."
Word-for-word what Bobby had said, moments earlier. Homer could only shake his head. After this gig, he intended to see exactly how many people he was paying 'the big bucks'.
As the sleek sedan purred down I-95 between Homer's estate and Baltimore's airport, he fielded half a dozen calls on his cell phone: Bobby, informing Homer that Letterman would send a car to meet him at Kennedy International; a Letterman staffer, fact-checking the emailed bio; Homer's editor:
"Congratulations, ladies' man," she complained. "You made the cover of People. Again. I'm beginning to think you like being known as—wait, let me quote the headline—"The Silver Fox of the Literary World'."
He'd long suspected the young woman had a crush on him, so Homer soft-pedaled his response. "Of course I don't like it," he admitted. "Why would I like being reminded I'm sixty-four years old, in a decade when—"
"Then why," she interrupted, "do you insist on hanging around with all those…with all those floozies!"
"Floozies?" He laughed. "You're not old enough to use language like that, young lady!"
"Very funny, big shot."
He ignored her sarcasm. "It's publicity, Lorna. Shameless self-promotion and nothing more." Not the whole truth, but not exactly a lie, either. "Those tabloid stories are great for book sales. Just ask my agent."
"Oh, give me a break. Like I'd get a straight answer from a man who's been cheating on his wife since his wedding night. No wonder you guys get along so well.  You're two of a kind."
Frowning, Homer considered reminding her that he'd never been married. Instead, he pressed the phone's 'end' button. His publisher wasn't paying him nearly enough to put up with guff from an editor young enough to be his granddaughter.
Fifteen minutes later, slouching in a bucket-shaped black chair at Gate C-19, his phone chirped again. Scowling, Homer turned it off and dropped it into his shirt pocket. "Thank God for voice mail," he muttered, grabbing the package from Tennessee.
As its plain brown wrapper slid unnoticed to the floor, Homer stared at the faded Buster Brown shoebox. How long since he'd seen it? Thirty-nine, forty years? He'd worked hard to keep everything about Dexter Domicile buried deep in his memory. Now, as if thumbing through a deck of cards, pictures of the orphanage and the children who'd called it home flashed in his mind. Of the dozens who promised to stay in touch after leaving Dexter, only one had…
…and that one kept his most cherished belonging in a box just like this.
Homer read the hand-written note taped to the lid. "You always seemed to know what was important. That's why I'm counting on you to take care of this for me." And it was signed, "Jake."
His mouth went dry and his ears grew hot when he lifted the cover. "Oh, God," he prayed, closing his eyes. "Don't let it be…let it be anything but—"
When he opened his eyes, Homer saw a golden wing tip, partially hidden beneath a layer of wrinkled white tissue. Hands trembling and heart knocking, Homer admitted what it meant:
Jake was dead. He never would have parted with the angel for any other reason.
Tears pooled in the corners of Homer's eyes as an announcement warbled from the overhead speaker. "Ladies and gentlemen, we at United would like to welcome our passengers to flight number 2537. We'll board in just a few minutes and—"
Homer inhaled a shaky breath as a whirl of questions swam in his head. Had accident or illness ended the life of his old friend? Had Jake suffered, or had a merciful God taken him quickly? Had he been alone, or with friends when…
Friends.
The word no sooner formed in Homer's mind than a condemning thought followed: If you'd been a real friend to Jake, you'd know the answers.
Well, his intentions had been good. Every year, like clockwork, he'd typed reminders into his daily planner: "Call Jake" on a January page. "Drop note to Jake" in June. "Jake's b-day" every August, and "Send Jake's Christmas card" in December.
But a deadline or a book signing or an invitation to speak at a writers' conference always got in the way. He could excuse the work-related business that interfered with staying in touch, but it wasn't so easy admitting that more often than not, monkey business had been to blame.
He'd figured there'd always be time to reconnect with Jake, tomorrow, next week, in a month or two…. Because what man in his right mind would pass up an opportunity to woo willing young groupies and writer wanna-bees? Not the Silver Fox! he thought, grimacing. "Yeah, Homer," he said, disgusted with himself, "you're all man, all right."
The overhead voice interrupted his thoughts again: "We are now ready to begin boarding our first class passengers."
But Homer barely heard it. He was too busy thinking about how foolishly he'd spent his time…and lived his life. Slump-shouldered, he hung his head. Throat aching from trying to choke back his shame, he looked at Jake's angel, whose satin dress was now more yellow than white. The gold that once gleamed from her halo and wingtips had all but disappeared. At least the tiny pink mouth still curved up in a gentle smile, and painted-on black lashes still framed blue eyes.
The image of Jake, telling the story of how the angel had come to be his, flared in Homer's memory. He'd seemed so scrawny, such an easy mark, sitting cross-legged in the middle of his lumpy mattress that Christmas Eve so many years ago. But Homer and the other boys in Donaldson's Dormitory learned soon enough that although Jake was smaller than other kids his age, he was anything but defenseless….
Slapping a hand to the back of his neck, Homer took a gulp of air and ignored the reservations clerk: "Passengers seated in rows 30 through 25 may now begin boarding."
For some reason, he thought of the brand-new, hand-blown bowl in his living room. He'd shelled out several thousand bucks for it because his decorator said it would match the bookends on his mantle. Days ago, while propping his size thirteen Italian loafers onto the coffee table, he'd chipped the one-of-a-kind vessel…and shrugged it off. Jake's angel probably hadn't cost a dollar, brand new, yet he'd lovingly cared for it for half a century. The contrasts were obvious, and shamed Homer further.
Gently, he covered the angel with wrinkly tissue, replaced the lid, and eased the box into his carry-on as a scheme took shape in his head:
He was not going to New York. He had more important things to do.
He left a voice mail message for Bobby; the agent deserved as much lead time as possible to line up another client for the Letterman show. Too impatient to wait for Sam to make the return trip to BWI, Homer flagged a taxi and rattled off his address. "Know any place that sells Christmas trees between here and there?"
"The day before Christmas Eve?" The cabbie met Homer's eyes in the rearview mirror. "I guess."
"Stop there first, then." He noticed a corner of the Buster Brown box, poking from his unzipped carry-on. "You always seemed to know what's important," Jake had written. Back at Dexter, that might have been true, but somewhere along the way….
"Pickin's are liable to be slim, though," the driver said, "'cause it's kinda late to be buyin' a tree."
He knuckled his eyes, shook his head. "Kinda late for a lot of things," he said, mostly to himself.
But maybe, Homer thought, ignoring the driver's indifferent shrug, with Jake's angel to remind him what 'worthwhile' really meant, it wasn't too late to salvage a shred, at least, of the man he used to be.
***
The cabbie had frowned as Homer laid the scraggly pine atop the spare tire. "You didn't pay good money for it, I hope."
Was there such a thing as 'good money,' he wondered? Homer didn't think so.
Now, the poor lop-sided pine stood beside Homer's desk, leaning slightly left under the weight of gold ornaments and white lights. The haunting voice of James Taylor crooned from the stereo: "…but I always thought I'd see you one more time again…."
The lyrics echoed in his head. How many chances had he blown? Dozens. Hundreds. And for what? To sell a few more books? For wine-and-dine time with women whose IQs wouldn't match his age, even on their best days?
Homer caught a glimpse of himself in the chromed finish of his reading lamp. Looks like you caught that red-eye after all, he told himself, swiping at a silvery tear tracking down his cheeks.
He straightened the angel. Jake wouldn't believe how much the tree looked like the one they snuck into Dexter the night when—
The telephone jangled. Again. Frustrated by its constant intrusion, Homer yanked the cord from the wall. "Thank God for voice mail," he repeated, dropping heavily onto the seat of his desk chair. Cracking his knuckles and working the kinks from his neck, he hunched over his computer's keyboard. There had to be a way to give meaning to Jake's death, to his life. Homer didn't know any other way, except with words.
He'd wanted to tell this story since his first book hit the stands twenty-five years ago. This one probably wouldn't make the best-seller list, as his private eye series had. Likely wouldn't earn movie options, either, the way his cop books did. He didn't believe in throwing his weight around, but this time, he'd do whatever it took to get the story into print. He owed Jake that much.
About the Author
With 105 books (5,000,000+ copies in circulation!), best-selling author Loree Lough's stories have been compared to those by Nicholas Sparks, and she has been dubbed by readers and reviewers as "a gifted writer whose stories touch hearts and change lives."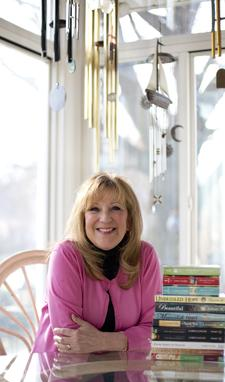 With a long list of industry awards, it isn't likely this prolific author will ever retire…not even to her cozy li'l cabin in the Allegheny Mountains. She loves to hear from her readers and personally answers every letter sent tohttp://www.loreelough.com/.
Tour Schedule
8/16 – Launch
8/17 Dreams Come True Through Reading, Bookworm Lisa, Worthy2Read, & Rockin' Book Reviews
8/18 Zerina Blossom's Books, Reading Is My SuperPower, Christy's Cozy Corners, & Mommabears Book Blog
8/19 Tell Tale Book Reviews, Writing Pearls, & underneath the covers
8/20 Mel's Shelves, Babs Book Bistro, Hardcover Feedback, & Mortal Moments
8/21 Diana's Book Reviews, Cafinated Reads, & Singing Librarian Books
8/22 – Grand Finale
Tour Giveaway
$25 Amazon Gift Card
Print copy of Guardians of the Heart
Kindle copy of Guardians of the Heart (to be gifted through Amazon)
Open internationally
Ends August 29th