Prohibition….Gangsters….Bootleggers….Al Capone….and a 17-year-old girl named Eve Marryat who, in the tumultuous summer of 1931, learns the meaning of….Sweet Mercy. Sweet Mercy is a stunning coming-of-age drama set during the Great Depression and Prohibition. I have some facts about 1931 to share, and you can read my book review!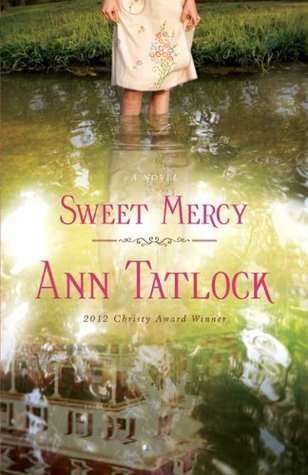 Sweet Mercy by Ann Tatlock
When Eve Marryat's father is laid off from the Ford Motor Company in 1931, he is forced to support his family by leaving St. Paul, Minnesota, and moving back to his Ohio roots. Eve's uncle Cyrus has invited the family to live and work at his Marryat Island Ballroom and Lodge.
St. Paul seemed like a haven for gangsters, and Eve had grown fearful of living there. At seventeen, she considers her family to be "good people." They aren't lawbreakers and criminals like so many people in her old neighborhood. Thrilled to be moving to a "safe haven," Eve is blissfully unaware that her uncle's lodge is a transfer station for illegal liquor smuggled from Canada.
Eve settles in to work and makes new friends, including an enigmatic but affecting young man. But when the reality of her situation finally becomes clear, Eve is faced with a dilemma. How can she ignore what is happening right under their very noses? Yet can she risk everything by condemning the man whose love and generosity is keeping her and her family from ruin?
Facts about 1931
Sweet Mercy takes place in 1931. I've got some facts about 1931 to share with you today.
By 1931, America was 11 years into Prohibition and two years into the Great Depression. Let's revisit 1931 and see what was happening in the popular culture:
Herbert Hoover is the 31st President of the United States.
In the U.S, 2500 banks fail and unemployment is at 8 million.
Facts about average costs in 1931
Wage per year – $1,850.00
Cost of new house – $6,790.00
House rent – $18.00 per month
Cost of new car – $640.00
Gallon of gas – 10 cents
Loaf of bread – 8 cents
Pound of hamburger meat – 11 cents
What was popular in 1931
Movies: "City Lights" with Charlie Chaplin, "Frankenstein" with Boris Karloff, and "Flowers and Trees," Disney's first color film.
Songs: Minnie the Moocher; When the Moon Comes Over the Mountain; Goodnight, Sweetheart; and I Found a Million-Dollar Baby (in a Five & Ten Cent Store).
Literary offerings include Pearl S. Buck's "The Good Earth," Theodore Dreiser's "Tragic America," and Eugene O'Neill's "Mourning Becomes Electra."
Inventions include the electric razor, the aerosol spray can, and DuPrene (a synthetic rubber).
The Empire State Building is completed in New York City, becoming the tallest building in the world.
The Wickersham Commission concludes in its report on Prohibition that not only are the laws of Prohibition difficult to enforce, but a large portion of the population takes great pride in flaunting and violating those laws.
Frank P. Adams, a columnist for the New York World, pens his famous poem about the Wickersham Commission's report on Prohibition:
Prohibition is an awful flop.
We like it.
It can't stop what it's meant to stop.
We like it.
It's left a trail of graft and slime,
It don't prohibit worth a dime,
It's filled our land with vice and crime.
Nevertheless, we're for it.
Thanks to the author for these facts about 1931!
My review
Sweet Mercy is one of those books that you can read quickly because it takes you on such a wonderful ride that you don't want to put it down. "No one has been this way for years, but as I step up to the porch of the old abandoned lodge I'm certain I can hear music." It's beautiful, mysterious and makes you wonder what happened in that old abandoned lodge.
Eve is a grandmother now, and she's telling her ten year old grandson what went on at the lodge that summer she was 17. So we, along with her grandson, get to enjoy her mesmerizing story. It is a coming of age story in that Eve experiences a whirlwind of events that change her forever. She meets a cousin she never knew existed, and her idealized view of her uncle is forever altered. She also finds herself caught up in criminal activity!
Life in 1931
I connected with the characters in Sweet Mercy because they're so well-developed. I love how Eve was so dogmatic about her views. At 17 aren't we all that way? We know what is right and no one can change us. Then we experience the real world and realize that sometimes things fall in the gray area. Sometimes, to protect our families, we can't reveal everything we know. I love the bond that Eve has with her parents though she sometimes can't see how much they truly love her. Again, this is something that at 17 you never fully appreciate.
I really enjoyed the development of Eve's sense of morality. The author perfectly executes how Eve's naivety and staunch sense of right were challenged. Though she holds strongly to her faith in God, she loses some of her faith in the law. She finds that the law isn't always right. Though the motives may be pure, the outcome is not always ideal.
Life seemed so idyllic on the island and at the lodge. Even the small time moonshiners seemed to fit. The story of how Eve came to own her ivory elephant was so easy to imagine. It was such an eye-opener for Eve.
This story is really one worth reading. It will take you on a wonderful trip back to 1931 and leave you wishing that the book hadn't ended.
About the Author
Ann Tatlock is the author of the Christy Award-winning novel Promises to Keep. She has also won the Midwest Independent Publishers Association "Book of the Year" in fiction for both All the Way Home and I'll Watch the Moon.Her novel Things We Once Held Dear received a starred review from Library Journal and Publishers Weekly calls her "one of Christian fiction's better wordsmiths, and her lovely prose reminds readers why it is a joy to savor her stories." Ann lives with her husband and daughter in Asheville, North Carolina.
Pin these facts about 1931