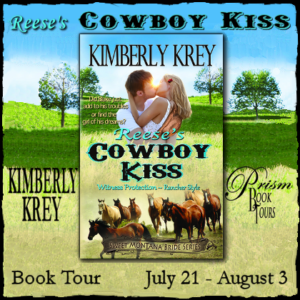 A themed book tour through Prism Book Tours.
Reese's Cowboy Kiss
(Sweet Montana Bride #1)
by Kimberly Krey
Adult Romance
Paperback, 307 Pages
May 13th 2014 by Candle House Publishing
Texan pageant winner, Reese Taylor, has a former classmate who wants her dead. Now she must leave her friends and family to enter a protection program on Emerson Ranch. A group of good-looking cowboys awaits her, but Reese has her eye on Blake Emerson, the one man too busy with the ranch to give her a chance.
Blake Emerson has no time to go lookin' for love. He's got a ranch to run, positions to fill, and an ache in his heart from love gone wrong. So when he agrees to harbor a witness to help on the ranch, Blake assumes his first two problems are solved. But he never dreamed his new guest would be a woman. One he was destined to lose his heart to.
With sparks burning hot and danger around the bend, one question lingers in his mind: Has he only added to his list of troubles, or has Blake just found the woman of his dreams?
*While this book is considered clean romance, it contains passionate kissing and a few mild curse words.*


My Review
Reese Taylor is a pageant queen about ready to give up her crown. But instead of handing off her crown, she gets targeted by a psychopath and has to go into a protection program.
Reese is not what Blake Emerson is expecting. When his uncle calls and tells him he has someone with ranch experience coming to the ranch for protection, Blake expects a young man. What he gets instead is a beautiful pageant queen….a woman! What is he supposed to do with a woman on a ranch full of cocky young men? He quickly rearranges things and lets the guys know that Reese will be cooking, cleaning and helping out around the house rather than helping with the actual ranching.
The romance in this book is sweet and clean (with much kissing!), and the suspense near the end of the book is very exciting. The main characters in the book are well-written and the secondary characters are good supporting cast members. The story is a quick, cute read.
This is book one chronologically in the Sweet Montana Bride series and the first I've read though they were released in a different order. I'm looking forward to reading Jade's Cowboy Crush and Cassie's Cowboy Crave, the 2nd and 3rd books in the series.
I recommend it to all romance lovers!
I'm a writer of contemporary clean romance, a lover of home, family, & friends, & the ultimate hater of laundry.
A few of my favorite things: Diet Coke, Cafe Rio, and novels by Marcia Lynn McClure.
Come along for the ride!