Christmas in Snow Valley
Christmas in Snow Valley is packed with six wonderful Christmas novellas sure to bring romance into your holiday season.
Snow Valley, Montana, is a small community with the tradition of doing Christmas big. Festivities begin with tree lighting in the town square the day after Thanksgiving and continue until the culminating romantic Christmas Ball. From the Polar Express to a Winter Carnival, there's something for every wonder-filled child—and every couple who's in love—or about to be.  
An Unexpected Kiss by Cindy Roland Anderson
Lucy Phillips doesn't want to spend her Christmas vacation dodging her ex-boyfriend, so when he turns up at the airport to give her a ride home, Lucy panics and asks a complete stranger to kiss her. Although the kiss is incredible, Lucy never expects to see the guy again. Is it bad luck or destiny when Lucy comes down with a sore throat and the new doctor in Snow Valley is none other than the guy she kissed at the airport?  
Feels Like Love by Jeanette Lewis
Christmas in Snow Valley is the perfect way for April Winston to introduce her city slicker fiancé, Scott Mecham, to life on a farm. If only Wade Hadley, hometown boy and high school sweetheart, will cooperate! But Wade has no intention of letting April go without a fight. This Christmas, Wade is determined to overcome their painful past and show April that she already has what she's been seeking all along.  
Full Court Devotion by Cami Checketts
Kazlyn is too busy with her schooling and future plans to enjoy life, let alone fall in love with a man who has heartbreak written all over him. Tyrese Hamilton, a college basketball star and major heartthrob, is intrigued when Kazlyn doesn't pursue him or even seem interested. Ty's career is in jeopardy, and he needs a miracle and Kazlyn to save him.  
The Christmas Eve Kiss by Taylor Hart
When Molly O'Hare gets a prediction that she will kiss her true love on Christmas Eve, she thinks it's utterly ridiculous. But when she gets teamed up with Kevin Snow, aka her ex-boyfriend, to decorate a Christmas tree, things start to change. Too bad getting over the past is hard and seeing him kiss another girl is even harder. Now Molly is left with a choice—run away from home and heartbreak or let Christmas work out a miracle all of its own.  
Risking it all for Love by Kimberley Montpetit
Succumbing to family pressure, Jessica Mason reluctantly comes home for Christmas. Ever since her high school boyfriend's death from a car accident three years earlier, Jessica and religion have not been compatible. So, when she visits Michael's grave, she's surprised to meet the handsome James Douglas, Pastor John's nephew, who's studying for the ministry. James can not only dish back Jessica's finely-tuned sarcasm but understands grief all too well, turning Jessica's world upside down. Is she ready to take another risk on love?  
Blue Christmas by Lucy McConnell
As head of Snow Valley hospital's fundraising effort, Paisley Hackett barely has time to organize the craft show, cookie decorating party, and the annual Christmas Ball. What she doesn't have time for is falling in love with Clay Jett, the incredibly handsome bass player who sweeps into town. She's been burned by a tourist romance before and, with everything going on, Paisley will have to work overtime to protect her heart from Clay and his swoon-worthy ballads.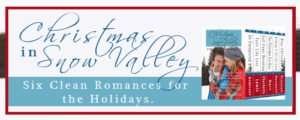 My Reviews
So far, I've read two of the books in the Christmas in Snow Valley Boxed Set. They are both adorable, and I've read high praise for the rest! I'm so looking forward to reading them as well.
In An Unexpected Kiss, Lucy's mom has the best of intentions when she sends Lucy's high school boyfriend to pick her up at the airport. The problem is, they aren't in high school anymore and haven't been for several years. Lucy has been over Lance for a long time and just wishes he'd give up already! So when Lance shows up to pick her up, Lucy does the only logical thing….she kisses a complete stranger!
Since this is a romance novel, and both Lucy and the stranger are in Snow Valley, you can guess what comes next 🙂 Poor Lucy is mortified when the new doctor in town has to treat her strep throat (since he happens to be the stranger she kissed!). Sparks fly and snow falls in this sweet, clean Christmas romance.
I love the characters and the setting. Christmas books are the best! This is a quick read full of fun dialog and a ton of heart! You'll love this heartwarming story.
Feels Like Love starts out with a newly engaged April and Scott heading to April's home in Snow Valley. They seem to be the perfect couple, but once April arrives home things start to change. Scott is definitely not a farm boy and April, though she says she doesn't want to be a farm girl, has a lot of farm girl in her. And April's old boyfriend Wade just happens to be helping out around the farm. April does her best to avoid him, but in a small town like Snow Valley, she's bound to bump into Wade. Several times.
I love how this story plays out. Sometimes you think you want one thing, but you find out that what you really want is another…something you've had and given up. The characters in this story are wonderful and fun. I love the goat scene. And I love how April discovers that what she wants is what's been there all along.