Meow If It's Murder

by L.C. LoTempio
Nora Charles doesn't believe in fate, even if she is a crime reporter who shares a name with a character from The Thin Man. In fact, she's moving back to Cruz, California, to have a quieter life. But after finding an online magazine eager for material, and a stray cat named Nick with a talent for detection, Nora's not just reporting crimes again. She's uncovering them…
Back in her hometown, Nora reconnects with old friends and makes some new ones, like Nick, the charming feline who seems determined to be her cat. But not everything about Cruz is friendly. Writing for a local online magazine, Nora investigates the curious death of socialite Lola Grainger. Though it was deemed an accident, Nora suspects foul play. And it seems that her cat does too. Apparently, Nick used to belong to a P.I. who disappeared while investigating Lola Grainger's death. The coincidence is spooky, but not as spooky as the clues Nick spells out for her with Scrabble letters—clues that lead her down an increasingly dangerous path. Whether fate put her on this case or not, solving it will take all of Nora's wits, and maybe a few of Nick's nine lives.
My Review of Meow if It's Murder
Meow if It's Murder is such a cute cozy mystery. I love books that have cats as helper detectives! Nick is the perfect companion for Nora. After all, his former boss was a P.I. who got help from Nick, aka Sherlock, on his cases too.
Once I got into this story, I really liked it. It started a little slowly, but that is probably because it's a new series and a lot of groundwork needed to be laid in the beginning. The characters are really fun. Nora makes a great main character, her best friend Chantal is funny and quirky, and Detective Corleone makes a good love interest for Nora. The plot is fast moving and has some really exciting action. It will keep you guessing til the end.
I'm looking forward to the future books as they are sure to be winners too! If you like cozy mysteries, this new series is one for you!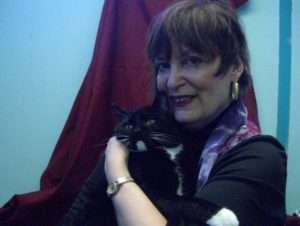 About Author Toni LoTempio
While Toni Lotempio does not commit – or solve – murders in real life, she has no trouble doing it on paper. Her lifelong love of mysteries began early on when she was introduced to her first Nancy Drew mystery at age 10 – The Secret in the Old Attic. She lists among her favorite mystery/suspense writers Erle Stanley Gardner, Mary Higgins Clark and James Patterson, as well as EJ Copperman, Steve Hockensmith, Victoria Laurie, Ali Brandon, Rita Mae Brown, Miranda James and Sofie Kelly to name only a few!
Toni is also passionate about her love for animals, as demonstrated with her four cats: Trixie, Princess, Maxx and, of course, ROCCO, who not only provided the inspiration for the character of Nick the cat in the Nick and Nora mystery series, but who also writes his own blog and does charity work for Nathan Fillion's charity, Kids Need to Read!
Toni's also devoted to miniseries like The Thorn Birds, Dancing with the Stars, reruns of Murder She Wrote and Castle (of course!). She (and ROCCO, albeit he's uncredited) pen the Nick and Nora mystery series from Berkley Prime Crime – the first volume, MEOW IF ITS MURDER, debuts Dec. 2, 2014. She, Rocco and company make their home in Clifton, New Jersey, just twenty minutes from the Big Apple – New York.
More Cozy Mystery Book Reviews
The Decorator Who Knew Too Much