Disclosure: I received the product below free for an honest review which I've given. My opinions are my own and may differ from yours.
Mother's Day is May 10 this year! It seems awfully early to me, but thankfully there are websites dedicated to helping you pick the perfect gift for the moms in your life. The gift choices at GiftsForYouNow.com are many. One of my favorite things about the gifts offered by GiftsForYouNow.com is that they are personalized, which makes them even more special. 
I loved looking through the website and choosing the Mother's Day gift I wanted from my kids 🙂 Yes, I am making them give this to me! I have a slight obsession with blankets…especially soft, fuzzy blankets. When I saw the Embroidered We Love You Blanket, I knew that was what I wanted! I've got two kids that are 20 and 17. But I've got lots of fur babies, and I AM their mother…at least according to them. I had to have them included in giving me the gift. You can add up to eight names which works well for those with larger families.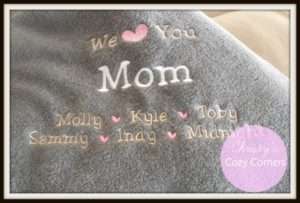 I chose the charcoal gray color and it is embroidered with pink thread.  I love how it turned out! The blanket is very soft. I know some blankets look soft online and end up feeling like those old blankets we used to have in the 70's…I don't know what those were made of, but they were not soft! This fleece blanket is available in your choice of six colors: charcoal gray, red, royal, maroon, forest, and black. It measures 50″x 60″, so it is really large! It is great for those cold nights or for the nights when the kids crank up the central air! Been there. 
The products available on GiftsForYouNow.com start at only $9.98, so you are sure to find something special in your price range.  If you're looking for a special gift for mom, be sure to check out your options at GiftsForYouNow.com!