On Tour with Prism Book Tours.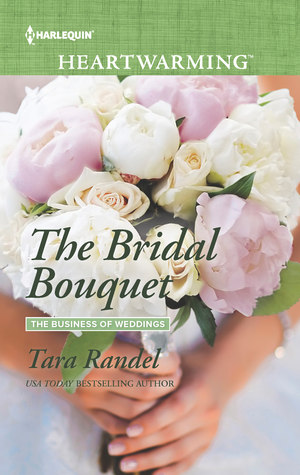 The Bridal Bouquet
(The Business of Weddings #3)
Tara Randel
Adult Contemporary Romance
Paperback & ebook, 384 pages
June 1st 2016 by Harlequin Heartwarming
Who will catch a lifetime of love?
Winning the annual wedding bouquet design competition may be the closest Kady Lawrence gets to the altar. She has to come in first or risk losing the shop that's been in her family for generations. Her main competition is Jasmine Matthews. But it's Jasmine's son who's caught Kady's attention.
Kady has no inkling Dylan's a DEA agent on a case in Cypress Pointe, and Dylan wants to keep it that way…until Kady's targeted. Determined to keep her safe, Dylan risks a lot more than blowing his cover…he risks losing Kady forever.
Goodreads│Amazon│Barnes & Noble│Harlequin
My Review of the Bridal Bouquet
Don't you just love weddings? I'm a little obsessed with Say Yes to the Dress. Weddings are big business these days. The prices that brides are willing to pay for their dresses amaze me. Add that to the venue, the food, the flowers and you've got $$$$.
Kady is hoping to cash in on some of the money that goes into making the perfect wedding. She works at her parents' flower shop, but they are thinking of selling the place. In an attempt to change their minds, Kady vows to win the bridal bouquet category at this year's flower show.  She's got stiff competition, but she's convinced she can win.
What she ends up winning is the heart of DEA agent Dylan who is in town for a family wedding. He ends up staying in town after finding out one of the big drug dealers he's been chasing may be in town.
I loved The Bridal Bouquet! Kady and Dylan are so much fun. I love the banter between them. There is also another romance that develops in the book, but I won't spoil it for you. The plot is both romantic and suspenseful. If you are a fan of clean romance novels, you will surely love The Bridal Bouquet.
Other Books in the Series
Magnolia Bride
(The Business of Weddings #1)
Tara Randel
Adult Contemporary Romance
Paperback & ebook, 209 pages
July 1st 2014 by Harlequin Heartwarming
 Married for a day, in love for life
Nealy Grainger knew that returning to Cypress Pointe meant an inevitable encounter with her teenage crush, and momentary husband, Dane Peterson. She could handle it. She wasn't the wounded girl who'd left Cypress Pointe years ago, heartbroken and furious when Dane had annulled their marriage the day after they'd eloped.
Now one of L.A.'s most in-demand celebrity event planners, Nealy's only come back for a vacation and to help with her sister's wedding—not for a reunion with her long-lost love. But the more their paths cross, the more the sparks fly! Maybe their connection isn't over just yet….,
Goodreads│Amazon│Barnes & Noble│Harlequin
Honeysuckle Bride
(The Business of Weddings #2)
Tara Randel
Adult Contemporary Romance
Paperback & ebook, 201 pages
December 1st 2014 by Harlequin Heartwarming
One part happiness. Two parts love.
Relocating to the coast of Florida after becoming guardian of her best friend's twin daughters could be the best move LA celebrity chef Jenna Monroe ever made. This is her chance to create a stable, loving home—something she never had. But can she be the mother the girls need?
Wyatt Hamilton thinks she can. The rugged charter boat captain, who came home to Cypress Pointe still grieving the death of his son, has faith in her. But the feelings he awakens in Jenna both exhilarate and frighten her. Because Wyatt no longer believes in forever… Unless she can convince him otherwise.
Tara Randel is an award-winning, USA TODAY bestselling author of eleven novels. She is currently working on new stories for Harlequin Heartwarming, as well as books in a new series, Amish Inn Mysteries. Her next Heartwarming, part of The Business of Weddings series, will be released in June 2016. Visit Tara at www.tararandel.com. Like her on Facebook at Tara Randel Books.
ONE WINNER will receive a tote bag including the first three books in The Business of Weddings series (US only)
ONE WINNER will recieve a $25 Amazon eGift card (open internationally)