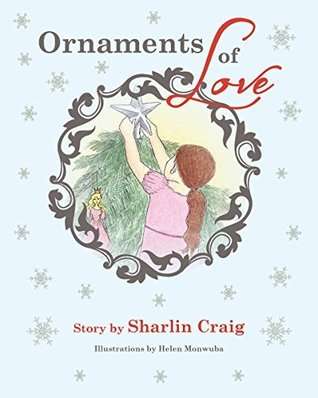 Purchase Ornaments of Love
Purchase the special Ornaments of Love Coloring Book
Ornaments of Love
A touching Christmas story with glowing illustrations, Ornaments of Love is a story to cherish for years to come. A beautiful tale of Ayana, an endearing ten-year-old who excitedly anticipates that special time of year when the entire family joins together to decorate and admire the Christmas tree.
But sadly this year is different. Ayana realizes that her mom and dad are far too busy with everything else to enjoy the tree with Ayana. Then, something unexpected happens and the family is brought together with tenderness and joy.
Filled to the brim and overflowing with charming moments, gentle humor, and timeless illustrations, this beautiful story is a wonderful reminder of what's important not only during the Christmas season, but every day of our lives. Ornaments of Love is destined to become one of your favorite holiday stories. One that will remain in your heart forever.
My Review
Ornaments of Love is such a sweet book that your children are sure to love! Christmas is such a special time, but it is also such a busy time! Ayana gets very sad when her family is too busy to decorate the tree! Read and see how Ayana and her family remember the true meaning of Christmas.
I always loved helping my grandma decorate her house for Christmas since she had a ton of decorations! She always gave her grandchildren an ornament for Christmas and I now give my kids an ornament each year. When I got married, my mom gave me all of mine from Grandma as well as ornaments that were special to me when I was little.
I'm so thankful to have all of the special memories that go with my ornaments! Let's not get too busy and forget the real reason of the Christmas season! Put your family before the busyness of the season!
Guest Post from the Author
My Favorite Ornament Memories
Every year, for as long as I can remember, I've looked forward to decorating the Christmas tree with my family. When I was little, I decorated the tree with my mom and sister. We'd pull the boxes out of storage and one by one, unwrap the tissue off each treasured ornament and rediscover each special memory.
I'd laugh when I would see the sugar ball ornament. There was a little bite taken out of the side because I hadn't been able to resist tasting it when I was a toddler.
I'd breathe in the still wonderfully pungent clove ornament I'd made at church camp and gaze at the beautiful white beaded ornament that, to me, looked royal and pure.
And of course, I adored finding the round Santa ornament. Seeing the Santa made me anticipate his arrival on Christmas Eve even more!
I still have those ornaments to this day and have added many new ones over the years. Each year, it's a delight and surprise to pull them out of hiding.
I always smile when I see the one my mom gave me of the cartoon character, Cathy, with a stuffed animal in one hand and a briefcase in the other. She gave that to me the year I graduated from college and landed my first real job.
I treasure the ornaments that my music students have given me over the years. There's the black baby grand piano with my students' names and the year, 2011, hand painted on it. There's the tiny straw angel my student, Grace, bought with her own money at a local craft fair. When I see these gifts, it reminds me of how meaningful a well thought out gift can be and that I should always strive to be as thoughtful to others.
When I unwrap my "First Year Together" ornament, memories come flooding back about how I met my husband and how beautiful our wedding was. I melt when I pull out the fuzzy little duck that says, "Baby". My heart swells with love for our daughter who is now 9, almost 10. Where did those 10 amazing years go? What an incredible journey!
Now, our beautiful big girl looks up at me and asks, "Mommy, where should I put my baby ornament?"
I say to her, "Sweetie, you pick. I'm sure you'll find just the right spot." I pull out my husband's tennis racket ornament one of his tennis students gave him and hand it to him. "This one's for you." Our 'baby' smiles at us happily and continues to search for her perfect little branch.
This is what I love. Spending time with my family where there are no distractions. We're able to be in the moment, fully focused on sharing our memories together, laughing, celebrating and loving. There's nowhere else I'd rather be.
About the Author
Sharlin Craig, a Detroit native who now resides in southern California with her husband and daughter, is dedicated to writing inspirational children's books that touch the spirit of her readers. A graduate of Oakland University, she's taught music to children for several years while also writing music and lyrics. She's combined her love for children and writing into authoring her debut children's Christmas picture book, Ornaments of Love.
Sharlin believes that with the right surroundings and daily encouragement, children are boundless. She's passionate about helping children feel understood and empowered through her books and hopes that her stories make them smile.
Sharlin loves being a mom and wife and her ultimate goal is to have a happy, healthy family and a full and balanced life. She enjoys spending quality time with her family biking, hiking, and just hanging out.
For now, she is letting her creativity shine through children's books that inspire kids to live fully and beautifully. As readers await her next release, they can unravel a little piece of her heart by leafing through the pages of her current release, Ornaments of Love, a gem of a story bound to be adored by countless families across the globe.
Sharlin's Website  Be sure to check this out for printable coloring pages for your child!