This post contains affiliate links. If you make a purchase, I'll receive compensation.
Bad Day for a Bombshell
December 5th, 1941. Houston socialite, Tracy Truworth, is always on the lookout for something suspicious. Especially after growing up with her nose in the latest Katie McClue mystery novel, a series featuring a twenty-something female detective and her constant feats of derring-do. And for Tracy, escaping reality through reading couldn't come at a better time, since her own life isn't exactly going along like she'd hoped. Not with her overbearing mother determined to see Tracy marry Michael — a lawyer likely to be a U.S. Senator someday — in a wedding rivaling royalty. Yet everything changes for Tracy when she spots a bleach-blonde bombshell on the train home from Dallas after a shopping trip to Neiman-Marcus. Because something certainly seems amiss with the blonde, given the way she covertly tries to snare men into her lair, and considering the way she suddenly ceases all flirtations when a Humphrey Bogart look-alike appears . . . complete with a mysterious package wrapped up in newspaper and twine.
Then days later, Japan bombs Pearl Harbor, and just a few days after that, Germany declares war against the U.S. Rightly so, President Roosevelt returns the favor. Of course, Tracy immediately finds herself caught up in the War, just like the rest of the nation. But it's her curiosity that leads her on a collision course with a killer, and she arrives at the bombshell's apartment only moments after the blonde has been murdered. Though Tracy is accused of the crime at first, she quickly finds herself working as an Apprentice P.I., under the tutelage of a real private investigator. Soon, they're hot on the trail of the bombshell's murderer. Then from singing at the hottest nightclub around, to a car chase in her 1940 Packard, Tracy's investigation takes her far from her blue-blood upbringing. And it isn't long before she finds the War is hitting a lot closer to home.
Why I am Fascinated with the Forties
by Cindy Vincent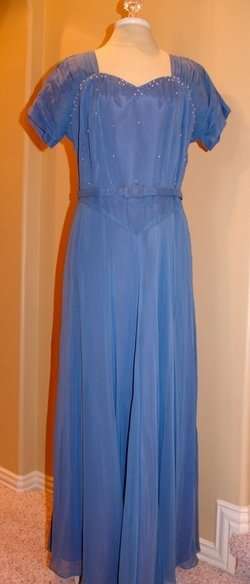 People often tease me that I don't belong in this day and age, and that I seem to be a throwback to the 1940s.  And in all fairness, they may have a point.  Not only do I have a vintage clothing collection with lots of fabulous dresses and gowns from the forties, but I also collect the hats and gloves and jewelry that would have accessorized those dresses, too.  Then there's the music I listen to on a regular basis, which mostly consists of Big Band tunes and swing dance revival music from the 1990s.  My husband and I attend Glenn Miller (Revival) concerts whenever we find them playing somewhere nearby, and we even went to a Big Band event at the National WWII Museum in New Orleans last summer, where we dressed in forties attire and danced the night away.  (Yes, my husband even wore a fedora and looked rather dapper.)  And yes, it was a LOT of fun!
Yet while the music and the dresses and so many things hold a great romantic fascination for me, that's not the main reason why I have such an appreciation for the forties, an appreciation that only grew after I did the research for my book, Bad Day for a Bombshell: A Tracy Truworth, Apprentice P.I., 1940s Homefront Mystery.  No, what amazes me the most were the people of that time, (of course, as an American, and not having researched all that was going on in other countries, I'm speaking of people in the U.S).  Especially the young people, the ones who came of age just as the world was exploding into war.  That particular group had grown up during the Great Depression and had been raised with little or nothing.  During the research phase of my book, I heard stories of people who literally had holes in the bottom of their only pair of shoes, and people who only ate one meal a day, since that was all they could afford.  Yet instead of thinking of what they didn't have, many of this generation grew up happy and so full of optimism.  As a general rule, they tried to look on the "Sunny Side," with humor being considered a good way to deal with their troubles.  This group found ways to entertain themselves on a shoestring — they attended movies and dances and sang songs in groups, because everyone knew the words.  Generally speaking, people looked out for each other, and being selfish was considered immature and unacceptable.
Then came the military unrest in Europe and Asia.  At first the popular sentiment in the U.S. was to stay out of things, but eventually, especially after we were attacked at Pearl Harbor, Americans changed their tunes.  And this is the part that fascinates me the most — men and some women signed up to serve and fight the war in droves.  They gave up good paying jobs, gave up their lifestyles and time with their loved ones, all to fight the fascism of Hitler and Hirohito.  In fact, from what I learned, being rejected by the service was considered a great source of embarrassment for many men, when they were either considered to be 4F or in a job that was "essential."  I read stories about men lying about their age, (either because they were too young or too old to enlist), and finding ways to fudge on a physical so they made sure they would pass.  I even read stories of men who were turned down in one place who traveled to other states because someone knew a recruiter who was a little more lax and would let them in.
On the homefront, people did all they could to help the War Effort.  And though rationing was something sanctioned by the government, many did so without complaint, knowing their sacrifice helped our military members.  Others signed up to be air raid wardens, or plane spotters, and nearly everyone grew a Victory Garden.  In essence, what happened here on the homefront was every bit as important as the battle on the front lines.  And it seemed that nearly everyone wanted to do their part.
But I also have an appreciation for this time period because it turned out to be a great melting pot for our nation.  The War brought the rise of the Tuskegee Airmen, the Navaho Code Talkers, and the WASPs (Women Air Service Pilots), and more.  And while it certainly wasn't perfect, it was a good start, because our country needed the contribution of the talents and abilities of all.  Women entered the work force like never before.  Since the roles once filled by men were now vacant, it was essential that they step in and take their place, especially as the war industry worked overtime to supply the military with airplanes, tanks, and more.
Of course, as I write this, I realize I've told you nothing but positive things about the WWII era. Even so, I'm also well aware that the people of that time period had their flaws, and they certainly were not saints.  While it's easy to wax romantic about the era, there is nothing romantic about war.  And I can't forget that anywhere from 50-80 million people died during WWII.  But I can and will remember how selflessly members of what Tom Brokaw calls the "Greatest Generation" sacrificed so much, so that America and her Allies of the time could remain free.
And that, in a nutshell, is why I'm so fascinated by the forties.
About the Author
Cindy Vincent, M.A. Ed., is the award-winning author of the Buckley and Bogey Cat Detective Capers, a mystery series for kids and cat-lovers that features the adventures of two black cat detectives.  And yes, as she is often asked, Cindy used her own black cats, Buckley and Bogey, as the inspiration for the series, since they seem to run surveillance on her house each and every night.  Cindy is also the creator of the Mysteries by Vincent murder mystery party games and the Daisy Diamond Detective Series games for girls, along with the Daisy Diamond Detective novels, which are a spin-off from the games.  She lives in Houston, TX with her husband and an assortment of fantastic felines.  Cindy is a self-professed "Christmas-a-holic," and usually starts planning and preparing in March for her ever-expanding, "extreme" Christmas lights display every year . . . She is also looking forward to the release of the first book in her new Tracy Truworth, Apprentice P.I., 1940s Homefront Mystery series,  which is due out in the Fall of 2016.
GOODREADS | FACEBOOK | PINTEREST | AMAZON | BLOG | WEBSITE