This post contains affiliate links. If you make a purchase, I will receive a small commission.
Delicious Buckeye Brownie Recipe
Several years ago we visited Hershey, PA. While we were there, we took the Trolley Works tour during which they tell you the history of this town built on chocolate. The story that stuck with me most is the story of how Reese's Peanut Butter cups came to be. After all, who doesn't love Reese's Cups?
How Did Reese's Cups Come to Be?
Let me give you a spoiler…Milton Hershey didn't like the idea of chocolate and peanut butter! He said he didn't think it would be popular or something like that. I just remember we all cracked up at that. The candy was created by H. B. Reese who was a dairy farmer and shipping foreman for Hersey. Needless to say, Reese's Peanut Butter Cups did indeed become very popular, and the rest, as they say, is history. If you want the whole story, you can read REESE'S Peanut Butter Cups: The Untold Story: Inventor, H.B. Reese
.
Now, you can find desserts with chocolate and peanut butter in them all over. One of my favorite sweet treats is brownies! They're so chewy and chocolatey. You can make them in so many ways, but this is the way we had them for our Super Bowl party.
Buckeye Brownies
These brownies start with a basic brownie recipe, but if you wanted to cheat, I suppose you could use a mix. But don't! Trust me, this is better.
This is the first batch of brownies my daughter has made with her KitchenAid Classic 4-1/2-Quart Tilt-Head Stand Mixer
 that her church group friends gave her! She helped them move in November, and she always makes desserts when they get together. Well, a couple of days before Christmas, she got a text saying Santa left something for her by the backdoor! Needless to say, she was quite excited since she's wanted one for years!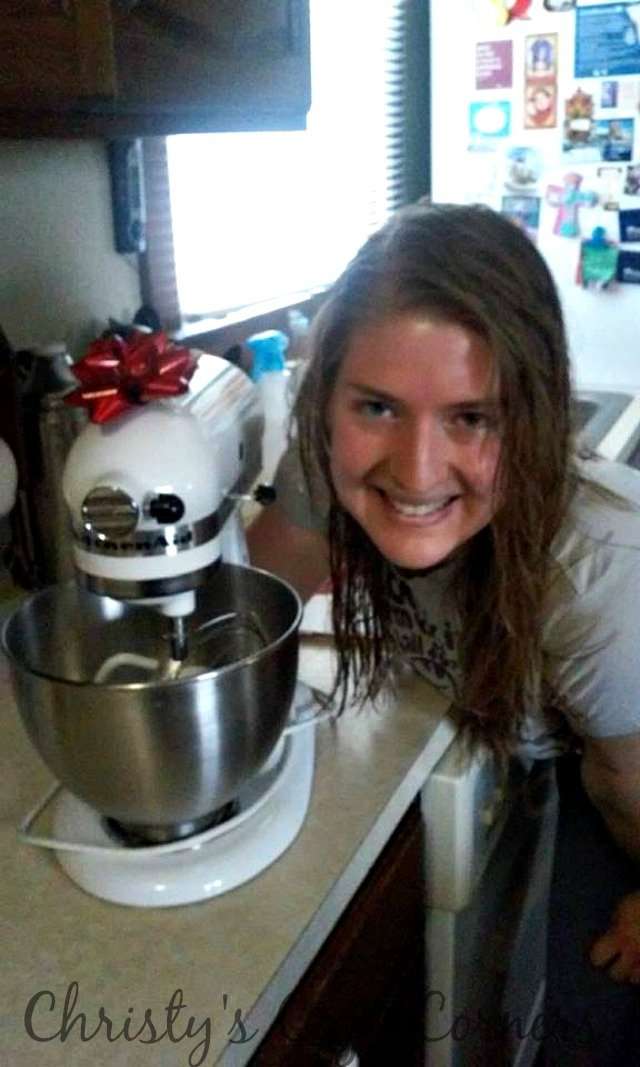 This brownie recipe is our very favorite. Sometimes we add chocolate chips, but with Buckeye Brownies, you've got to add Reese's Peanut Butter Chips instead!
The first thing you want to do is melt 2/3 cup of butter and boil 1/2 cup of water. Set those off to the side while you mix the cocoa powder and baking soda. Once that is mixed, add half of the melted butter (1/3 c.) and the boiling water to the mixture. Mix this until it thickens.
Add 2 cups of white sugar and 2 eggs (one at a time between mixing). Then add the remaining butter and mix until smooth.
Once that is mixed, add 1 1/2 cups of flour, 1 tsp. vanilla extract and 1/4 tsp. salt to the mixture and stir until it is combined.
Finally, add one full bag of Reese's Peanut Butter Chips to the mixture and stir gently.
Pour this into a greased 9×13 cake pan
 and bake at 350 degrees for approximately 30 minutes.
Once it is out of the oven and cooled, you can make your buckeye brownies topping.
Buckeye Brownie Recipe Topping
For the topping you are going to want to mix 1 cup of softened butter and 1 1/2 cups of peanut butter with 5 cups of powdered sugar. Unless you have a massive mixer, you need to add half of the powdered sugar at a time or it will fly all over the place….not that that happened to us…..
Then add a tsp. of vanilla and mix it well.
You're not going to need all of this for your topping, so you can roll the rest into peanut butter balls or dip them in melted chocolate and have some good old buckeyes to go with your buckeye brownies!
Drop the buckeye topping by spoonfuls all over the cooled brownies and press it down gently with your hands.
Just a side note…see my napkin holder? I know it is ancient, but it was my grandma's so I love it and think of her whenever I use it.
Finally, melt a full bag of Hershey's Milk Chocolate Chips in the microwave, or however you prefer. Be sure you stir them every 30 seconds. Once they are completely melted, pour this over the peanut butter. We put ours in the refrigerator because they are really good cold, but you don't have to refrigerate them.
Print the recipe here
Buckeye Brownies
Ingredients
Brownies:

3/4

c.

cocoa powder

1/2

t.

baking soda

2/3

c.

butter

melted

1/2

c.

boiling water

2

c.

white sugar

2

eggs

1 1/2

c.

flour

1

t.

vanilla extract

1/4

t.

salt

1

bag Reese's Peanut Butter Chips

For the Buckeye Topping:

1

c.

butter

softened

5

c.

powdered sugar

1 1/2

cup

creamy peanut butter

1

t.

vanilla extract

For the Chocolate Topping:

1

bag Hershey's Milk Chocolate Chips
Instructions
Preheat oven to 350 degrees

Grease 9x13 cake pan

Combine cocoa and baking soda in a large bowl or mixer bowl

Stir in half of the melted butter and the boiling water

Stir until mixture thickens

Stir in sugar and eggs, mixing in one egg at a time

Add the remaining butter and mix until smooth

Add flour, vanilla, and salt and stir until combined

Gently stir in peanut butter chips

Buckeye Topping Instructions

Mix butter, peanut butter and half of the powdered sugar

Slowly mix in the rest of the powdered sugar

Add vanilla

Mix until combined

Drop spoonfuls of topping onto cooled brownies

Press buckeye topping onto brownies until they are covered

For the Chocolate Topping

Melt one bag of Hershey's Milk Chocolate Chips in microwave, stirring every 30 seconds until melted

Pour over buckeye topping and smooth it over the entire thing

Either refrigerate or let sit until chocolate hardens

Enjoy!