Before the kids come along, it's much easier to plan a spontaneous getaway or book an extended trip. Good news! You don't need to give up on globetrotting once you become a parent. As long as you take these golden rules of globetrotting with kids into consideration, you should be able to plan adventures without any stress at all.
Choosing the right destination
Before you start thinking about buying swimwear or renting ski suits, choose your destination. Think about what kind of holiday you want, and what you want to do while you're away. It's easy to associate family vacations with sitting around a pool in a hot country. But there's so much more out there. If you want to explore with children, you can! You just need to make sure that you plan ahead.
Beach
If you're looking for a traditional beach holiday, there are lots of options, from a staycation in Florida or California to a seaside sojourn in Australia or a family-friendly break in Spain, Portugal, Italy or France. If you want easy access to amenities and attractions, it's best to look for established resorts that have good reviews.
If you're after something a little different or you want to escape the crowds and discover new places, don't be afraid to get off the beaten track. If you're visiting Spain, for example, you'll find much quieter beaches on the Costa Brava and Costa de la Luz than the Costa del Sol.
Road Trip
If you're eager to plan a road trip, you don't have to stay at home. You can also fly and drive. If you've explored the highways of the US, why not head north to Canada, or rent a car when you touch down in France, Italy or New Zealand. These countries are excellent locations for road trips because the roads are fairly quiet, they're well-maintained, and you can rent a car almost anywhere. If you're planning the adventure of a lifetime, New Zealand won't disappoint. The South Island, in particular, is a gem worthy of a film set. Once you've rented a car, you can get out onto the open roads, and you'll be amazed at the scenery and sights that greet you. You'll see everything from glaciers, lakes, and snow-capped peaks to penguin colonies, hot springs, and caves filled with glow worms.
Skiing
It's winter, and while many of us are dreaming of basking under sunny skies, others are ready to embrace the white stuff. If you're an avid skier or you want to take the kids skiing for the first time, there are incredible options both at home and away. The US and Canada boast an array of resorts to suit every budget, or you could consider traveling further afield to Switzerland, France, Austria or Poland.
Where to stay and how to get there
Once you've decided on a location, it's time to plan where you're going to stay and how you're going to get there. Often, it's wise to look into package deals, as they can work out a lot cheaper, especially if you're flying overseas. In many cases, you pay a flat fee, and this includes your flights, hotel, and transfers. If you're renting a car and you're staying in the US, look for accommodations and rentals online. You can compare prices from different retailers, and read reviews left by guests who have already stayed at the hotels, apartments or chalets you're looking at. Take a minute to use comparison sites. You may be surprised at the difference between quotes for the same hotel on different websites.
If you're traveling with young children, it may be best to book an apartment or a villa rather than a hotel. There will be more space, you can all stay together, and you can also cook at home. If you are set on booking a hotel, and you plan to fly, look at sites that offer flight and hotel bundles. You can often save by booking both at the same time.
If you are planning a road trip, make sure you know exactly where you're going before you set off. Get a rough idea of how long it will take, and try and break up the journey. Stock up on snacks and drinks, and make sure you have games and toys to keep the children entertained. Plan where you're going to stop en route, and make sure you're aware of where you can use facilities like toilets and fill up on gas.
Drawing up an itinerary
Every parent knows that kids get bored quickly. If you're traveling in the coming months, do some research, and read some reviews to get an idea of what to do and where to go. If you're going to the beach, you can spend hours playing with volleyball or baseball sets and splashing around, but if you're camping, you may need a more structured itinerary. Look into family-friendly hiking and cycling routes, and think about trying activities such as kayaking and fishing.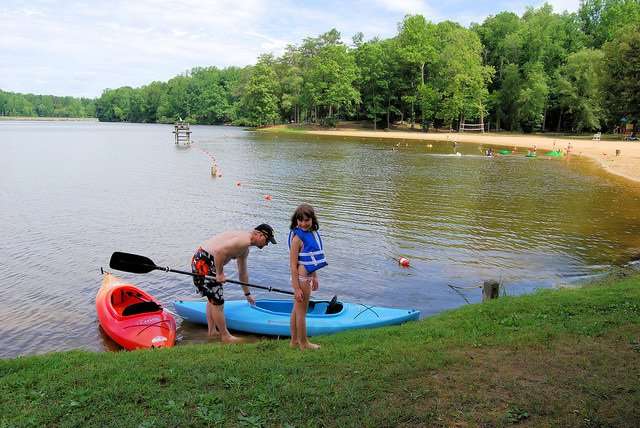 Packing tips
As a parent, you're probably aware of how hectic life can get when the vacation countdown is on. When you're going away, you seem to have a million things to do and very little time to do them. This year, plan in advance and start your packing the week before. Get all your laundry done beforehand, and decide if you need to buy anything before you travel. Make a list, and give yourself time to work through it.
Think about your destination and the activities you're doing when you're packing. If you're spending your vacation at the beach, you won't need warm layers or walking boots. If you're going on an outdoor adventure in the mountains, you probably won't need shorts and t-shirts. It's worth investigating equipment rental options if you're planning to kayak or cycle.
Traveling with kids can be stressful, but that doesn't mean you can't plan incredible adventures with your little ones. Hopefully, these golden rules of globetrotting will help you choose the right location, plan a great itinerary, and find the perfect place to stay.