Disclosure: I received free tours of these locations as part of a press trip. My opinions were not influenced by this and all opinions are my own, and may differ from yours.
The Castle in Marietta, Ohio
Marietta, Ohio is full of history and beautiful attractions. I found this out on my recent trip to Marietta. I've lived in Ohio my entire life, and the only visits "to" Marietta I've made have been a drive by on my way south. I had no idea how much fun could be found in this small town. I'd love to share two historical places you've got to visit when you are in Marietta: The Castle and The Betsey Mills Club.
The Castle in Marietta, Ohio
As you can see from the sign, made by Sewah Studios which is located in Marietta as well, The Castle was built in 1855 in the Gothic Revival architectural style. Melvin Clarke bought the property to have this home built, but he sold it in 1858 to John Newton who lived there until his death in 1886. In 1887, The Castle was purchased by E. W. Nye who died unexpectedly the next year. His daughter, Lucy Nye Davis, inherited the property and lived there with her husband and two daughters, Jessie and Grace.
Jessie married in 1896 and her reception was held at The Castle. At sometime during her marriage, she either divorced or was separated from her husband. Jessie inherited the castle in 1955 where she lived until her death in 1974, 5 days before her 100th birthday. The home had fallen into disrepair during Jessie's later years, as some parts of the home were no longer used.
The Castle was purchased by Stewart Bosley and his sister shortly after Jessie's death. The structure was intended to be Stewart's home, but after twenty years of renovations, Stewart passed away before he could inhabit the home. After Stewart's death, The Castle was deeded to the Betsey Mills Corporation who still owns it today.
I asked the director, Scott Britton, if there was a reason Stewart would have deeded The Castle to the Betsey Mills Corporation. He said, "There was no direct connection between the Betsey Mills Club and the Bosley's that I'm aware of at this time, but The Betsey Mills Club had already been a staple in the community since the 1920s. Stewart wanted to make sure an organization with a long and positive track record in our area would continue on the legacy that he and his sister Bertlyn had helped to restore."
Everything from the home was sold after Jessie's death, and most of the items in The Castle are not original to it. Some people have given Jessie's possessions that they or their family purchased back to the home, so people can see them in The Castle today. All of the items in the home are period appropriate pieces and are beautiful.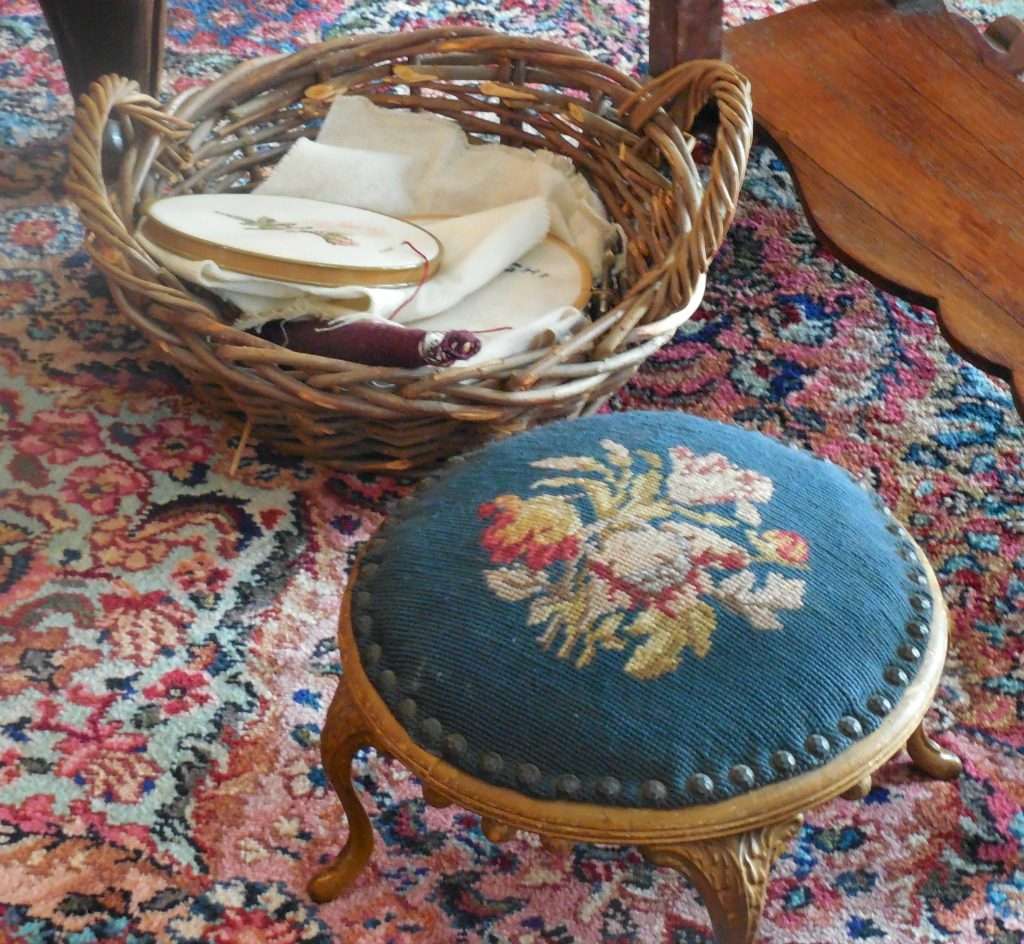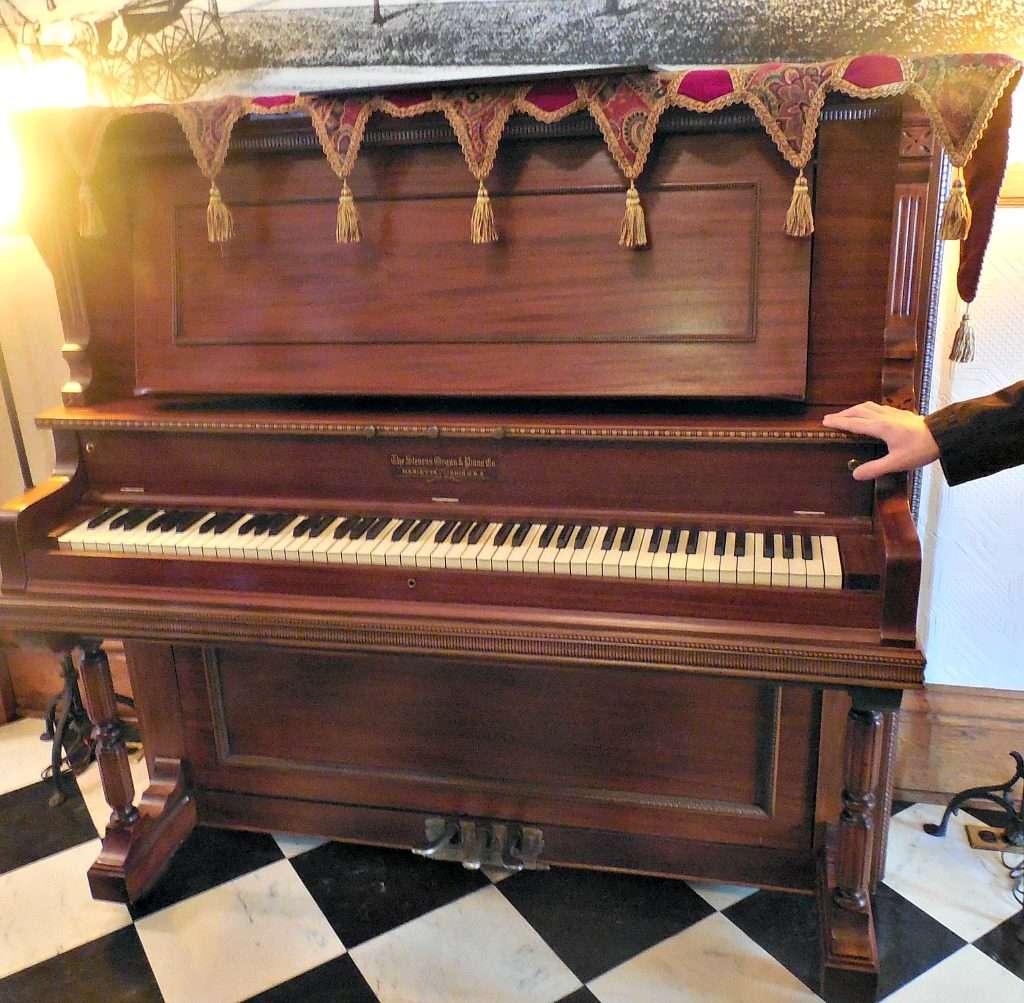 The Betsey Mills Club
When I heard how the Betsey Mills Club was formed, I had to smile. It was founded in 1911 as The Girls' Monday Club where like-minded women got together to sew. Our host, Executive Director Jocelyn Adelsperger, suggested that it was thought the club was more of a political club than just a sewing club. I read a fiction book a few months ago in which the women had a club just like this. It was a "knitting club" that was really a club for women business owners to get together to discuss business and politics. This makes me think that this must have been common to the time period.
Betsey Mills was born in the house which makes up part of the Betsey Mills Club as it looks now. The club is actually Betsey's birthplace and the neighboring house adjoined by an addition. After Betsey's death, her husband donated the home to the community of Marietta to be used to help women.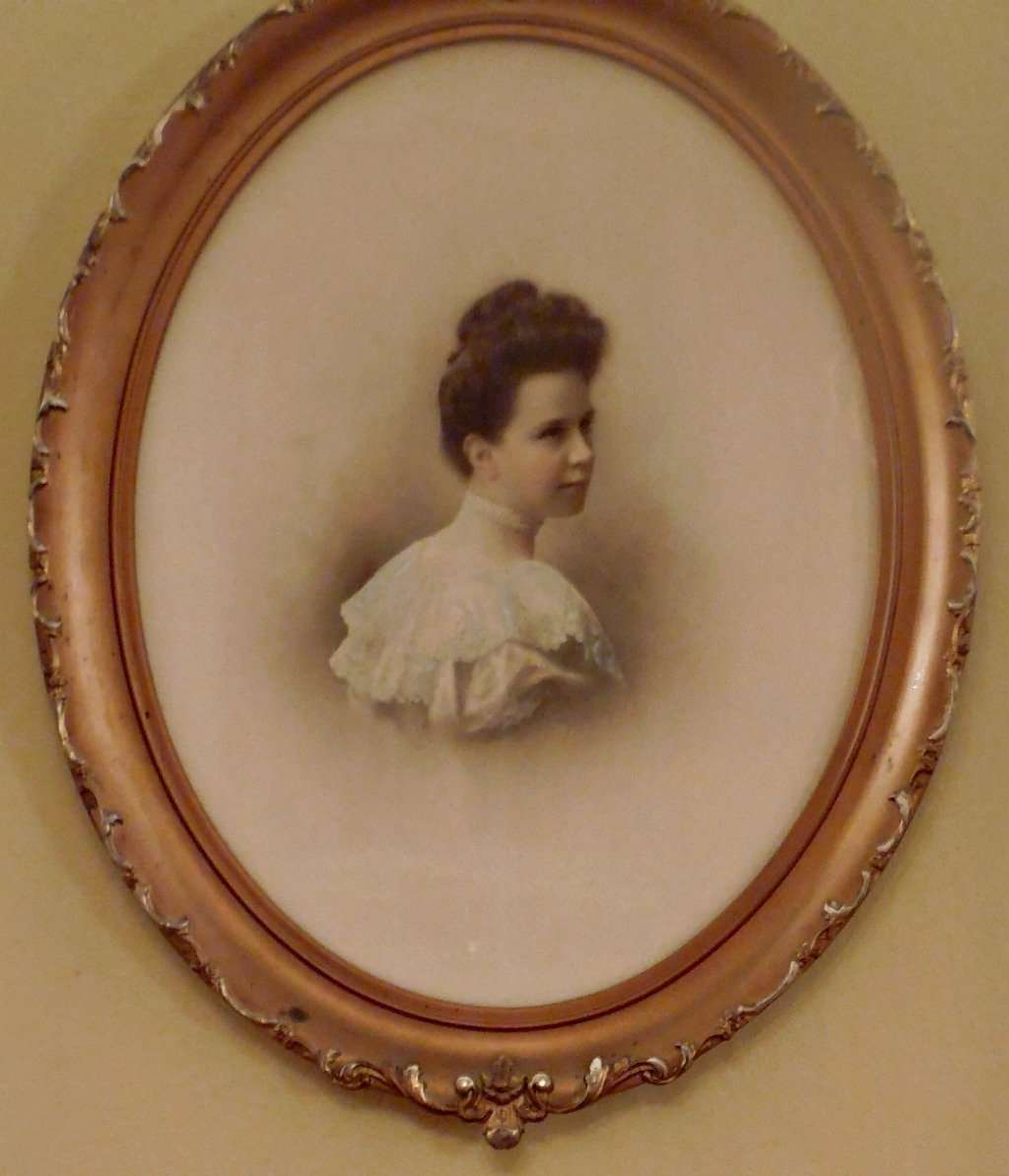 The Betsey Mills Club still serves women and the community in many ways. Some of the services The Betsey offers include child care, swimming lessons and water therapy, fitness classes, meeting rooms and more. Part of the Betsey has dorm rooms that women can rent by the month, and they are utilized by a variety of women including traveling nurses and college students.
Painting with Cory
As part of my press trip visit to The Betsey, the bloggers I traveled with and I got to have a night of painting with Cory Wilson, owner of The Painted Sparrow Tattoo Studio and Art Gallery. It was a blast. Even though most of us had no clue what we were doing, Cory made it a really fun experience. This was the painting Cory did for us to use as an example.
Here is my attempt at recreating Cory's picture. I was too scared to add a silhouette, but now that I'm home, I might try one. My kids are pretty impressed with my mad skills.
If you take a trip to Marietta, Ohio, The Castle and The Betsey Mills Club should definitely be on your lists of places to visit. Be sure to stop by Cory's shop, The Painted Sparrow too.
Follow The Castle on Social Media
Facebook | Twitter | Instagram
Call The Castle for information on tours: (740) 373-4180
Follow The Betsey Mills Club on Social Media
Visit The Betsey Mills Club online for information on all of their programs, or give them a call: (740) 373-4981
Follow The Painted Sparrow on Social Media
Facebook | Instagram
Contact The Painted Sparrow for information on paint parties: (740) 371-5135