I did not receive compensation for this post. All opinions are my own.
Most of the schools in our area have already started summer break, and the rest will be next week. If you've got kids who will be home all day with you, you know you're bound to hear, "I'm bored," more than once. Even if they're at day camps, they will probably be bored at night! That's just the way it is. Kids are used to constant entertainment. Where is that entertainment coming from?
Pure Flix
Are they watching uplifting and wholesome entertainment, or are they watching mindless things that make you cringe? Pure Flix wants to be your family's go-to entertainment source. They provide FAMILY-FRIENDLY ENTERTAINMENT with movies and more for all ages. They've got thousands of choices including kid's animated titles, documentaries, educational movies, sports, travel and more.
Family Movie Night
Help combat boredom and bond with your family while doing so. Planning a regular family movie night is easy with Pure Flix. You know that the choices they provide will be safe for your entire family to watch. How do you plan your perfect family movie night? Do you have snacks? An outdoor projector?
Have a look at our family movie night with some family friendly movie choices:
Finding Normal
The only thing standing between Dr. Lisa Leland ( Candace Cameron Bure) and the wedding of her dreams in the Hamptons is a 2600-mile drive from Los Angeles to Long Island. However , a run in with the law in the country town of Normal, North Carolina leaves Dr. Leland with a choice – Jail or community service. Sentenced to serve three days as the town's doctor, Lisa has her world turned upside down by a man she would never expect. Quickly, Lisa finds that there's a lot more to Normal than she could have ever imagined.
Summer's Shadow
Sometimes all it takes is a dog to find home.
The Love of a Little Girl and a Lost Dog Save the Neighborhood
All it took was a sweet, stray dog to change the life of 12-year-old Summer Larsen and those around her. Summer has a big heart and maturity beyond her years. And Shadow, named for always following her around, was destined to be her dog. But for how long? And at what price?
With controversy building in the neighborhood, Summer is determined to do what's right and care for Shadow. With the help of a reclusive neighbor and a nerdy boy picked on by the popular kids, she learns a worthy lesson that following your conscience is not always easy…but the reward can be invaluable.
Summer's Shadow is inspired by true events and an endearing story for family members of all ages.
Susie's Hope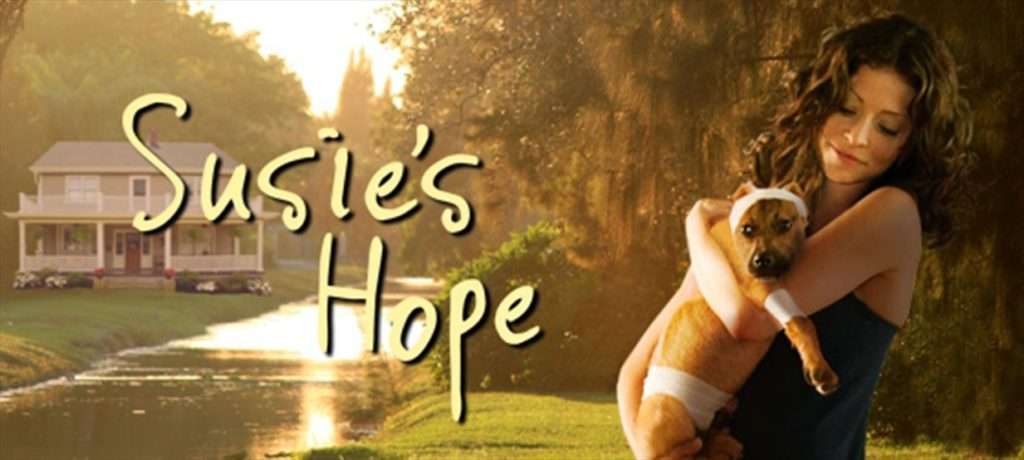 Susie's Hope brings to life the inspirational relationship between pit bull attack survivor Donna Lawrence and Susie, a pit bull-mix puppy found beaten, burned and left for dead.
Since my kids are older, these are all ones we would enjoy watching together. My family loves animals and movies with animals are always a hit here. If your children are younger, there are plenty of choices that would work well for them too. The great thing about Pure Flix is that you can try before you buy! They are running a one month free trial ! This way you can browse through all that Pure Flix offers for your family movie night and entertainment needs. If you decide to keep Pure Flix, you'll be charged after your first month. If you don't think it is for you, cancel at anytime. There is no long term commitment.
More Choices
Pure Flix also has several television series available. My daughter and I really love Heartland. This series is based on the Heartland book series by Lauren Brooke. Heartland follows sisters Amy and Lou Fleming, their grandfather Jack Bartlett, and Ty Borden, through the highs and lows of life at the ranch.
Another good series is Sue Thomas, F.B. Eye. Based on a true story, Sue Thomas: F.B.Eye follows the adventures of Sue Thomas at the FBI in Washington, D.C. She's one hard-headed, soft-hearted woman whose talent for reading lips helps crack crimes and bag the bad guys in places listening devices can't penetrate. With her hearing-ear dog, Levi, Sue's a glutton for jeopardy – and there's (almost) nothing she won't do to bring notorious criminals to justice. This remarkable, edge-of-your-seat drama is an inspiring tribute to the ability of the human spirit to overcome adversity and achieve great things.
Be sure to check out what Pure Flix has to offer. I'm sure you will find something to love!
What would you watch with your family first? What is one of your must-haves during family movie night? I'd love to hear!