Disclosure: Hampton Inn Kenwood Is The Perfect Place to Stay in Cincinnati is a sponsored post. I received a free night's stay at the Hampton Inn & Suites by Hilton Cincinnati Kenwood in exchange for an honest review. All opinions are my own and may differ from yours.
Hampton Inn & Suites by Hilton Cincinnati Kenwood
When I found out I would be visiting Kings Island to experience Mystic Timbers, I knew I wanted to make a weekend of it and visit The Cincinnati Zoo as well. After all, we could possibly get a glimpse of the adorable baby hippo, Fiona. This required an overnight stay. I did a lot of research when it came to looking at Cincinnati hotels. I look at reviews, location, price, and amenities.
The reviews for Hampton Inn Kenwood in Cincinnati were awesome with just about every rating being between a 4 and 5. The hotel's location was perfect for our stay as it is located about halfway between the amusement park and the zoo. Their price is very reasonable and competitive. Considering all the amenities included with your stay, it is a bargain.
Amenities
Hampton Inn & Suites Cincinnati Kenwood has super amenities. You get a free breakfast that isn't just muffins and coffee. The offer make your own waffles, eggs, sausages, fruit, cereal (cold and hot), pastries, breads, juice, milk, coffee, tea and more. This was part of my daughter's yummy breakfast.
The day we stayed, a bunch of tweeners were staying at the hotel with their parents for a baseball tournament, so I didn't take a picture of the food since the area was full of boys. I could tell they were appreciating the full breakfast too! I loved my hot oatmeal, bagel and fruit breakfast. The staff keeps this area very clean and well-stocked. I was impressed with how great it looked considering how many people were using it at the time.
More amenities include free basic Wifi (premium can be purchased or earned by Hilton Honors members) which I really appreciate since, as a writer, I am constantly updating my social media platforms. It is so important for me to keep up-to-date. This was the easiest Wifi service we have ever used. I can't tell you how many times we've had issues signing in to free hotel Wifi in the past. No issues here!
A pool, fitness room, coin laundry, business center and snack shop are among the hotel's other amenities. You get free parking too! I love that since I haven't been to a hotel lately where I haven't had to pay for parking.
Rooms
Our room had a microwave, mini-refrigerator, coffee maker, iron and ironing board, hairdryer, flat screen TV, and very comfortable beds. It was very clean and modern with plenty of room to move around. I chose a room on the top floor to avoid noise from above. I highly recommend it if you have a choice! Considering all of the baseball players and their families staying in the hotel, it was nice and quiet. Good job, parents!
The bathroom was also very clean and had plenty of room for everything you need when you are staying in a hotel. The pull out shelves which keep your toiletries tucked away but accessible when you need them are a definite plus.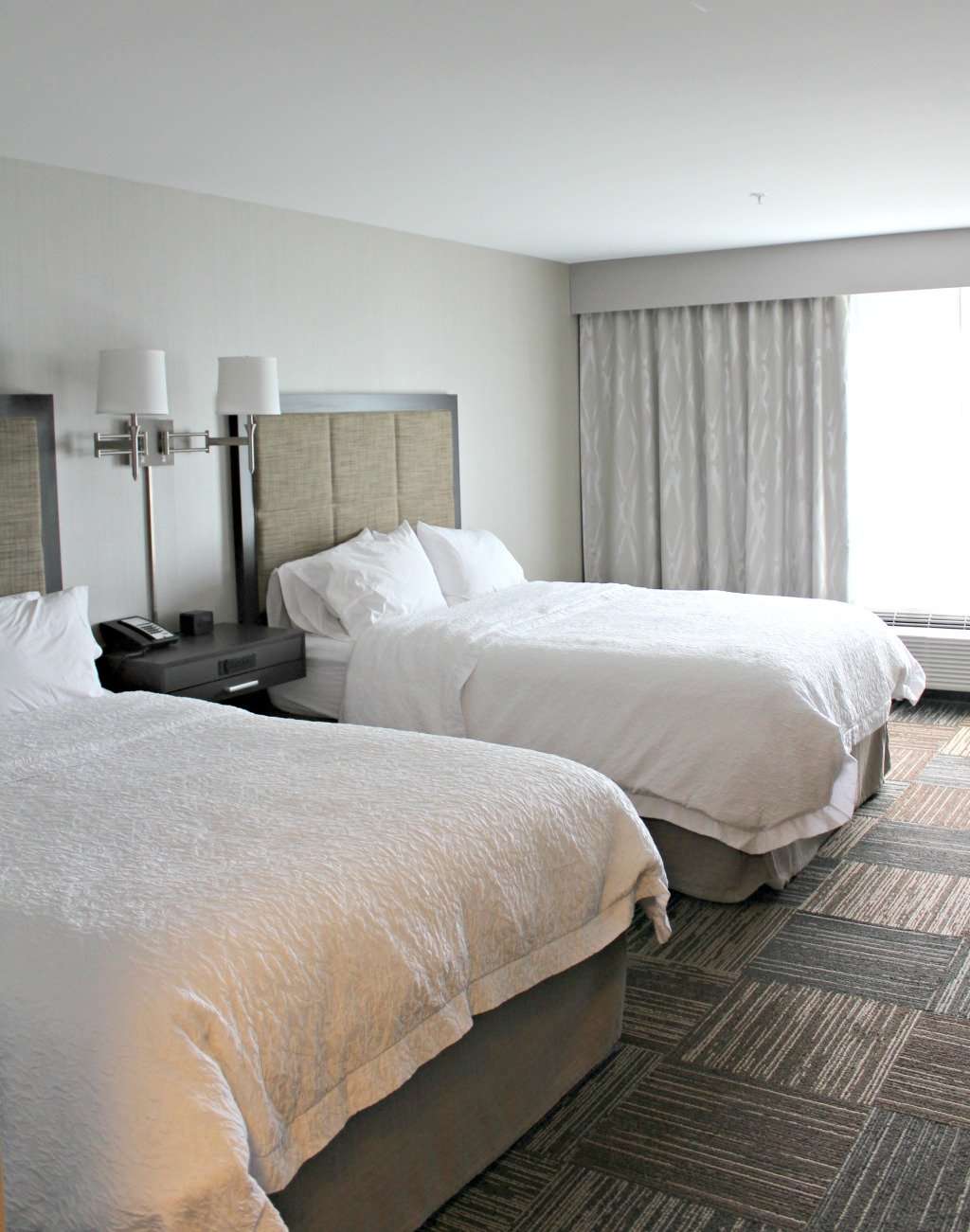 I would absolutely recommend Hampton Inn Kenwood to anyone visiting the Cincinnati area, especially if you are looking for a location close to Kings Island and the Cincinnati Zoo. I had no issues getting from Kings Island to the hotel and from the hotel to the zoo.
As part of the Hilton family, you can expect Hampton Inn Kenwood to exceed your expectations, and this location did just that. The front desk staff was very friendly and helpful. My stay was extremely pleasant, so be sure to consider it for your next stay when you are in the area and looking at Cincinnati hotels.
Follow Hampton Inn & Suites by Hilton
Have you ever stayed at a Hampton Inn & Suites by Hilton? What amenities do you look for when you are choosing a hotel? I'd love to hear your thoughts.