New family friendly movies at Redbox
You can find dozens of new family friendly movies at Redbox every month. They can be rented for just $1.75 on DVD and $2.00 for the Blu-ray a night. Watch trailers at www.redbox.com and add favorites to a wish list to get an email reminder on the day the film comes to Redbox. What are your weekend plans? Check out some of the family friendly movies that were recently released at Redbox and ones that are coming soon!
Dumbo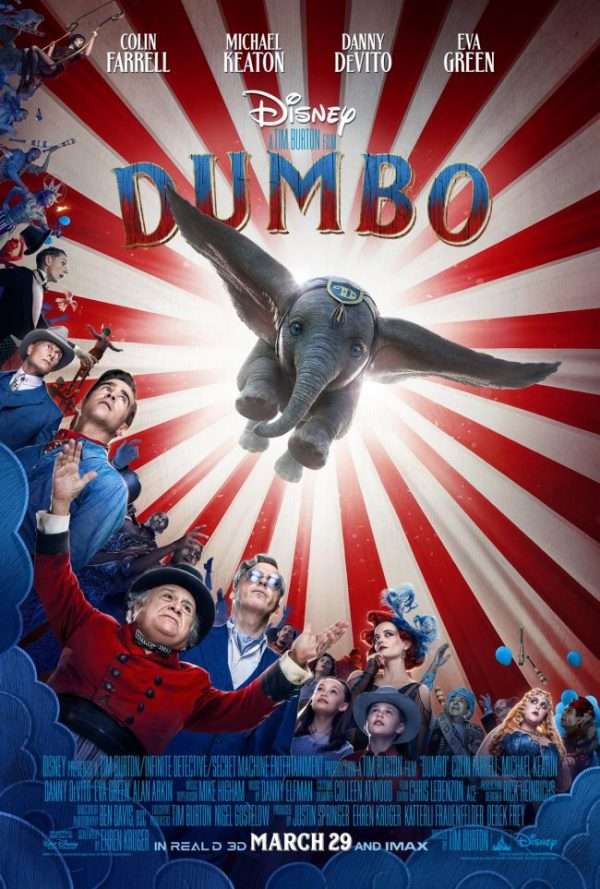 DUMBO has been at Redbox for a while, but I definitely recommend you get rent this family friendly movie from Redbox if you haven't yet. It is so sweet.
A young elephant with oversized ears and the powers of flight becomes a circus superstar with the help of his caretaker and a trapeze artist. The former is torn between his employer's exploitative thirst for profits and his children's desire to reunite Dumbo with his mother.
I have several DUMBO coloring pages, games and character posters on this post. Go print them out for your kids to enjoy!
UglyDolls
UGLYDOLLS is another family friendly movie you can rent at Redbox. The UglyDolls live in a town where weird and strange is celebrated. After discovering a town called Perfection, where dolls are trained to become perfect before being sent to the real world, they are confronted to conform to perfect standards. In the process, they will ultimately realize what it really means to be loved and accepted.
Pokémon: Detective Pikachu
I loved this movie a lot more than I expected to! I think that some parts of it might be over little kids' heads, but if you've ever played Pokemon, you need to see POKEMON: DETECTIVE PIKACHU. You can see my review of the movie here.
If you played Pokémon as a kid, play Pokémon Go now or have kids that are into Pokémon, this is the movie for you. You'll be immersed in Ryme City, a busy metropolis where Pokémon creatures and humans live (and work) side by side, which is how cute little Pikachu came to be Police Detective Harry Goodman's partner. But when Harry goes missing and his son, former Pokémon trainer, Tim suspects foul play. Tim is drawn into the mystery … and a world he thought he'd left behind.
The Secret Life Of Pets 2
This is another family friendly movie you've got to rent at Redbox! THE SECRET LIFE OF PETS 2 is adorable! I could watch it several times, and you might want to purchase this one directly from Redbox. This is another one that I reviewed, so you can go see what else I thought on this post.
Max and his pet friends explore the idyllic farm they now call home whenever their owner is out of sight. Hilarious circumstances ensue as the formerly urban denizens make sense of their new surroundings and acquaint themselves with the farm animals in the vicinity.
Redbox movies to watch with your teens
These movies are a little more intense and less "family friendly" movies at Redbox, but we don't all have little ones! I think these are great choices for you to watch with your teens because you'll all enjoy them.
Avengers: Endgame
If you know me at all, you know how I love Marvel movies. Marvel fans will want to watch AVENGERS: ENDGAME multiple times, so you can either rent this one or purchase it from Redbox.
After the events of Infinity War leaves half of the universe in ruins, the remaining Avengers must work together to recruit old and new allies and muster all of their remaining strength and resources to defeat the mad titan Thanos and bring their friends back from the brink of oblivion.
A Dog's Journey
I'm putting this one in the teen section. A DOG'S JOURNEY is a family friendly movie you can rent from Redbox, but since you might be bawling your eyes out, your little ones might get upset.
Bailey is a dog that has grown old through the years who makes a promise to his owner that he will find and protect his granddaughter no matter what. As Bailey's soul jumps through multiple lives, he always finds his way to her as she goes through the highs and lows of life.
Have you seen any of these family friendly movies at Redbox yet? Which are your favorites and which are you most looking forward to seeing? Head to Redbox online to reserve your copies, check out the movies trailers and more.