Does anyone else feel like summer just started? As much as I love fall, I am not ready for the kids to be gone all day! Yeah, my kids are in college, but I don't care! I love having them home during the day. Whether you're ready or not, it's back to school time!
Healthy Snacks for Back to School
This year, my daughter is going to be student teaching 6th grade students. She recently found out that their lunch period won't be until 12:40! Even the lead teacher thinks that this is late for 6th grade kids to eat, so they're planning on letting them have a snack during the day. Molly will be taking a snack too since it will be at least 6 hours between meals.
Picking the right snacks for our kids for either during or after school is important. Kids are picky, so they want something tasty. We want to satisfy their cravings and feed their brains at the same time. I've got some great products and easy recipes to share with you that will do both.
Granola Munchkins
This would be a great snack to send to school (check to be sure peanut butter is allowed at your child's school) or to have ready to enjoy after school.
Directions:
• Combine all ingredients in a mixing bowl.
• Coat your hands with flour and roll granola into balls.
• Store in an airtight container in the fridge.
Crazy Richard's Peanut Butter
Crazy Richard's Peanut Butter only uses one ingredient to make their peanut butter: peanuts! And you can tell. It is so good, and your kids will love it. Be sure to read this Crazy Richards Peanut Butter Fact Sheet. It is jam-packed with great information about Crazy Richard's, peanut allergies, and more. They've got a lot of recipes on their website too, so check out this #ClutterFreePB today! Purchase Crazy Richard's online or use their store locator. Try Crazy Richard's on these banana pancakes!
Follow Viki's Granola  
Follow Crazy Richard's
Natierra Products
I love Natierra's tagline: Superfoods with Soul. They've got a "strong commitment to foster social progress and sustainable business through organic and fair trade practices." You can feel good about giving these to your kids. In 2015, Natierra launched a major philanthropic endeavor; the Feed a Soul Project. The Feed a Soul Project reinforces the brand's mission to foster social progress and sustainable business practices throughout the world. This project launched three key initiatives; the Andes Back to School Program, Membership in the 1% for the Planet Association, and the Buy One Bag, Feed One Child Initiative.
Natierra sent me their Nature's All Foods Freeze Dried Strawberries and Freeze Dried Apples as well as their Himalania Greek Yogurt Goji Berries. These make a delicious snack all by themselves. Talk about easy! Did you know that Goji Berries have been used for over 5,000 years in traditional Chinese & Tibetan medicines? Ancient practitioners believed them to help build strength and increase longevity.
You can find Natierra products at one of the stores listed at the bottom of their Feed a Soul Project page.
Try this easy Goji Berry Granola for a yummy school or after school snack:
Ingredients:
2 cups premade or homemade granola
1/2 cup Himalania greek Yogurt Goji Berries
1/4 cup slivered or sliced almonds
1/4 cup sunflower seeds
Directions:
Mix ingredients and store in an airtight container
Follow Natierra
Popzup Popcorn & Popcorn Seasonings
Popcorn is a great snack, but depending upon how you make it, it may or may not be a healthy snack. Popzup Popcorn meets standards for the USDA Smart Snacks in Schools. It is made in the USA with popcorn grown sustainably on family farms in Pennsylvania and is non-GMO, gluten free, whole grain, with fiber, vitamin B & protein. The box is a reusable, patented popper and includes everything you need to pop 12 large boxes of popcorn (includes 2 pounds of popcorn kernels) without chemicals, plastic or silicone. You can purchase Popzup online or use their store locator and find it near you.
Watch this video to see how to use Popzup

Pop some up, drizzle it with some extra virgin olive oil, and sprinkle one of Popzup's Seasonings on top and pack it up for a snack. It's easy, healthy and delicious.
Follow Popzup
ParmCrisps with Gaea Olive Spread
I don't know if my kids are crazy or what, but they've always loved olives! I know black olives are just so fun to put on your fingers and eat them right off….you know you've done it! If your kids are olive fans, they will more than likely love this snack. I think this one would be best for after school, since it could be a little messier. The flavored ParmCrisps have a strong flavor, so the Original flavor might be best with this dip.
If they aren't fans of olives, check out the recipe ideas on ParmCrisps site. They've got different spread recipes as well as recipes to use the ParmCrisps in different ways. Of course, they're great plain too. ParmCrisps are packed with protein, sugar free and gluten free since they're made from 100% parmesan cheese! You'll love them. You can find ParmCrisps at the retailers listed on this page.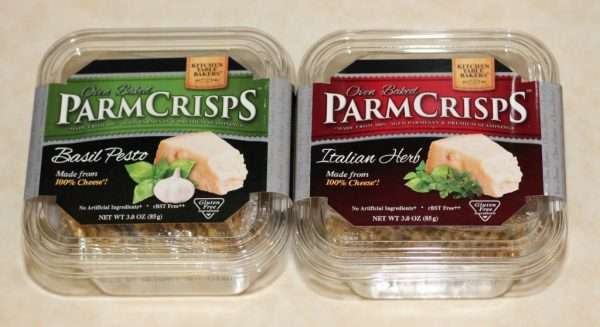 Gaea olives make a great snack for your olive lovers. They come in a variety of flavors and are 100% natural and delicious. You can purchase Gaea olives online or use the store locator to see if they're available near you.
Olive Spread Ingredients
8 oz. cream cheese, softened
2.3 oz. package Gaea olives, preferred flavor
1/8 c. finely chopped walnuts
Directions
Chop olives in a food processor or by hand and mix all of the ingredients together until smooth
Follow Gaea 
Follow ParmCrisps
Snikiddy's
Snikiddy Baked Fries are fries you can feel better about giving your kids! They are baked and made from simple, wholesome, real-food ingredients. These Baked Fries have been revamped and now include 70 percent organic ingredients. They are gluten free and non-GMO certified as well. The most important thing (for your kids) is that they taste great! They're light and airy and taste great!
Snikiddy also makes these yummy cheese puffs! Who doesn't love cheese puffs? Maybe people who don't like cheese? But we've had that talk before… Cheese puffs that are fun, taste great and are better for your family don't have to make you feel guilty for enjoying your snacks! These don't have the preservatives and additives that others may have.
I've got a really simple idea for you for those times when you just need grab and go snacks for the kids. Place serving sized portions in airtight containers at the beginning of the week, label them with each child's name, and put them in the cupboard. This way, they're not eating the entire bag…believe me, they can. If you're going to take these in the car, I'd suggest putting a napkin in the container too because they can get a bit messy. Of course, you can always just lick your fingers…
Follow Snikiddy
The New Primal Snack Mates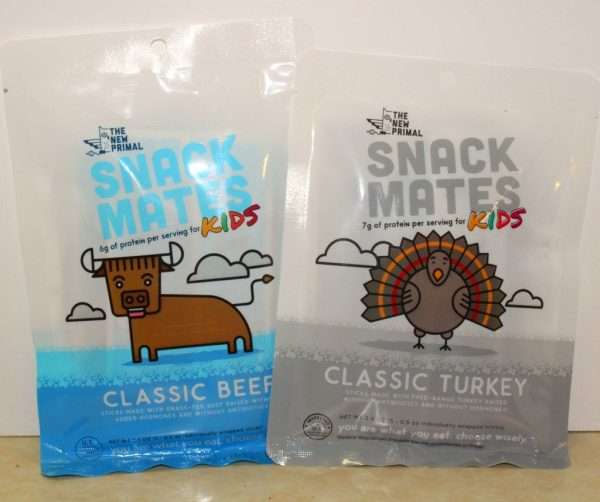 "You are what you eat. Choose wisely." Good advice right? That's why Snack Mates are a great choice for you and your family. The New Primal is making packing your kid's lunch easy again thanks to its line of Snack Mates snacks. These meat sticks are the first Paleo-friendly meat sticks made just for kids. They're Gluten-Free, low in sugar. They contain no hormones, refined sugars, soy or dairy. Snack Mates offer the ultimate healthy protein snack for kids on-the-go and are perfect for adding to any child's lunchbox!
You can find The New Primal Snack Mates and their other products by using their online store locator or on Amazon.
Follow The New Primal
Slammers SuperFood Snack
After a long day at school, kids need to refuel with the right nutrition to power through their homework and after-school sports, and this little known A+ after school snack is so good it should be considered cheating. It's juicy. It's fruity.  And it's packed with superfoods and 500mg of omega-3s.
Slammers SuperFood Snacks by Go Gourmet are perfect for after-school lunches and sports. They  just released a new Slammers Snack flavor for 2017: Amped. Created to be delicious, easily digestible, and instant fuel for active kids, Amped, in addition to their full-line of flavors, is packed with protein and nutrients to keep kids energized, fueled, and focused.
Slammers are great for an on-the-go treat too. They don't make a mess, so you can throw some in your bag for in the car when your kids are getting "hangry."
Follow Slammers
Facebook
 What types of healthy snacks do your kids enjoy the most?