Disclosure: I attended the World Premiere of THOR: RAGNAROK free as part of a press event. All opinions are my own.
The World Premiere of THOR: RAGNAROK Movie Review
If you could jump into this picture, you would see me off to the right clapping and woohoo-ing! That person in the far right corner might even be me. If not, I'm very close. I'm in the front row, feeling the rush of seeing the stars, walking the red carpet and anticipating the movie.
I'm going to try my very best to not give ANY spoilers. In fact, I'll go back over this post several times. I'll say to myself, "Should I tell them this, or is that giving something away." I've already done this with my daughter. I've started to say something…wanting her to share my excitement…then I stop myself and say, "Nevermind, that might spoil something for you." So I promise to edit and re-edit this before the embargo is lifted on reviews. My son says to say, "It's a good movie. The end." Yeah, I think I can do better than that. (By the way, you're safe…I checked over and over. No spoilers here!)
Oh, yeah. One BIG tip before I go on. Don't go to the bathroom during ANY of this movie. It is jam-packed with so much awesomeness, that you're not going to want to miss one single moment. You can go 2 hours and 10 minutes. Just don't get the supersized drink, and you'll be fine.
Dim the house lights
From the moment THOR: RAGNAROK begins until the credits roll, you are transported into another realm, and you won't want to leave! I really could have watched it again from the moment it ended. This version of the Thor movies is so completely different from THOR and THOR: THE DARK WORLD. On a scale of 1-10, I give it infinity.
This teaser trailer gives you a great "taste" of the movie, and the use of Led Zeppelin's "Immigrant Song" fits it perfectly. I just can't wait for you guys to see this amazing movie! I am SO ready to go see it again, so I can talk to people about it!
Movie Synopsis
In Marvel Studios' "Thor: Ragnarok," Thor is imprisoned on the other side of the universe without his mighty hammer and finds himself in a race against time to get back to Asgard to stop Ragnarok—the destruction of his homeworld and the end of Asgardian civilization—at the hands of an all-powerful new threat, the ruthless Hela. But first he must survive a deadly gladiatorial contest that pits him against his former ally and fellow Avenger—the Incredible Hulk!
THOR: RAGNAROK is the perfect mix of humor and heart. Director Taika Waititi knows how to make his audience laugh, and he knows how to make them cry. If you've seen any of his prior films, you know to expect this from him. I love how Waititi was able to create an entire new experience with THOR: RAGNAROK. I know people have been saying it has a GUARDIANS OF THE GALAXY feel to it. In a way it does because of the wit and the fact that 99% of the movie takes place in space rather than Earth.  But I think that is where the comparison ends.
The characters will give you all the feels
These actors are all completely amazing, and the way they play their respective characters will just wow you. I don't think that one line or one moment could have been improved upon. You'll be awed.
Hela
With the introduction of Hela, you get a villain who you almost want to feel sorry for. This picture of Hela is my favorite because I think we can look into her tortured soul.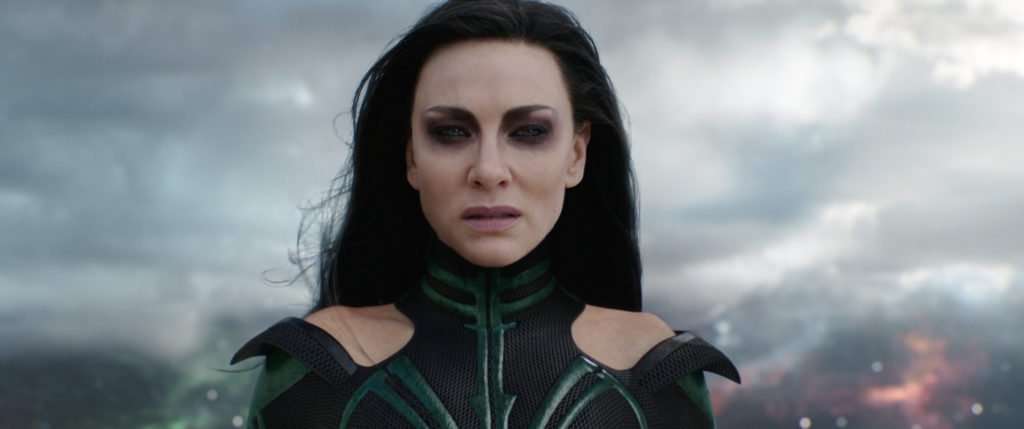 Watch her featurette below. Cate Blanchett says it best: "I think the best villains are those that you kind of love and hate what they do, but you sort of understand it." She and Waititi got Hela right.
Hulk
Where has Hulk been?! You know we've all been wondering since he didn't show up to help in CAPTAIN AMERICA: CIVIL WAR! Well, here he is, ready to battle Thor in this gladiatorial event.
I can't tell you much more because, you got it, it'll spoil stuff for you! And I know I'd be mad if I got spoilers! I'll tell you that where he has been has changed him, and Mark Ruffalo plays Hulk/Banner as amazingly as ever. He rocks this character and embraces the change.
Thor
Let's just take a moment to appreciate Chris Hemsworth…..Okay, moving on…
You'll be reading my interview with Taika Waititi later this month, but to describe Thor's character in this movie, I've got to give you a little taste of the interview. On Chris Hemsworth, he said, "…well my favorite performance is Chris's performance because just knowing how fun he is and how funny. And he's charming, and he often kind of makes you feel like, 'Oh, man if you actually were Thor I would totally come and be with you.' But I just loved having the opportunity to give him free range to just be himself and to be charming and to like be the favorite character…"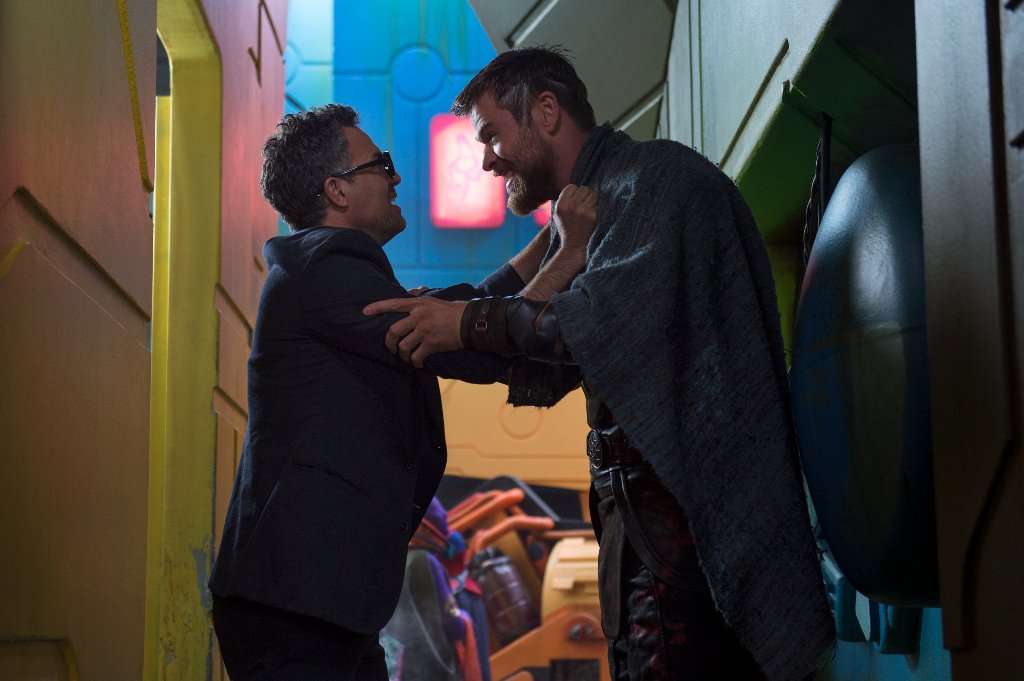 Sure, he was great in the other Thor movies and had funny lines, but in THOR: RAGNAROK he just shines. Chris Hemsworth is amazing, and I know you're going to love him in this "version" of Thor. The scenes between Thor and Hulk and Thor and Banner are the best. I love the way these guys work together.
Loki
Ah, Loki. Tom Hiddleston fans will be thrilled at the amount of time Loki spends on-screen during THOR: RAGNAROK. He is much less of a mischief-maker, though you'll see the charming "Trickster" in him.
I absolutely love the way Loki, as well as his relationship with Thor, evolves in this film, and I'm sure you will too. He is always a fan favorite, and in THOR: RAGNAROK, he may just build an even bigger fan base.
Valkyrie
I REALLY can't tell you much about her because pretty much everything about Tessa Thompson's character in THOR: RAGNAROK involves spoilers!
She is brilliant and has some very emotional scenes that will just break your heart. You are going to love Valkyrie and the way Thompson fits into the Thor franchise. I remember first seeing Tessa Thompson in Veronica Mars! It was one of my favorite shows, so right away, I was like, "I know her!" She's always great to watch no matter what she is in and no matter what part she is playing.
Supporting cast
If I go into all the supporting characters, we'll be here all day. They are all so great! Korg, Skurge, Heimdall, the Grandmaster, Topaz, Odin…familiar and brand new characters….will grab your attention and grip your heart. After you see THOR: RAGNAROK, I want you to come back here and tell me who you loved most. I can't even tell you mine because I want you to experience these characters without bias. They're all played by such talented actors.
I'll talk more about Korg, Topaz and Skurge when I share my interviews with the actors who played these parts. You are so going to love them.
The setting and the story
Watch the full trailer here, and then we'll talk:
We're not in Asgard anymore, are we, Toto? You can totally tell from the trailer that the setting is so much more colorful and lively than the previous films. It is wild and rough. It's loud and riotous. And you're gonna love it.
The story is well summarized by the synopsis, and I really cannot tell you more without making you mad at me for slipping up! After the movie has been out for a few weeks, I'll come back and update this, so we can chat about how much we loved it. By the way, not all reviewers are going to stay away from spoilers, so be careful! In fact, someone has already spoiled something major. Stay away from the spoilers, people! You are going to want to experience everything during the movie as it is happening.
Follow
Like THOR: RAGNAROK on Facebook: https://www.facebook.com/Thor/  
Follow THOR: RAGNAROK on Twitter: https://twitter.com/thorofficial
Follow Marvel on Instagram: https://www.instagram.com/marvelstudios/ 
THOR: RAGNAROK opens in theaters everywhere November 3rd!
#ThorRagnarok