This post was sponsored by Milk-Bone as part of an Influencer Activation for Influence Central and all opinions expressed in my post are my own.
When you have a dog, you know they NEED to be entertained! A bored dog can be a destructive dog. This is especially true for breeds who are really active. I'm also sure you don't have all day to play with your dog. Duke would love it if I did! Thankfully, when I'm busy, Duke can stay busy with his Milk-Bone® ActiveTM Toys Dispensing Ball.
Milk-Bone Active Toys
Duke loves carrying this Milk-Bone Active Toys Dispensing Ball around even when it doesn't have a treat inside. I love that when it is time for a treat, I can put a medium sized Milk-Bone Biscuit inside to keep him occupied. I put two treats in it the first time, but one fell out right away (you can see it by his paw). He just left it on the floor and went after the one in the ball! I love how busy Duke's Milk-Bone Active Toys Dispensing Ball keeps him! If he can't get his treat out right away, he keeps working on it until he does. This toy is designed to keep your dog mentally and physically stimulated, and it does!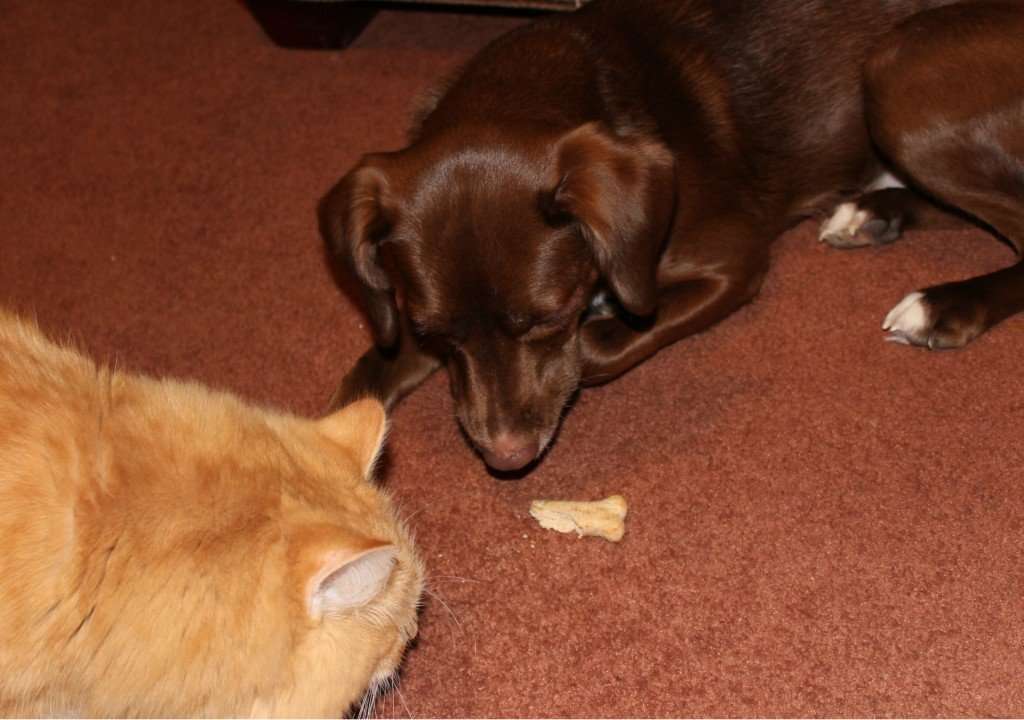 Once he did get the biscuit out the first time, Indiana had to get in on the action. He wanted to make sure he wasn't missing out on a treat he wanted! Yes, my cat likes dog treats.
Milk-Bone Active Toys at Meijer
Your dog will enjoy playing with this and the rewards that he gets from playing! You can find Milk-Bone Active Toys at Meijer. They can be found in the dog toy aisle. I found them right across the aisle from the Milk Bone Treats at my Meijer. I feel good about giving Duke Milk-Bone Active Toys because they are made of high-quality, durable, non-toxic material. They are specifically designed to work with Milk-Bone biscuits, which Duke loves!
You have choices when it comes to choosing Milk-Bone Active Toys. There are 2 styles of Active Toys, and these come in 2 different sizes which you can see on Milk-Bone's website. The ball that Duke has comes in small and medium. I got Duke the medium size because of his size. If your dog is under 25 lbs., you will want to get a small toy. There are also Treat Tumblers that come in small and medium.
If you shop regularly at Meijer, you probably already have an mPerks card. If you don't already have one, you can sign up! Meijer has a great mPerks offer right now for $2 off the small toys and $3 off the medium toys. This offer is valid until 3/17/18.
I want the best for Duke, and I'm sure you feel the same about your dog. Keep him happy with Milk-Bone Active Toys!