One of my favorite things about certain actors is their giving spirits. I'm all about blessing others and giving where I can. You know how much I love Marvel, so I am so excited to share this awesome news with you.
Marvel: The Universe Unites
The Walt Disney Company announced yesterday a charity campaign of epic proportions named Marvel: The Universe Unites. It brings together the cast of Marvel Studios' next big blockbuster, INFINITY WAR, to support children's charities through funds raised from the release of the latest line in action figures and toys from the upcoming film.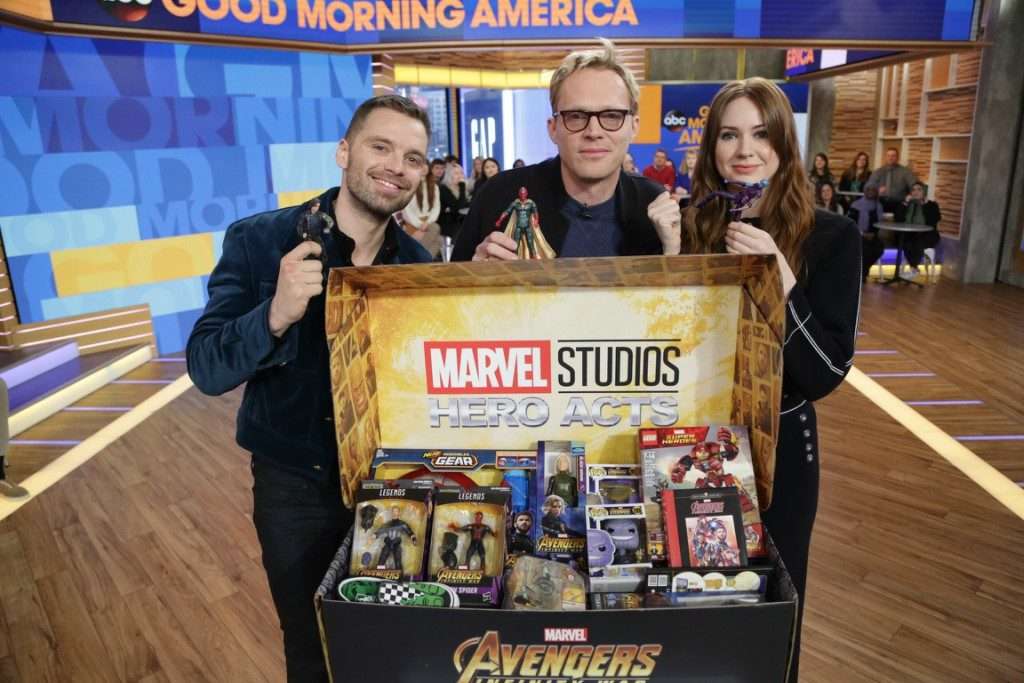 About #HeroActs
This week-long event seeks to bring the stars together in a series of #HeroActs and social media challenges to raise funds and awareness for foundations that support children and families impacted by serious illness.
As part of Marvel Studios: Hero Acts, a charitable initiative launched in 2016, some members of the cast of Avengers: Infinity War will receive a special toy care package filled with new products celebrating their Marvel character to be donated to children's hospitals.
Their mission? To take a creative picture or video to reveal the new toys to fans and post it to their Facebook, Instagram or Twitter channels using #HeroActs. When their collective posts hit a million likes, they will unlock a $250,000 US donation to Starlight Children's Foundation® from Marvel.
Marvel: The Universe Unites Kick-Off
Karen Gillan is one of my favorite Marvel actresses because of how amazing she is as Nebula! GUARDIANS OF THE GALAXY VOL. 2 is my favorite Marvel movie because of the depth of her character in the movie.
Watch Marvel: The Universe Unites kick-off with stars Sebastian Stan, Karen Gillan and Paul Bettany from Tuesday's Good Morning America appearance.
How YOU can help!
Members of the cast have already accepted the challenge, including Mark Ruffalo, Dave Bautista and Don Cheadle among others expected to share the initiative on social media! So go on social media and search the hashtag #HeroActs. When everyone's collective posts hit a million likes, they will unlock a $250,000 US donation to Starlight Children's Foundation® from Marvel.
Marvel: The Universe Unites will culminate the weekend of March 3 when shopDisney.com and Disney stores in the U.S. will donate 10% of sales of all Marvel products made between March 3-4, 2018 (up to $50,000) to Make-A-Wish® to help grant life-changing wishes for children with critical illnesses.
Marvel and Its Partners
"Being a Marvel Super Hero gives us a powerful platform to directly influence positive change. Giving back to kids is the most impactful role you can play," comments Marvel Studios' Black Panther star, Chadwick Boseman. "Marvel: The Universe Unites and #HeroActs is just a fun way to support a noble cause while entertaining kids and fans around the globe."
Marvel partners are also supporting the cause with their own #HeroActs in support of children's charities. As part of the week's events, Hasbro will donate $1 million US worth of cash and products to Give Kids The World, an organization that fulfills the wishes of children with critical illnesses and their families by providing them with an unforgettable trip which includes a visit to their village in Central Florida and access to Walt Disney World Resort.
Funko, known for their pop culture collectibles, will make a $1 million US toy donation to Starlight as part of the Marvel: The Universe Unites campaign.
"From our fantastic cast to our toy and retail partners, it's great to see the Marvel Cinematic Universe come together in this way to support children's charities," comments Kevin Feige, President, Marvel Studios. "The launch of the products for Avengers: Infinity War is a fun way for fans to celebrate the countdown to the movie, and this initiative underscores that moment in a really special way."
Starting March 3, new Marvel Studios' Avengers: Infinity War products will be included in the Marvel: The Universe Unites Amazon Wish List, enabling consumers to send toys directly to Starlight.
About Marvel Studios' AVENGERS: INFINITY WAR
An unprecedented cinematic journey ten years in the making and spanning the entire Marvel Cinematic Universe, Marvel Studios' "Avengers: Infinity War" brings to the screen the ultimate, deadliest showdown of all time. The Avengers and their Super Hero allies must be willing to sacrifice all in an attempt to defeat the powerful Thanos before his blitz of devastation and ruin puts an end to the universe.
Anthony and Joe Russo direct the film, which is produced by Kevin Feige. Louis D'Esposito, Victoria Alonso, Michael Grillo and Stan Lee are the executive producers. Christopher Markus & Stephen McFeely wrote the screenplay. "Avengers: Infinity War" releases in U.S. theaters on May 4, 2018.
Be sure you're keeping up with my Marvel Movies to Watch before Infinity War posts! I've got all sorts of fun tidbits about the films and how they'll tie into INFINITY WAR!
FOLLOW
Like AVENGERS on Facebook: https://www.facebook.com/avengers
Follow AVENGERS on Twitter: https://twitter.com/avengers  
Follow Marvel on Instagram: https://www.instagram.com/marvelstudios/
AVENGERS: INFINITY WAR opens in theaters everywhere May 4th, 2018!
#InfinityWar