TOY STORY lovers rejoice! This summer, Toy Story Land is coming to Walt Disney World's Hollywood Studios.
TOY STORY
Think back to the first time you watched TOY STORY. It debuted in November of 1995, and I had a little girl who had just turned a year old. Fast forward to the VHS the following year, and I'm pretty sure that was my first foray into the world of TOY STORY. My sister brought the VHS tape to my parents' house that Christmas. We laughed, we cried, and the rest is history.
Now, we TOY STORY lovers are looking forward to the opening of Toy Story Land inspired by Disney•Pixar's Toy Story films.
About Toy Story Land
Guests in Toy Story Land will feel like they have shrunk to the size of a toy as Woody, Jessie, Buzz, Slinky Dog, the Aliens, Green Army Men and other fun-loving Toy Story characters come to life in the larger-than-life outdoor setting of Andy's backyard.
What a backyard!  Andy has set up his toys for the best playtime ever. We all know Andy has a vivid imagination, and Toy Story Land reflects that. Guests will be surrounded by giant building blocks, game board pieces and more.
Toy Story Land is set across eleven fun-filled acres. It will include two all-new attractions and one expanded favorite. Guests will whoosh along on a family-friendly roller coaster behind Slinky Dog, take a spin with flying saucers in toy spaceships and score high on the midway.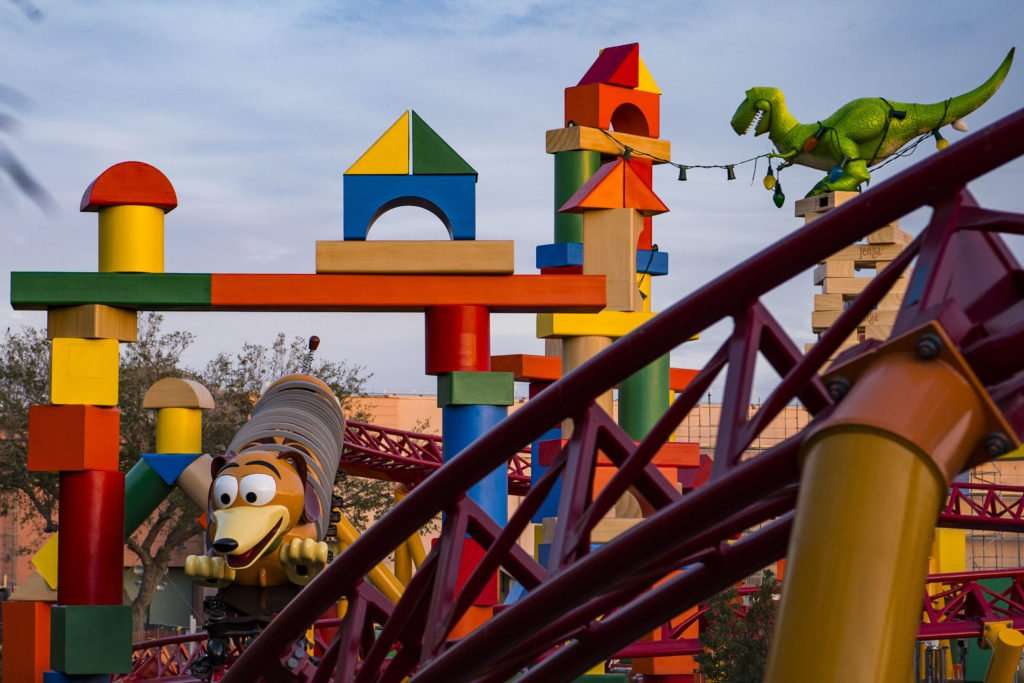 Toy Story Land will celebrate what once defined entertainment for a generation. Crayons, Rubik's Cubes, Cooties, Green Army Men and other toys and games will pour on the nostalgia for park-goers. The lamp posts will even be shaped like Tinkertoys.
"With set pieces, staging, attractions and experiences Toy Story Land represents the best of Walt Disney Imagineering's collaboration with our storytelling partners at Pixar Animation Studios," said Bob Chapek, chairman of Walt Disney Parks and Resorts. "This new land will place guests inside the wondrous world of Woody, Buzz and their pals – and invite everyone to experience the joy of being a toy."
Ride the New Rides!
Slinky Dog Dash. Andy has assembled his roller coaster kit for maximum family fun. Tracks and supports in bright colors of red, orange, yellow and blue are put together according to Andy's hand-drawn plans, with Rex and Jessie lending a hand. And to complete his creation, Andy picked up everyone's favorite floppy-eared dachshund with a strrrrretch-ing slinky coil belly and dropped it on to the coaster track. Get ready to ride inside Slinky Dog's coils!
Slinky Dog Dash is inspired by the delightful pooch spinoff of Slinky, the 1950s American toy classic. Riders of all ages will delight as Slinky Dog bends and twists his coils around curves, hills, bridges and drops in the Slinky-est coaster ever. Riders will zip around and above Toy Story Land, serving up panoramic views of all that the new land has to offer. Andy's colorful creation will stretch Slinky Dog and his coils to the max – from his head to his upturned tail – and be fun for the entire family.
Alien Swirling Saucers. Brace yourself for out-of-this-world thrills because the aliens have powered up their flying saucers! Alien Swirling Saucers will immerse guests in the playful world of Andy's toys. This galactic space toy is designed as a play set that Andy won at the Pizza Planet restaurant. Adorable little Toy Story green Aliens swirl about in their flying saucers with guests in tow in their rocket-ship toys, while "The Claw" hangs overhead. This space adventure is bathed in music reimagined for intergalactic fun, dappled with multi-color lighting and sound effects from throughout galaxies.
Updated ride!
Toy Story Mania! While Andy's away, the toys will play. One of the most beloved attractions at Disney's Hollywood Studios, Toy Story Mania!, gets an all-new colorful toy carnival game box entrance when the new land opens. In fact, this is the box that the Toy Story Mania! game came in. Recently updated with a third track, the popular attraction will put even more guests in the carnival playset action taking aim at 3D objects – using everything from baseballs to cream pies – in a variety of whimsical, fast-paced games. To the high-scorer go bragging rights.
Eat in Toy Story Land
When it's time for on-the-go refreshments, Woody's Lunch Box will serve up tasty meals and old-fashioned soda floats. There will be a walk-up window in a setting surrounded by Andy's favorite toys and a giant vintage thermos.
Menu Items
S'more French Toast breakfast sandwich.  Oozy goodness in a chocolate ganache- and marshmallow-stuffed French toast topped with graham cracker crumbles. Inspired by the classic American campfire treat.
Monte Cristo sandwich. Woody's version of this classic sandwich has layers of ham, turkey, Swiss cheese, and raspberry jam…and is grilled to a golden brown.
Grilled three-cheese sandwich. To ensure a soft gooey middle, Disney chefs created a sharp cheddar cream cheese spread, layered in provolone and cheddar and wrapped the sandwich in garlic butter-grilled French bread.
BBQ brisket melt. With a nod to cowboy Woody, this Texas-style smoked brisket features cheddar, Monterey Jack, pickles, BBQ sauce and garlic butter-grilled sourdough.
Totchos. Bite-sized potato barrels, corn chips, chili and queso. 'Nuf said.
Lunch box tarts. A modern interpretation of a breakfast toaster pastry as a hand-held dessert, these feature a uniquely delicate crust. Layer in high-quality ingredients for fillings, add a decorative garnish, and these tasty tarts beat anything mom packed. Choice of Raspberry Lunch Box Tart garnished with Icing and Dried Fruit and Chocolate-Hazelnut Lunch Box Tart garnished with Icing and Caramelized Bacon
Healthier Menu Items
Smoked turkey, tomato, and lettuce on multigrain bread. The quintessential lunch box sandwich. To give it a kick of flavor, Disney chefs add a creamy Dijonnaise.
Banana Split Yogurt Parfait. Layers of banana-vanilla Greek yogurt (with a hint of honey), fresh bananas, strawberries, and pineapple topped with granola and chocolate chips. A delicious way to start the day!
Other healthy options available at Disney's Hollywood Studios include fresh fruits and vegetables, salads, and grilled meats and fish.
Kids Menu Items
Kids' offerings include grilled cheese sandwich or turkey sandwich, both with potato barrels and mandarin oranges. Sides include tomato basil soup, vegetable macaroni salad, potato barrels and Mini Babybel® snack cheese, the official snack cheese of Walt Disney World Resort.
Beverages
In addition to fountain drinks and refreshing lemonade, beverage offerings include a classic Barq's root beer float and a Mystic Portal Punch (PowerAde Mountain Berry Blast with flavors of lemon-lime and tangerine). For the big kids there's a Grown Up's Lemonade with cherry vodka, Odwalla Lemonade, and black cherry purée.