I attended a Pixar presentation as part of the Incredibles 2 Event press trip to Pixar. All photos in this post (except for the one of me!) are courtesy of Disneyland.
Pixar Fest
Today is the day that Pixar fans have been waiting for! Pixar Fest is officially open, and there will be Disneyland food and fun revolving around all things Pixar. On my recent trip to Pixar, I got to attend a super informative session with members of the Theme Parks team including Production Manager Krista Sheffler, Creative Director Tasha Sounart and Production Manager Heidi Holman.
This year marks the first-ever Pixar Fest. Beloved stories from Pixar Animation Studios are included in new ways at both Disneyland and Disney California Adventure Parks. During Pixar Fest, you'll experience a new nighttime spectacular, the return of two favorite parades with fresh new Pixar surprises, new décor, and atmosphere entertainment.
Food for Pixar Fest
I don't know about you, but when I go to Disney Parks, I love trying new food! During Pixar Fest, Disneyland and Disney California Adventure are offering creatively themed food and beverages inspired by the Pixar stories and characters that we have come to know and love.


Pixar Fest Celebration Cake
How adorable is this Pixar Fest Celebration Cake inspired by the famous Pixar Ball? I was lucky enough to get my picture taken with the Pixar Ball, and I have to say, it does remind me of the ball.
All I know is that I want to dig into this cake. It is made of yellow vanilla cake, blue raspberry cake and red velvet cake with raspberry purée and vanilla frosting, topped with a chocolate Pixar Ball. YUM! You can find this cake at Plaza Inn at Disneyland Park and Boardwalk Pizza & Pasta at Disney California Adventure Park.
Disneyland Food for Pixar Fest
"UP" on Main Street U.S.A.
The fried bologna sandwich is at Carnation Café. I know what you're thinking…"Fried bologna sandwich??" Our presenters assured us that this is a must-try, so don't let the name fool you.
How cool is this pork chop dinner? I grew up in the age of TV dinners, and this certainly looks better than those did. This one is reminiscent of Carl's TV dinners, with a spiced apple pork chop, cornbread, peas and carrots, and a chocolate cake dessert at Carnation Café.
There will be a specialty Éclair at Jolly Holiday Bakery Café.
Try a frozen "Grape Soda" slush at Cappo Cart.
"COCO" in Frontierland
I love COCO! It is so colorful and meaningful no matter your ethnicity. The themes of family and being yourself are so strong. These COCO inspired menu items look like they are to die for!
Try some Mexican chocolate pot de crème, topped with a Miguel chocolate at Rancho Del Zocalo.
I must have this COCO Churro! It is made with rich chocolate powder, vanilla bean and salted cinnamon sugar is served with a spiced, Mexican chocolate dipping sauce. Yes, please!
"TOY STORY" in Frontierland
Oh my goodness. TOY STORY was my son's favorite movie! I really want to visit Disneyland with him and try this root beer float served in a souvenir Woody boot at Golden Horseshoe Saloon. Check the bottom of the boot for a TOY STORY memory! Kyle still has his Woody doll with Kyle written on the bottom of his boot.
Funnel cakes are not optional when we visit theme parks. We MUST get them. This berry funnel cake looks amazing. It is topped with blueberries, strawberries, cookie-and-cream crumbles, crème anglaise, white chocolate and gold-dusted whipped cream, and you can find it at Stage Door Café.
How about a cinnamon pretzel at Frontierland Pretzel Cart? Okay, if I must.
"TOY STORY" in Tomorrowland
Redd Rockett's Pizza Port transforms into Alien Pizza Planet, featuring new Alien-inspired items, including a hearty cheeseburger pizza topped with cheese, caramelized onions, diced tomatoes, slider patties, a house-made burger sauce, and pickles.
These little green men alien macaroons in Tomorrowland are adorable!
"RATATOUILLE" in New Orleans Square
This three-course dinner is inspired by the little chef, Remy, and is served at Café Orleans. The dinner features a charcuterie plate starter.
It's followed by this Ratatouille a Confit Byaldi Shrimp dish entrée, and it ends with berry and cheese beignets served a la mode.
The awe-inspiring food continues in Disney California Adventure.
Disney California Adventure Food for Pixar Fest
"MONSTERS, INC."
Try a chilled noodle salad featuring color-changing noodles with mint, Thai basil, shredded daikon and tofu at Lucky Fortune Cookery.
Get some Mike Wazowski-shaped sourdough bread at Pacific Wharf Café.
I'll take a mint chip smoothie and whoopie pie at Schmoozies!
 "COCO"
There is a COCO-inspired menu at Paradise Garden Grill, in the Pixar Pals area. They are serving mole verde con pollo, tacos de estilo callejero, a Jamaica slush and "COCO" tres leches parfait.
Also featured at Paradise Garden Grill is a Mexican cinnamon-spiced hot chocolate served in a souvenir "COCO" jarrita.
CARS Land
You can find a new menu at Flo's V8 Café for Pixar Fest. It features items such as a classic cheeseburger, turkey club sandwich, cobb salad, fried chicken plate and more.
Get a habanero meatball cone at Cozy Cone Motel!
The Disney California Adventure and Disneyland food aren't the only things to look forward to during Pixar Fest though they may be MY favorite.
You can also look forward to all this!
Together Forever – A Pixar Nighttime Spectacular
A brand new fireworks show called Together Forever will debut during Pixar Fest. Pixar movies that we know and love are projected onto Sleeping Beauty's Castle, Main Street, and "it's a small world" while fireworks fill the air. It'll include characters from movies like WALL-E, TOY STORY, CARS, and THE INCREDIBLES. Look for a special COCO bridge firework. There will even be a special fly over by Buzz Lightyear!
The fireworks show focuses on friendship. During the show, Pixar characters meet, go on adventures, overcome obstacles and forge lasting friendships.
Pixar Play Parade
The Pixar Play Parade will be led by the Pixar Lamp and yellow Ball from the original Pixar short, "Luxo Jr." It'll be just like you're watching a Pixar movie!
The parade includes characters from the beloved film, UP. Wilderness Explorer Russell appears astride the colorful flightless bird, Kevin. Carl Fredricksen and Dug follow behind, amid green foliage and snipe chicks, with Carl's tethered house floating above.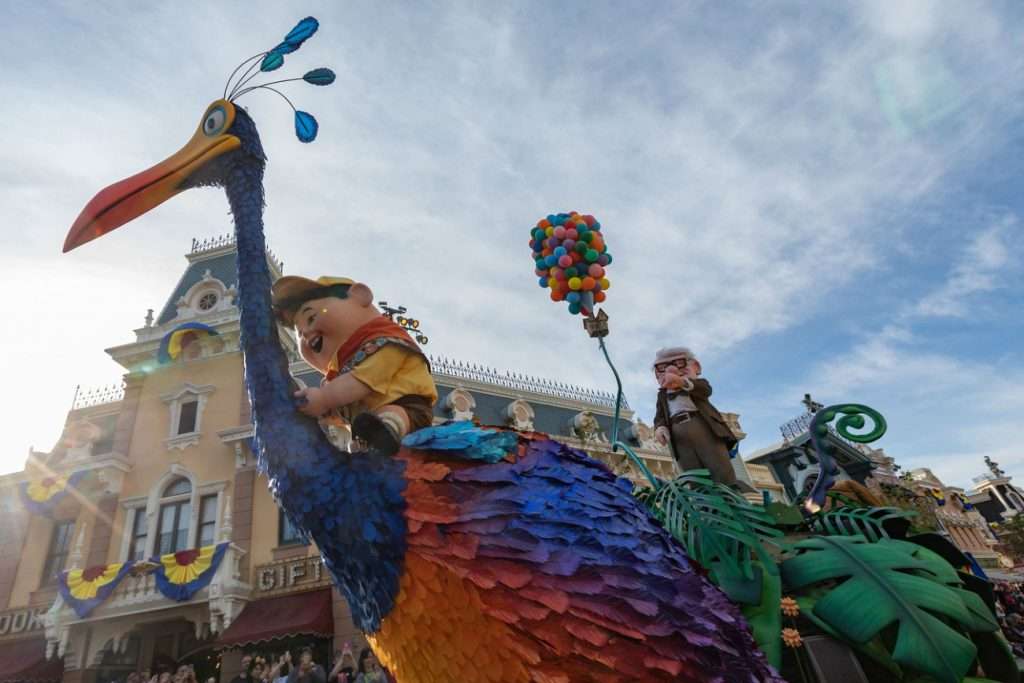 INSIDE OUT also joins this parade with Joy and Sadness perched atop colorful memory orbs as they take flight aboard Riley's rocket wagon, with Bing Bong himself cheering them on.
Paint the Night
Paint the Night is heading to Disney California Adventure. It features over 1 million, brilliant LED lights! Talk about painting the night! Paint the Night features pals from TOY STORY, MONSTERS INC. and CARS.
In June,  a new float inspired by THE INCREDIBLES and INCREDIBLES 2 will be joining Paint the Night. Mr. Incredible, Mrs. Incredible and Frozone will showcase their superhero awesomeness. Violet, Dash and Jack-Jack demonstrate their unique powers too.
More fun at Pixar Fest
Pixar Fest is going to be so much fun! Pixar characters are in existing attractions, and ore Pixar characters are walking around! Check out the new look on the monorail!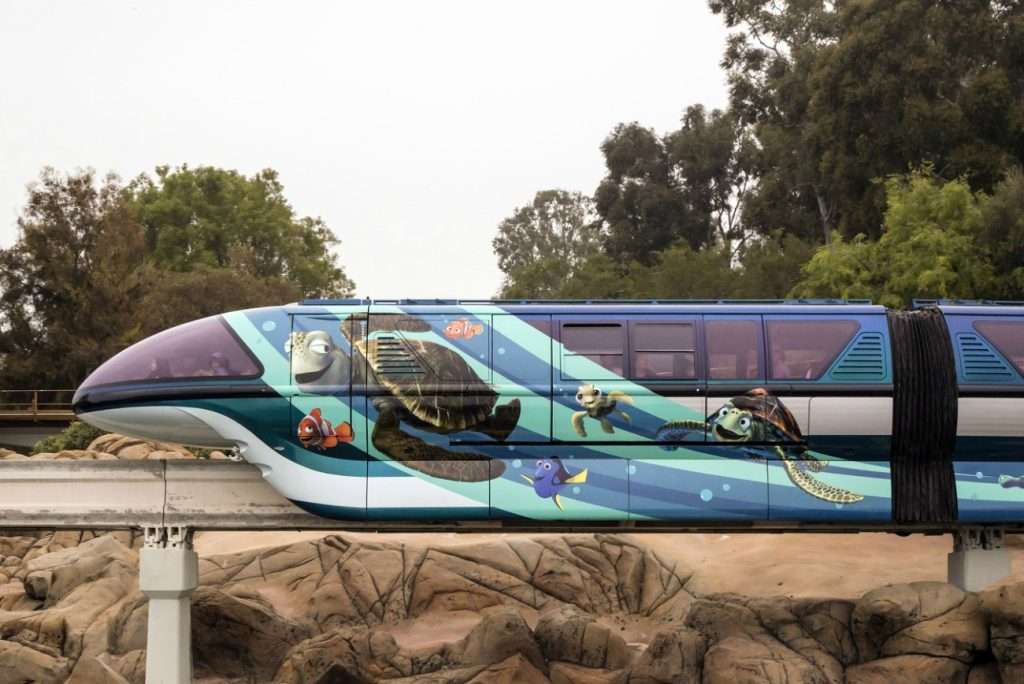 And that's not all!
If you missed my post on Toy Story Land opening June 30 at Disney's Hollywood Studios, be sure to read all about that too! It's going to be a totally immersive experience where you get a toy's eye view of everything! It'll be like you're in Andy's backyard.
Pixar Pier opens on June 23, 2018, and it transforms the area that is now Paradise Pier with the thrilling, new Incredicoaster, four new imaginative neighborhoods, the new Lamplight Lounge, plus exciting entertainment, themed food and beverage, and merchandise. Guests will experience Pixar stories and characters in incredible new ways on this seaside waterfront at the Disneyland Resort.
INCREDIBLES 2
Mark your calendars for the next great Pixar movie! INCREDIBLES 2 hits theatres June 15, 2018!
In INCREDIBLES 2, Helen is called on to lead a campaign to bring Supers back, while Bob navigates the day-to-day heroics of "normal" life at home with Violet, Dash and baby Jack-Jack—whose super powers are about to be discovered. Their mission is derailed, however, when a new villain emerges with a brilliant and dangerous plot that threatens everything. But the Parrs don't shy away from a challenge, especially with by their side. That's what makes this family so Incredible.

Follow
Like INCREDIBLES 2 on Facebook: https://www.facebook.com/PixarTheIncredibles/
Follow INCREDIBLES 2 on Twitter: https://twitter.com/TheIncredibles
Follow INCREDIBLES 2 on Instagram: https://www.instagram.com/theincredibles/
Visit the official INCREDIBLES 2 website here: http://disney.com/incredibles2
INCREDIBLES 2 opens in theatres everywhere on June 15th!
#Incredibles2