Are you tired of looking at your bathroom because it's outdated or your tastes have changed? If you want to give it a new look without wasting money, you are in luck. By thinking outside of the box, you can make your old bathroom look new. It isn't necessary to gut your entire bathroom, buy all new fixtures, or use only premium materials. There are many ways to give your bathroom a makeover on a budget, and you'll still achieve your desired result. Not only will you appreciate the finished product when you are done, updating your bathroom will increase your property value for when you plan to sell.
Give Your Bathroom a Makeover on a Budget
The Walls
The quickest way to transform your bathroom is to change the look of its walls. Keep in mind that a bathroom wall has to be able to withstand heat, humidity, and frequent cleaning. You can repaint the walls or put up wallpaper. In both cases, you have the option of covering the entire room with the same color or the same wallpaper, or you can use only one wall called an accent wall. This wall will become the focal point of the whole space. If you decide you want to use wallpaper, make sure to carefully plan how to put it up before you begin. As long as you avoid some common wallpaper installation mistakes, you will turn an ordinary looking bathroom into an extraordinary masterpiece.
Don't Move The Plumbing
Even if you decide you want to replace some of your bathroom fixtures like the sink, bathtub, or toilet, if you keep them in the same place they are currently, you will save a lot of money by not having to replace or move your existing piping.
Refinish not Replace
According to Home Advisor, the average cost to install a new bathtub is $3,012. The typical range is $1,009 – $5,017. This is a lot of money! If the problem with your tub is mostly cosmetic like a few cracks or nicks, refinishing it can make it look brand new. You have probably seen infomercials about bathtub and shower liners. However, they are not as inexpensive as you might think, require professional installation, and are not a permanent fix. They will probably last a few years so eventually you will have to revisit the same problem. Refinishing looks better and is much less expensive.
Don't Buy New
There are plenty of places where you can find used bathroom fixtures like showers, doors, mirrors, toilets, and tubs. Keep in mind that you can refinish or paint used items to make them look new. Check out online sites like Craigslist and eBay or visit flea markets, auctions, or estate sales, to see what you can find. With a little legwork and effort, you can save yourself a lot of money.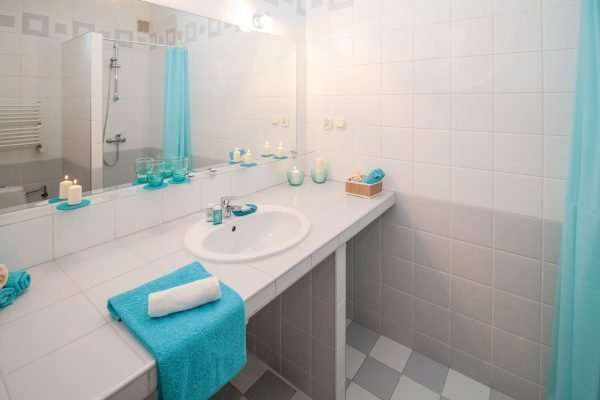 Change Your Lighting
If your bathroom is dark, you can buy a new fixture that provides more lighting or you might just need higher watt bulbs. If your fixture has frosted globes, you can replace them with clear ones that reflect more light.
Counter-top Accessories
You might not realize how much of an effect the things you have on your bathroom counter-top has on the overall look of the room. You can purchase new soap dishes, toothbrush holders, or trays to hold your cosmetics for not too much money and make your bathroom look better.
Change Your Mirror
You can add or change the frame around your mirror to give it a whole new look. Other options are to place several small mirrors together in a collage on your bathroom wall. If you currently already have several small mirrors, you can swap those out with one over sized one to change the look.
Touch Up Your Vanity
If you are tired of your vanity or it is boring, how about giving it a fresh coat of paint or stain. Make sure you clean and sand the surface completely first. You can also swap out the knobs or pulls on the vanity that can give change the way it looks.
De-Clutter
Our bathrooms tend to be magnets for clutter. Rather than keeping all your toiletries and makeup on your counter, get organized and clean up the mess. Storage baskets and pull-out cabinet organizers can be purchased relatively inexpensively. Only keep a few things that you use regularly like your toothbrush, toothpaste, and soap on your counter-top and store other things like makeup, brushes, and combs in your purchased containers inside a drawer or cabinet.
Giving your bathroom a face-lift doesn't have to cost you a lot of money. You can give your bathroom a makeover on a budget. With a few creative ideas and a little effort, you can make your old bathroom look new.