I visited Pixar Animation Studios as part of a press trip for the INCREDIBLES 2 Event.
Once upon a time, there was a girl who wanted to be a mom. She loved Walt Disney movies, and she bought VHS tapes of her favorites as well as newer movies to share with her future children. She had a baby in 1994 and another in 1997. Those babies loved Disney movies too. Then a magical thing happened. A new animation studio named Pixar Animation Studios was created. And, here, our story begins…
Pixar Animation Studios
I'm sure you guessed that that girl is me. And by the dates of my children's births, I'll bet you can tell that those babies grew to love Pixar movies just as much as they loved Disney movies. Once in awhile, we bring out the old home movies to watch. One of my favorites is Christmas of 2000 or 2001. Kyle was 3 or 4, and he was in his huge TOY STORY phase. He loved Buzz and Woody, and he got TOY STORY 2 on VHS and Buzz and Woody dolls. I can hear his little voice saying, "It's Buzz and Woody! Tank you, Mommy, tank you!"
Being able to visit Pixar Animation Studios has been on my bucket list since I became part of the Disney blogging family about a year ago. I'd see bloggers with their pictures with the Luxo ball and hope that someday I'd make the Pixar blog trip list. Magic Pixie Dust landed in my email, and this wish became a reality. I walked onto the Pixar campus and there were the Luxo ball and lamp.
I may or may not have gotten a little teary-eyed.
Pixar Archives Tour
I'll tell you when I did get very teary-eyed. It was when I was touring the Pixar Animation Studios archives and saw the original "Woody" maquette used for TOY STORY.
Being able to tour the Pixar Archives was an unbelievable experience. The archives are super secure with all types of fire suppression, climate control, dust control, etc. measures in place. It was so calm and quiet there that many of us asked how we could get a job there! Can you tell we're used to crazy lives with our families?
Pretty much everything that has significance to Pixar is stored in the archives. Newspaper clippings, maquettes, drawings, and more are treated with utmost care for future artists and generations of Pixar lovers. In fact, the animators on INCREDIBLES 2 used the archives to look at the original INCREDIBLES ideas. They had remembered villains that they'd already created for the original movie and wanted to see if they wanted to use those for INCREDIBLES 2.
I loved seeing these archives because it gave me such a sense of the enormity of it all. So much work goes into these films, and so much of it doesn't even end up in the final version. It is so cool just seeing how ideas begin and change throughout the making of the films. It's fascinating to see original notes on drawings or sketches because it helps tell the story of the artists/directors/animators thought processes while they were working on a film.
Pixar Studio Tour
The Steve Jobs Building was created using Steve Jobs' vision for a creative workspace. He wanted it to be a place that "promoted encounters and unplanned collaborations." And it is.
The Atrium
The atrium is always filled with people either having meetings or just chatting about what they are working on currently. He didn't want people to be stuck in cubicles, so everything is sort of located around the atrium. The cafe, mailroom, shop, and bathrooms are all centrally located around the atrium. Every part of Pixar films is made in that building. There aren't separate buildings for separate departments. Everyone works together here.
Walking into The Steve Jobs Building on the Pixar campus, the first thing I saw was Jack-Jack sitting on the reception desk. He was so excited to see us!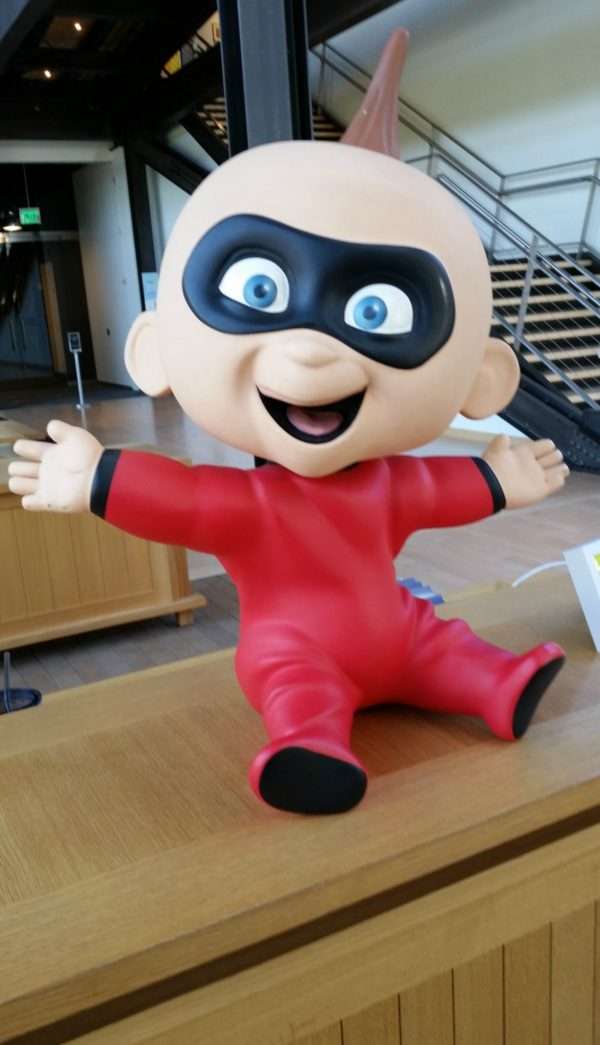 Then the rest of the Parr family was waiting for me to join them in the atrium. They needed my help guarding the snacks.
Rainbow Unicorn needed me to look over some things before I could go any further.
Once we figured out her motivation for the scene, I was able to move on and explore a little more. I found Buzz and Woody made from LEGO, and Luigi and Guido were hanging out waiting to change some tires.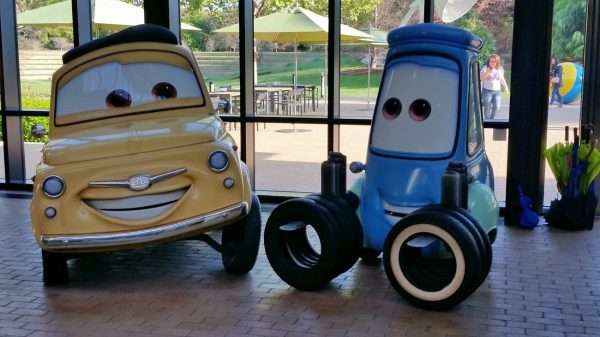 I could feel so much creativity while touring this building. The atrium artwork is all centered on INCREDIBLES 2 since it is the current Pixar movie. It was stunning. We learned that the artwork both in the atrium and the 2 upstairs' galleries change with the current movie. I think I need to go for every movie from now on just to absorb this talent!
The artwork in the other gallery right now is from COCO. I loved seeing the color script from COCO. Light and dark dominate COCO's beautiful color script.
INCREDIBLES 2 Art Gallery
Walking up these stairs led to magic! Super powers galore! Artistic talent oozing off the walls. They say a picture tells a thousand words, and it is true. It was fascinating to see the artwork in the INCREDIBLES 2 Gallery. We had no idea that we'd even be able to share these photos with you all, so this is a huge privilege.
These two pictures are of the collage they did instead of doing a traditional color script. A year was taken off the production of INCREDIBLES 2, so they didn't have time to do a full color script. This, instead, shows the lighting and story points in the film.
I'll be posting about some of the fun sessions we attended during this event, so I'll be sharing more about the Parr's house. In the bottom left, you can see one of the renderings of what the Parr's house was going to look like. Then in the upper right, you can see another version.
You can also see the character portraits of the Parr family in the above photo. We've all seen THE INCREDIBLES, so we know what the family members look like. When THE INCREDIBLES came out in 2004, the technology was so different from what it is today. So while they look the same, they've been "upgraded" since the technology has upgraded. For example, Violet's hair is a little longer because now there is technology that can work with hair! How cool is that?
So as not to spoil any of the film, I'm just going to post the rest of the pictures from the INCREDIBLES 2 Gallery just to give you an idea of what you may or may not expect from this movie. Remember, things do get cut!
Creating my own SUPER!
Once all of that creativity was flowing through my veins, I had to get creating! I demanded an office and got to work creating my own super! Okay, so it didn't go quite like that.
But we DID get to get creative with Costume Designer Alonso Martinez. He showed us how collaging was used by artists to conceptualize characters and their costumes. It was so interesting to see how collaging geometric shapes can lead to such creative characters.
I wish you all could have seen this presentation. I was awed by what goes into conceptualizing and creating a character. Concept artists break characters down into bold shapes and colors. And that is what we got to do in creating our own super. We weren't going for detail. We were going for the idea and the shape of our supers.
You can see, this was serious business! It was really fun actually. Just coming up with a character off the top of our heads, and then using shapes and colors to create them was relaxing. It's fun using scissors and glue! I think we forget that as we get older. Maybe it's all the paste I ate in preschool…
My final result was this angel-like girl with wings and amazing hair. She can obviously fly, but her hair gives her some extra super powers. She can mesmerize people with it! Don't stare at it too long.
Being at Pixar
Just being at Pixar was truly a dream. It feels friendly and fun! Not only is The Steve Jobs Building awe-inspiring, but also the entire campus feels like it is made for creativity. And it is! You can tell from the amazing movies that have come from this animation studio.
Here are just a few more fun photos from my incredible time at Pixar Animation Studios.
The above space was originally created for outdoor meetings, but that didn't work out too well. Now they use it for family days and apparently the kids love it. I mean, I can totally see why! Who wouldn't love to run up and down these risers?
I told my son he needs to get a job at Pixar Animation Studios, so I can come use the fitness center, pool and basketball court! He's a music guy. Maybe they can hire him to play guitar for the movies!
Making new friends on these trips is truly one of the best parts. We "know" each other online, but being able to talk and bond in person is a priceless gift. It is truly "incredible."
In INCREDIBLES 2, Helen (voice of Holly Hunter) is called on to lead a campaign to bring Supers back, while Bob (voice of Craig T. Nelson) navigates the day-to-day heroics of "normal" life at home with Violet (voice of Sarah Vowell), Dash (voice of Huck Milner) and baby Jack-Jack—whose super powers are about to be discovered. Their mission is derailed, however, when a new villain emerges with a brilliant and dangerous plot that threatens everything. But the Parrs don't shy away from a challenge, especially with Frozone (voice of Samuel L. Jackson) by their side. That's what makes this family so Incredible.
I was able to screen the first 22 minutes of INCREDIBLES 2 during this event, and you are going to love it! Be sure to come back in June for my full review!
Official Trailer
Follow
Like INCREDIBLES 2 on Facebook: https://www.facebook.com/PixarTheIncredibles/
Follow INCREDIBLES 2 on Twitter: https://twitter.com/TheIncredibles
Follow INCREDIBLES 2 on Instagram: https://www.instagram.com/theincredibles/
Visit the official INCREDIBLES 2 website here: http://disney.com/incredibles2
#Incredibles2