SOLO: A STAR WARS STORY came out this past weekend, and I was lucky enough to see it opening night. This movie is such a great experience. Below you'll find my SOLO: A STAR WARS STORY movie review, choc-full of spoilers. Please do not read on if you have not seen the movie! If you still have yet to see the movie, go check out my spoiler free review of SOLO, and then come back here after you've seen the movie. Okay?
Seriously, if you haven't seen the movie, don't read on. This is your official warning.
SOLO: A Star Wars Story Movie Review
Welcome, readers! I assume that you've either seen SOLO: A STAR WARS STORY or you don't care about the movie being spoiled. I was lucky enough to see this movie on opening night and I was not disappointed! SOLO: A STAR WARS STORY gives viewers a glimpse at an entirely different side of the galaxy far, far away. This movie takes place in the Star Wars universe, but it's also a movie that can stand on its own. It's got an amazing cast of characters (played by an equally awesome cast), exciting plot twists, and a wonderfully created world within the world we're all familiar with.
The Plot
I'm usually drawn to a story based on its characters, but SOLO: A STAR WARS STORY has such a good plot that the plot is my favorite part about this movie. Don't get me wrong, the characters are great (which you'll see below), but the plot itself is just so incredibly fun and exciting!
I loved seeing how Han's choices affected his destiny. Had he not stolen the coaxium and tried to run from his captors on Corellia, he wouldn't have lost Qi'Ra, nor would he have joined the Empire army to become the best pilot in the galaxy. Had he not joined the Empire, he wouldn't have personally experienced the horrors up close, and he wouldn't have met Tobias Beckett. If Han had not tried to join up with Beckett, he wouldn't have met Chewie. If Han had not been persistent enough to go after Beckett, even after Beckett accused him of being a deserter, he never would have gotten into a smuggler's lifestyle. And so on and so forth.
And it's not just Han's choices that make the movie so thrilling: it's the events themselves.
What about the heist they pull on Kessel? Kessel is such a great scene – breaking in, the rebellion, breaking out and escaping, followed by the infamous "Kessel Run." It's all so great! Now, let's get to it: do you think Han is correct to say it was 12 parsecs, or is Chewie right that it's 13? Even though I know that Han, Lando, Chewie, and the Falcon survive, I was practically biting my nails throughout all of these scenes, especially the Kessel Run scene!
We knew that our crew would eventually face off against Enfys Nest and the Cloud Riders. Did any of you guess that the face off would be a young girl explaining why the crew can't give the coaxium to Vos, and that they must help the Cloud Riders as they help to build a rebellion? I certainly didn't guess, and I was thrilled with this plot twist! I was especially excited when Enfys Nest asks Han to join the rebellion near the end. Do you think she lived long enough to find out that he became one of the rebels' best generals?
Han's encounter with Enfys Nest and the Cloud Riders is probably the most important scene in SOLO. We all know that Han has a good heart, though he likes to pretend otherwise. It took Luke and Leia how long to convince him to join the rebellion? But here, we see that Han has been helping the rebels since their early stages. Han chooses to turn against Vos, though he risks his life and his friends' lives in doing so. Han may not join the rebels, but he puts his life on the line for them.
And that brings me to the last plot point I want to discuss: Han's plan against Vos. We've seen Han plotting and scheming since A New Hope, his plans sometimes working out perfectly, and other times working out… not so perfectly. I had a feeling that he was really delivering the coaxium to Vos as part of his plan, but I didn't expect Tobias Beckett to turn on Han, not after mentoring Han and even asking him to meet him on Tatooine. Thankfully, Han knows his mentor a lot better than I do. This was probably the second most important scene in SOLO. Han has finally found someone to look up to, and that person turns on him – and yet he was expecting it. It speaks volumes about Han's character, especially since he didn't see Qi'Ra's betrayal, even though she practically told him that she had done horrible things.
I could go on and on about the plot, but that would make for a very long post. You've seen the movie. What did you think about these scenes? Which were your favorite? I plan to write a post about my top favorite scenes from the movie, so be on the lookout for that!
The Characters
The plot might have been my favorite part of the movie, but the characters are all amazing as well.
Han Solo
Let's face it: Alden Ehrenreich is not Harrison Ford. Unless viewers accept this fact, they will not be able to enjoy SOLO: A STAR WARS STORY, because they will be too hung up on the fact that Harrison Ford is not playing Han Solo.
The thing is, while Harrison Ford is Han Solo, Alden Ehrenreich does a stand up job at playing a younger version of Ford's Solo. He's got the cadences, the swagger, the bravado. He might not be Harrison Ford, but he is a younger Han Solo.
I love characters who show growth and development, characters who have a believable evolution. Alden Ehrenreich's Han Solo is easily a younger version of Harrison Ford's Han. As I said, he's got the same personality. However, he has ten years worth of trials to still go through before he becomes the Han Solo we meet in A New Hope. He's easily a more immature Han, a more… innocent Han.
I wish Harrison Ford could have played Han Solo in SOLO: A STAR WARS STORY. However, I am more than satisfied with Alen Ehrenreich's performance.
Chewie
Everyone's beloved wookiee is back and as sassy as ever! Joonas Suotamo has played our favorite wookiee since Peter Mayhew retired, and he does a great job. Chewie is 190 years old in SOLO, so he isn't that much different from the Chewie we meet in A New Hope. Still, those 10 years with Han Solo really impact his relationship with the smuggler. It was great to see how scoundrel and wookiee meet. I loved that their relationship began with a conflict, which quickly resolved into a plot on Han's part. They've been plotting and scheming – and arguing – from the beginning. They may have just met in SOLO, but you can definitely see the chemistry between these two characters.
The most interesting part about Chewie in SOLO: A STAR WARS STORY is how he is personally affected by the Empire. His people – his family, his tribe – have been enslaved. Sure, Chewie is Han's copilot, and he'll follow his best friend anywhere, but it's interesting that Chewie also stands to gain something by taking on the Empire in the original trilogy.
Lando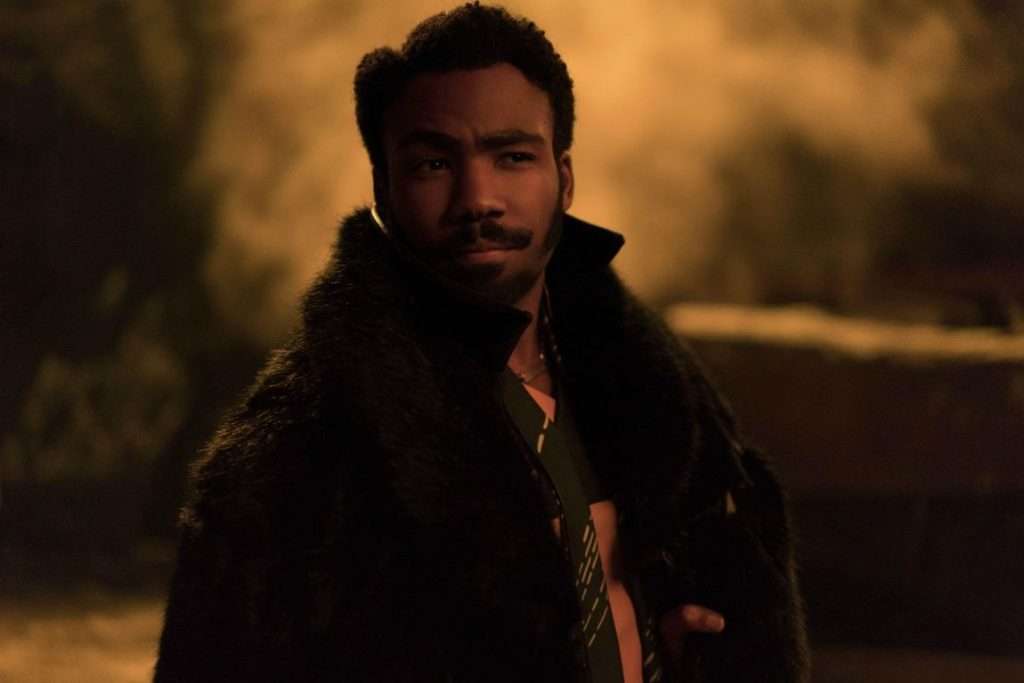 Donald Glover's Lando definitely steals the scenes he's in. I never really liked Lando, but Donald Glover's Lando is so interesting! He's cocky and proud and, of course, a scoundrel. I love this younger version of Lando! He's got no care in the world except for his beloved Falcon, his reputation, and his co-pilot, L3. We all know that Lando Calrissian and Han Solo have an interesting relationship. It was hilarious watching Alden Ehrenreich and Donald Glover interact on set, as the two scoundrels met for the first time and felt each other out. The banter! The card games! Not to mention, the thinly veiled dislike. I can't wait for the next installment of the Han Solo saga, just to see how the relationship between these two characters progresses.
Qi'Ra
Okay, seeing Han with anyone other than Leia is weird. However, Qi'Ra is definitely more than just Han Solo's old lover. Emilia Clarke plays a survivor. Qi'Ra is a character who knows how to plot and scheme to keep herself alive. She is definitely a character capable of standing equal to Han Solo.
I'll admit, I wasn't sure what to expect of Clarke's character. Qi'Ra definitely would have blown any of my expectations out of the water. She's an interesting mix of opposites. Qi'Ra is feminine, yet hard-core. She's timid, yet definitely knows how to hold her own. She's a good friend, but only loyal to herself. Qi'Ra is definitely a force to be reckoned with, and Emilia Clarke is the perfect actress.
I think we definitely need to acknowledge that Rey's original name was supposed to be "Kira." Now, it could just be that the folks at LucasFilm really like the name, or…. So: who thinks Qi'Ra has any connections to our girl Rey?
Tobias Beckett
I love Woody Harrelson and I couldn't wait to see him in SOLO: A STAR WARS STORY. After watching this movie, I can easily see how this new character definitely influenced Han Solo. The Han Solo we see in SOLO is definitely more immature and less experienced than the Han in the original trilogy. Tobias Beckett teaches Han about this new type of life. The type of life where one is only servant to the one who hires you out. And of course, the biggest lesson Beckett teaches young Han is that you can't trust anybody – but you can trust your instincts. Honestly, I can't think of a better actor to play Han Solo's mentor.
L3-37
Truth be told, L3 is probably my favorite character from SOLO: A STAR WARS STORY. She's a fighter. She stands up for what she believes in. She risks her life to serve her cause. She's loyal to Lando, but she definitely doesn't let him push her around. L3 might be a droid, but she's also an important role model as someone who doesn't let their circumstances define them.
Dryden Vos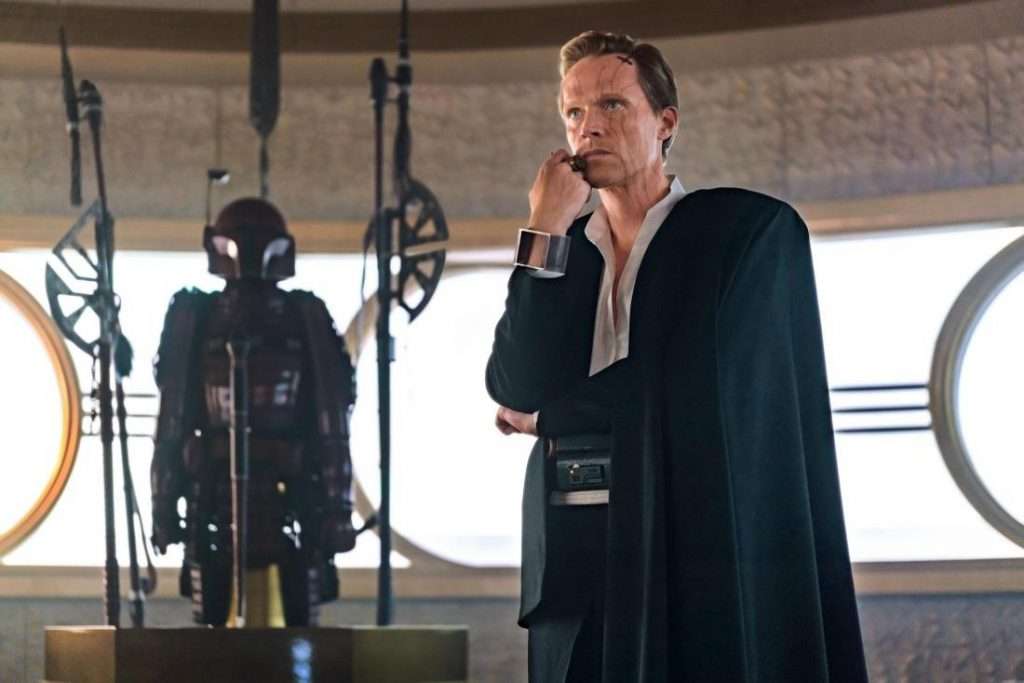 I'll admit it: I was nervous about Paul Bettany's role in this movie. I mean, he's Jarvis and he's Vision. It would be like watching RDJ play anyone but Tony Stark. (Yes, RDJ plays many other roles, but I have a difficult time seeing him as anyone but Tony Stark. And Benedict Cumberbatch is Sherlock, thank you very much.) I was worried that I wouldn't be ale to take this villain seriously. Turns out, I underestimated Paul Bettany's acting skills. Even with his iconic voice, Paul Bettany delivers such a believable performance that I definitely did not see Vision pretending to be a mob boss. A round of applause for Mr. Bettany, who can play a beloved super hero as well as a despicable villain.
Enfys Nest
I hated Enfys Nest at first. Here's this other villain, besides Vos, whose goal is to hinder our heroes. This villain outsmarted our scoundrel, tracking the Falcon. After everything Han, Chewie, Qi'Ra, Lando, Beckett, and L3 went through to get the coaxium, this character thinks they can just walk in and take it all away? Not to mention, it was Enfys Nest and the Cloud Riders who caused Val to die (a character I definitely wanted to see more of).
And then… we find out who the person is behind the mask.
Star Wars is all about the human behind the mask. Darth Vader, Kylo Ren, and now Enfys Nest, who turns out to be a young girl shouldering the weight of a growing rebellion under the oppressive Empire. It was definitely a plot twist I wasn't expecting. And although she's still the reason Val is dead, I hate her a little less now.
SOLO: A Star Wars Story as part of the Star Wars Universe
SOLO: A STAR WARS STORY is part of the Star Wars anthology series, like Rogue One. Therefore, it takes place in the Star Wars universe, but it falls a little bit outside of the main story line. Han Solo plays a critical role in the original trilogy, as well as the sequel trilogy, but SOLO is a movie that can stand on its own.
SOLO: A STAR WARS STORY follows the life of young Han Solo, who joins the Empire as he attempts to escape his old life and become the best pilot in the galaxy. Han robs the Empire of an important resource, the coaxium, and comes face-to-face with the growing rebellion, in the form of Enfys Nest. The Force is not present in SOLO. Nor are there any Jedi in SOLO.
SOLO: A STAR WARS STORY feels different from other Star Wars movies. It gives us a glimpse at a different side of the galaxy. However, despite these differences, SOLO is still a Star Wars movie. It lets us see a different side of the galaxy, though this side is still in the same galaxy. We've still got crazy creatures, insane aerial stunts, good versus bad (even if the lines between the two are blurred), and the oppressive Empire. George Lucas melded together a bunch of genres to create Star Wars, so even though SOLO may feel different, it is still a Star Wars movie. Here we just get to see more of the "western" genre that is key to Han's character.
And last but not least, what of the cloaked figure at the end? I did a lot of "mathing" in my head and concluded that it couldn't be Darth Maul. However, that's what happens when you don't watch the animated series: you are left out. If you're like me, you'll definitely want to Google how Darth Maul is still alive, which is apparently answered in the animated series. The appearance of Darth Maul gives a hint about what the phantom menace has been up to since Episode I, other than being dead. The most exciting part about this appearance, though, is that it could mean that there's a possible Obi-Wan movie in the future! What did you think about this surprise ending?
SOLO: A Star Wars Story in Theaters Now
Ultimately, SOLO: A STAR WARS STORY is a fun movie that draws inspiration from the original trilogy and adds another layer to the Star Wars universe. A lot of people are worried about this movie. They really shouldn't. Ron Howard does a fantastic job directing. The cast does such a great job portraying these characters. SOLO is a great addition to the Star Wars universe.
If you'd like to see SOLO again (or for the first time, if you didn't heed my warnings to stay away from this post if you didn't already see it), you can purchase tickets at Fandango.com.
If you haven't seen the movie, I highly recommend you see it in theaters so you get the full experience. And if you still need a little more convincing to see it, check out my 5 reasons to see SOLO post. Have you seen this "Risk" TV spot? Watch it now!
Follow
Like STAR WARS on Facebook: https://www.facebook.com/starwarsmovies/
Follow STAR WARS on Twitter: https://twitter.com/starwars  
Follow STAR WARS on Instagram: https://www.instagram.com/starwars/ 
Visit the official SOLO: A STAR WARS STORY site: http://www.starwars.com/films/solo
SOLO: A STAR WARS STORY is now playing in theatres everywhere!
#HanSolo
Post written by Molly Maurer