Baked Beans
Baked beans are a staple at our family get-togethers. There is just something comforting about them. From smelling them cooking to eating them, baked beans are comfort food! This recipe is great because it uses dried beans, and you don't have to soak them overnight.
I'm sure you have a tried and true recipe for baked beans. It might be one that's been passed down through your family over many years. Maybe you found a new one (like this one!) to try on the internet. I've found that baked beans are served in many different ways throughout the world.
Did you know that there is a baked bean sandwich? Now that's just taking things too far! Eh, who knows? It might be good. They do say most people eat it with melted cheese, and everything is good with cheese. Another odd one is Porotos con riendas which is a typical Chilean dish made of boiled beans with spaghetti, chorizo, diced pumpkin, chili, and onions. I'm not sure I'd technically consider that a baked beans dish, but I guess it's a cultural thing.
What's the strangest way you've seen baked beans made? Try this, not strange, pressure cooker baked beans recipe today!
Instant Pot Baked Beans 
Did you know that Instant Pot is a brand name? I recently got a MultiPot which is pretty much the same thing, but it is make in the USA. I really love it. and it's so easy to use. Know your options!

Ingredients
1 pound of pinto beans

6 cups water
1 onion diced
1 ½ tbsp of worcestershire
1 ½ tbsp of vinegar (I used white wine vinegar)
½ tsp of garlic powder
½ tsp salt
½ cup of brown sugar
¾ cup molasses
¾ cup ketchup
6 -8 slices of bacon
Directions
Wash beans and remove any small rocks

Place beans and water into pot and set timer for 60 min.
Allow to depressurize naturally
Remove beans and drain. Saving ½ cup of the liquid
Replacing the pot set to saute
Saute bacon and diced onion
Remove bacon and cut into pieces and set aside
Replace the ½ cup liquid and deglaze the pan add the beans back to the pan
Followed by the remaining ingredients in no particular order.
Place cut up bacon back into pot and stir till combined
Close lid and set timer for 30 min manual high pressure.
Natural depressurize
Prep 10 min Cook time 90 min serves 8 -10
Print the Recipe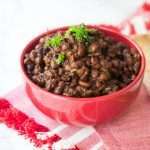 Easy No Soak Instant Pot Baked Beans
Baked beans are a must at any family gathering or picnic! Make them from scratch the easy way using your pressure cooker Instant Pot!
Cook Time
1
hour
30
minutes
Total Time
1
hour
40
minutes
Ingredients
1

pound

of pinto beans

6

cups

water

1

onion diced

1 ½

tbsp

of worcestershire

1 ½

tbsp

of vinegar

I used white wine vinegar

½

tsp

of garlic powder

½

tsp

salt

½

cup

of brown sugar

¾

cup

molasses

¾

cup

ketchup

6 -8

slices

of bacon
Instructions
Wash beans and remove any small rocks

Place beans and water into pot and set timer for 60 min.

Allow to depressurize naturally

Remove beans and drain. Saving ½ cup of the liquid

Replacing the pot set to saute

Saute bacon and diced onion

Remove bacon and cut into pieces and set aside

Replace the ½ cup liquid and deglaze the pan add the beans back to the pan

Followed by the remaining ingredients in no particular order.

Place cut up bacon back into pot and stir till combined

Close lid and set timer for 30 min manual high pressure.

Natural depressurize
Pin for Later