What does it mean to you to be bold? Taking a risk? Setting dreams? Believing you can achieve something huge? How about speaking up even when you are afraid?
Be Bold
I've got two great books to share with you today that both have something to do with being bold.
Creative Journaling Set
If you are afraid to set big goals, how will you ever meet them? This set can get you on your way. Capture your mood or record your thoughts in any way you like with the Creative Journaling Set! This fun kit comes with a 112-page journal and a 48-page project book full of ideas for decorating the journal pages.
With the enclosed stickers, washi tape, colored pencils, and pen, journaling becomes a creative and rewarding activity rather than a chore. The journal can be used as a diary, a daily planner, an organizer, or anything else your imagination can produce!
I have been wanting to start a bullet journal for a long time. I am so excited to have this to use because it makes things a lot easier! Making lists is great, but breaking them down into manageable tasks is a lot better. It can help you from becoming overwhelmed.
Eppie the Elephant (Who Was Allergic to Peanuts)
by Livingstone Crouse
Go on a school-time adventure with Eppie, the elephant who is allergic to peanuts!
It's the first day of school for Eppie the elephant, and she's a bit nervous about one thing: that her new classmates won't understand her allergy to nuts. Like many kids today, this fun-loving elephant can't partake in peanuts, pecans, or pistachios and has to be careful about what she eats. Eppie makes fast friends with Allie the alligator and Pearl the squirrel, but when Eppie's allergy is explained at lunch, will her friends still stand by her side? Readers of all ages will relate to this heartwarming, lyrical story of understanding and acceptance.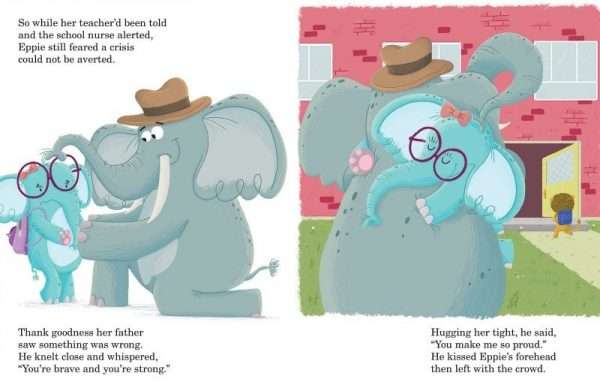 This book is so sweet, and it's one your kids will love whether they're allergic to peanuts or not. Poor Eppie is so scared that she won't make any friends. She does, but when lunch time comes she can't sit with them because their lunches aren't safe for her. The next day, she's so sad that she won't even look at her friends. She's afraid they won't like her anymore. But Eppie gets a happy surprise when lunchtime rolls around again.