Yes, you read that right! I'm going to the Ralph Breaks the Internet Event in Los Angeles, CA! Follow along with me as 24 bloggers and I walk the red carpet at the RALPH BREAKS THE INTERNET World Premiere! While we are there, we'll be covering the ABC Television shows The Rookie and Single Parents! I don't know if you've been watching them or not, but if you aren't, you need to be!
Ralph Breaks the Internet Event
#RalphBreaksTheInternetEvent
Do you remember back in March, when I first let you know that the sequel to WRECK IT RALPH was coming? We just got a tiny teaser back then.
Teaser Trailer
RALPH BREAKS THE INTERNET : WRECK-IT RALPH 2 leaves Litwak's video arcade behind, venturing into the uncharted, expansive and thrilling world of the internet—which may or may not survive Ralph's wrecking.
Video game bad guy Ralph (voice of John C. Reilly) and fellow misfit Vanellope von Schweetz (voice of Sarah Silverman) must risk it all by traveling to the world wide web in search of a replacement part to save Vanellope's video game, Sugar Rush. In way over their heads, Ralph and Vanellope rely on the citizens of the internet—the netizens—to help navigate their way, including a website entrepreneur named Yesss (voice of Taraji P. Henson), who is the head algorithm and the heart and soul of trend-making site "BuzzzTube."
Then we got the official trailer. Did you see my post on the hidden (and not so hidden) gems in the official trailer? They're awesome! And, of course, the princesses are awesome too! Several of us bloggers will be Disney Bounding as Disney Princesses, so stay tuned.
Official Trailer
Then I shared the awesome news that Gal Gadot would be in RALPH BREAKS THE INTERNET voicing the character Shank, one of the drivers in the Slaughter Race. We got a sneak peek at her and the race in another trailer.
This trailer also has a little bit more princess hilarity in it with Merida (one of my favorites).
Sneak Peek
Finally, the final poster and second official trailer were released in September.
What is sure to be one of my (many) favorite lines from the movie is in this trailer. It sums up the internet SO well! "Who knew there were so many babies and cats in the world?!"
Final Trailer
More Ralph Breaks The Internet Event fun
Ralph Breaks VR
Not only will I be walking the red carpet, I also get to experience the brand new VR experience "Ralph Breaks VR." "Ralph Breaks VR" is a new hyper-reality experience based on the film that's produced by ILMxLAB in collaboration with the Void!
Drawing Workshop
I'll be attending a drawing workshop with legendary Disney Animator Mark Henn where we bloggers will learn to draw characters featured in the film with a live sketch tutorial!
Oh My Disney Dot Com Presentation
During this presentation, Co-writer Pamela Ribon will discuss the inspiration for this scene and the work that went into bringing these beloved characters into the world of the internet!
Pancake artist station and DIY Crafts
If you watched the above trailers, you know about pancake bunny! I can't wait to see what this pancake artist creates for us!
Follow Ralph Breaks the Internet
Like WRECK-IT RALPH on Facebook: https://www.facebook.com/WreckItRalph/
Follow WRECK-IT RALPH on Twitter: https://twitter.com/wreckitralph
Follow WRECK-IT RALPH on Instagram: https://www.instagram.com/wreckitralph/
Visit the official RALPH BREAKS THE INTERNET website here: http://movies.disney.com/ralph-breaks-the-internet-wreck-it-ralph-2
#RalphBreaksTheInternet
ABC TV Shows
While we're in Los Angeles for the Ralph Breaks The Internet Event, we'll also be covering the shows Single Parents and The Rookie. I've been watching both of these shows since they started, and I love them both!
The Rookie #ABCTVEvent
When I first saw that The Rookie was going to be a new ABC TV show, I was so excited. I love Nathan Fillion, and he's great in The Rookie. He's got a special talent for talking people down from precarious situations. The other cast members are amazing as well. All of the stories that are coming together in just three episodes just make me want more! I can't wait to visit the set of The Rookie during my trip!
"The Rookie" airs Tuesdays at 10|9c on The ABC Television Network and is also available streaming (ABC app/ABC.com/Hulu) and on demand.
Starting over isn't easy, especially for small-town guy John Nolan who, after a life-altering incident, is pursuing his dream of being a Los Angeles police officer. As the force's oldest rookie, he's met with skepticism from some higher-ups who see him as just a walking midlife crisis. If he can't keep up with the young cops and the criminals, he'll be risking lives including his own. But if he can use his life experience, determination and sense of humor to give him an edge, he may just become a success in this new chapter of his life.
The series stars Nathan Fillion as John Nolan, Alyssa Diaz as Angela Lopez, Richard T. Jones as Sergeant Wade Grey, Titus Makin as Jackson West, Mercedes Mason as Captain Zoe Andersen, Melissa O'Neil as Lucy Chen, Afton Williamson as Talia Bishop and Eric Winter as Tim Bradford.
Alexi Hawley is writer and executive producer; Mark Gordon, Nathan Fillion, Michelle Chapman and Jon Steinberg are executive producers on the series. Liz Friedlander directed and executive produced the first episode. Entertainment One (eOne) is the lead studio on "The Rookie," a co-production with ABC Studios.
Follow The Rookie
Like The Rookie on Facebook: https://www.facebook.com/TheRookieABC/
Follow The Rookie on Twitter: https://twitter.com/therookie
Follow The Rookie on Instagram: https://www.instagram.com/therookieabc/
#TheRookie
Single Parents #ABCTVEvent
Single Parents cracks me up! It's the comic relief I've been needing lately. Not only are the adults on the show amazingly talented, but the kids are great too! If you want to laugh, you need to watch! I can't wait to watch them filming an episode during the set visit!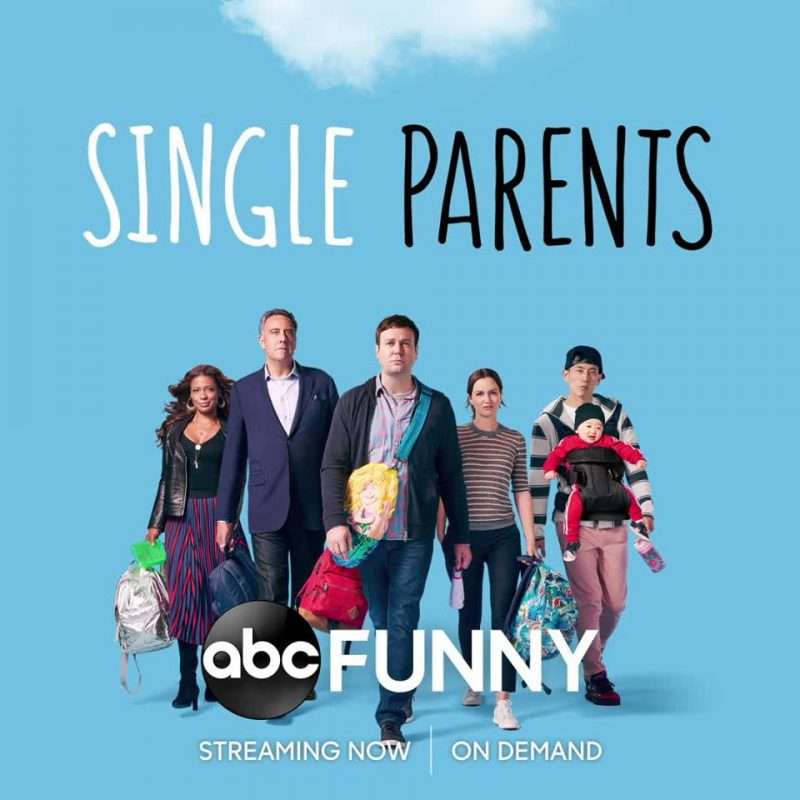 "Single Parents" airs on Wednesdays at 9:30|8:30c on ABC, and can also be watched via streaming (ABC app/ABC.com/Hulu) and on demand.
This ensemble comedy follows a group of single parents as they lean on each other to help raise their 7-year-old kids and maintain some kind of personal lives outside of parenthood.
The series begins when the group meets Will Cooper, a 30-something guy who's been so focused on raising his daughter that he's lost sight of who he is as a man. When the other single parents see just how far down the rabbit hole of PTA, parenting and princesses Will has gone, they band together to get him out in the world and make him realize that being a great parent doesn't mean sacrificing everything about your own identity.
The series stars Taran Killam as Will Cooper, Leighton Meester as Angie D'Amato, Kimrie Lewis as Poppy Banks, Jake Choi as Miggy Park, Marlow Barkley as Sophie Cooper, Tyler Wladis as Graham D'Amato, Devin Trey Campbell as Rory Banks, Mia Allan as Emma Fogerty, Ella Allan as Amy Fogerty and Brad Garrett as Douglas Fogerty.
Follow Single Parents
Like Single Parents on Facebook: https://www.facebook.com/SingleParentsABC/
Follow Single Parents on Twitter: https://twitter.com/SingleParentsTV
Follow Single Parents on Instagram: https://www.instagram.com/singleparentstv/
#SingleParents
Got any questions for me about the RALPH BREAKS THE INTERNET EVENT? If you're watching the ABC shows, who are your favorite characters? What are you most looking forward to in RALPH BREAKS THE INTERNET? Let me know! I'll get you the details!