Hotel Transylvania 3 Pumpkin Carving Stencils
It's almost that time! Time to think about how you're going to carve your Halloween pumpkins! If you're Hotel Transylvania lovers, you are going to want to use these HOTEL TRANSYLVANIA 3 pumpkin carving stencils. You can use them to make Drac, Mavis, and Murray pumpkins. Check out the link below this image to get your full-sized pumpkin carving stencils!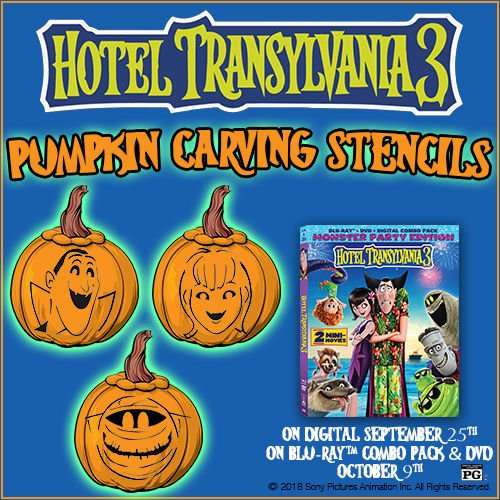 Hotel Transylvania 3
Have you seen this movie yet? Do you want to enter to win a copy? If you're in the US, go to my giveaway post and enter to win a DVD and Trick-or-Treating Pillowcase until October 16!
In HOTEL TRANSYLVANIA 3, Mavis surprises Dracula with a family voyage on a luxury, haunted monster cruise ship. Of course, the rest of the Drac Pack has to tag along. That's when things get a little…batty. The monsters are having a great time, indulging in all of the shipboard fun the cruise has to offer, from monster volleyball to colossus-sized buffets and exotic excursions.
But the unexpected happens when Drac falls for the ship's mysterious (and dangerous) human captain Ericka. The third film in this family-friendly monster franchise is the best reviewed installment and you're invited along on the haunted cruise vacation!
Bonus Clips
Mavis and Drac Makeup Tutorial
I See Love Dance Party
Follow Hotel Transylvania 3