Released in October, Google's latest flagship arrives on the scene just in time for the holidays. Leaving one under the tree for your special someone is an easy way to impress this holiday, but the Pixel 3 XL is just one gift. If you want to truly win the holidays this year, you need to fill their stockings with the best Pixel accessories. From practical adapters to fun decals, here are five simple stocking stuffers for Google's newest Android.
1. USB-C car charger
The future of charging is in the USB Type-C cables. It's a more powerful and faster way to charge devices, and it comes with the convenience of being reversible — putting an end to that clumsy dance of trying to fit the plug the wrong way up.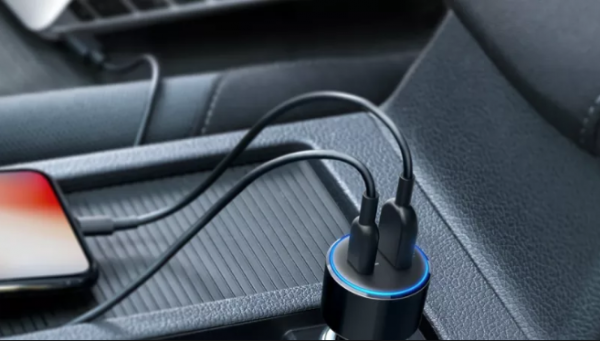 However, the future isn't quite now yet. While the Pixel 3 XL comes with its USB-C charger, other charging options don't always accommodate Google's innovative charging technique.
Take, for example, the average car. It needs something like the Anker Power Drive to charge the latest Pixel. This USB-C friendly adapter slots into the car's power outlet and delivers a lightning–fast charge to the Pixel 3 XL
2. Pixel skins
The latest Pixel comes in more colors than most flagships can claim. Just compare the Pixel 3 XL's color line up to the iPhone XS. There's no comparison there, as Google allows its customers more room for customization with pink, white, and black.
However, for the creative bunch who use their phones as artistic outlets, three colors aren't enough to express their personality. That's where a Pixel 3 XL skin comes in. Available, in all manner of colors and textures, Pixel skins are an easy way to customize a boring handset.
Shop from these new Pixel 3 XL skins to find the right design for your loved one. With options like black matrix, tinted carbon fiber, stone, and hardwood, there's a Pixel 3 XL skin for everyone.
3. Pixel stand
As the first Pixel to come equipped ready for wireless charging, the Pixel 3 series has an exclusive charging stand. Though it doesn't boast a creative name, the Pixel Stand is a practical addition to any Pixel owner's day. It's a QI-enabled device that recharges a low battery fast, but it does more than that.
The Pixel Stand is Google's first bid at a smart hub. Once plugged in, it transforms the Pixel's display into a landing for the Google Assistant. Its features include all the things you expect from the virtual assistant, including traffic and weather information, calendar reminders, and other hands-free browsing.
It also acts an alarm clock that mimics the rising sun with ambient light to gently rouse sleepers from their slumber.
4. Chromecast
Is there a better way to enjoy the holidays than watching the Christmas classics with the people you love? We don't think so. But you lose some of the festive cheer when you have to crowd around a laptop to watch the next film.
Whether A Christmas Carol, Elf, or even Die Hard is their traditional holiday movie, they need a convenient way to watch it. The Chromecast Ultra is a dongle that helps them simplify their viewing all year round.
It pairs with their Pixel or computer, turning them into a remote that controls online videos from YouTube or Netflix and plays them on their TV. Chromecast Ultra works as a kind of cable box or antenna once plugged into their TV. It picks up content from a DVD running on their laptop and broadcasts it on the screen.
5. Streaming Package
The dongle won't come in handy if they don't have a lot of choice for streaming content. Otherwise, the only things they'll be cast to their TV are free videos posted on YouTube.
Pair the Chromecast Ultra with a year's subscription to a service or specialized channel to help them get the most out of their new gadget. Although Netflix takes the lion's share of viewers in the battle for online streamers, they may already subscribe to the "see what's next" service.
You're in luck; there are plenty of other streaming options, including Hulu, USA, HBO, and more. There's also Amazon Prime Video
, which comes with the added bonus of Prime delivery benefits should you sign them up for a year's subscription.
At the end of the day, the biggest present waiting for them under the tree will be the Pixel 3 XL, but that doesn't give you the excuse to drop the ball when it comes to their stocking. If they've been more nice than naughty this year, they deserve a lot more than coal. Luckily, with options like a Chromecast, Pixel skin, and Pixel stand, your task is easy this year. There's no wrong choice when it comes to Pixel-friendly accessories!