Vampirina

: Ghoul Girls Rock!

Follow Vampirina and her two best friends, Poppy and Bridget, as they take the stage and start their very own band: the Ghoul Girls!  Cheer them on as they travel to Transylvania for their first-ever talent competition and go on many more awesome adventures!

Amped with six music-filled episodes, plus seven bonus animated shorts, Vampirina: Ghoul Girls Rock! soars to fang-tastic new heights as Vee and her friends learn how to find their inner ghoul and rock out!
Vampirina Ghoul Girls Rock DVD Episodes
Vampire Weekend / The Bird Who Knew Too Much
The Ghoul Girls / Game Night
Oldie But a Ghouldie / Beast in Show
Vampirina Ballerina / Treasure Haunters
Home Scream Home
Countess Vee / Frights, Camera, Action!
These episodes are so cute! There are episodes about helpfulness and friendship. Your kids will learn that sometimes we have to put ourselves in someone else's shoes to learn more about them. They'll learn about doing their best even when they are scared. Family and friendship play important roles in Vampirina and these episodes are no exception. You and your kids will love them.
Vampirina

 Ghoul Girls Rock! Music Video Shorts

Living the Scream

Inner Ghoul

Transylvania Girls

Ghoul Glam

Boogieman Boogie

Everybody Scream, Everybody Howl

The Mummy Rap

If your kids watch Vampirina, you know that music plays a big part in the show. These songs are very catchy, and you'll find yourself singing along in no time! Put these music video shorts on "play all" and let your kids dance around the house! In fact, dance with them! Dancing is a great way to spend some time with your kiddos! Enjoy!



Why I love Vampirina
Do you remember when I went to the THOR: RAGNAROK event in the fall of 2017? One of the events that I got to experience was talking to Chris Vee, the creator of Vampirina. We watched a couple of episodes while on the trip, and I fell in love with the show. You can read my full post by clicking the Chris Vee link, but here's a short summary.
I love the humor and characters as well as the fact that Vampirina celebrates the fact that we can be friends who are different than we are. If you aren't watching with your kids, you need to be!
Click on this photo to get this Ice Cream Recipe!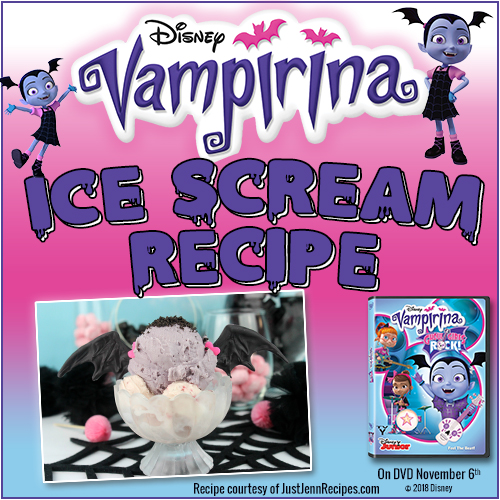 Follow and tune in to VAMPIRINA
https://www.facebook.com/DisneyJunior/
https://twitter.com/DisneyChannelPR (#Vampirina)
https://twitter.com/DisneyJunior
https://www.instagram.com/disneyjunior/