Yes! You read that right! Right in time for RALPH BREAKS THE INTERNET, a brand new experience, Ralph Breaks VR, is coming to The VOID on November 21! Have you ever wanted to go into the internet? Now you can with Ralph and Vanellope, and you can get your tickets NOW!
Guests will break into the internet in teams of 4 with Wreck-It Ralph and Vanellope von Schweetz disguised as characters from the film called "Netizens" to play the newest, coolest video game ever!
Ralph Breaks VR
Guess what?! I got to be part of the 1st group to experience Ralph Breaks VR from The VOID! Talk about an experience! This was my first VR experience, and it was so cool! I was totally immersed in this brand new world. Not only do you get to see everything in 360 degrees, you can smell, touch and feel things too.
My trip inside The VOID with Ralph Breaks VR
Getting ready to head to The VOID was super exciting. Like I said, I've never done VR, so I couldn't wait to see what awaited us! Look at these excited faces!
Front Row: Kate from HighlightsAlongTheWay.com,  Elayna from ThePositiveMom.com, Louise from MomStart.com
Back Row: Vera from LadyAndTheBlog.com, Ari from LovePeaceAndTinyFeet.com, Colleen from ClassyMommy.com
Once we arrived, we were greeted with all sorts of amazingness that I'll share with you in the coming weeks. One of those things include interviewing RALPH BREAKS THE INTERNET co-writer Pamela Ribon who also happens to be the voice of Snow White!
But, what we were there for was behind the door marked The VOID! When you go in, Ralph and Vanellope will tell you what to expect, and then you suit up with your helmet and backpack. These things are a little heavy which is why there is an age/size requirement to participate in Ralph Breaks VR.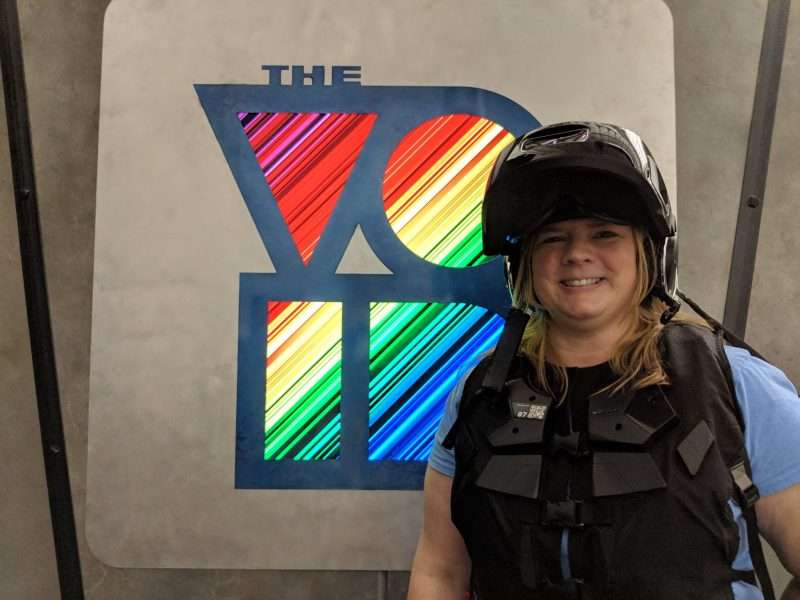 Then you go in…..
Ralph Breaks VR introduces two brand new locations, Dunderdome and Pancake Milkshake Diner, and a new antagonist, B.E.V. voiced by writer Pamela Ribon, which stands for "Built to Eradicate Viruses."
For more on this original hyper-reality story, watch the launch trailer here:
Doesn't that look fun? It is! You and your family and friends will love this! If you live near or will be traveling to a location near The VOID, you need to experience Ralph Breaks VR.
What some of the pros and creators think about Ralph Breaks VR
I know that I loved it, and I am sure the creators are very proud of their accomplishments. We got to meet several of them, and they were so excited to hear what we thought. Well, I think, "Well done, everyone!"
Pamela Ribon, Co-Writer for Ralph Breaks the Internet and Writer for Ralph Breaks VR
"It's incredible to work on an experience like Ralph Breaks VR that lets you live inside a film you've spent years creating. ILMxLAB and The VOID have built a world where Ralph and Vanellope really come alive around you."
Vicki Dobbs Beck, Executive in Charge at ILMxLAB
"There is nothing more magical than stepping inside a rich animated world – especially one filled with color, life, humor and delightful characters as is the case with Ralph Breaks the Internet. The upcoming launch of this project marks another successful collaboration between ILMxLAB and The VOID, with the incredible opportunity to work alongside the talented teams at Walt Disney Animation Studios.  Ralph Breaks VR is an experience that brings a smile to your face and the desire to have another go around with friends and family."
Curtis Hickman, Chief Creative Officer and Co-Founder of The VOID
"Designing the elements that pull you irresistibly into the unique world of Ralph and Vanellope has been an incredibly fun process. What we've created together with ILMxLAB is an astounding adventure that allows people to experience a unique extension of Wreck-It Ralph's detailed characters, environments and stories. With this new experience we are able to truly showcase the capabilities of The VOID, allowing guests to once more step beyond reality."
About The VOID
The critically-acclaimed global leader in immersive virtual experiences, The VOID experience centers have marked a new frontier in interactive entertainment. Combining state-of-the art VR technology, physical stages and multi-sensory effects, including touch and smell, with Hollywood characters and storylines, The VOID lets participants experience fully-immersive worlds that, until now, have only lived in the imagination.
The VOID has eight experience centers globally, including five locations in the United States, two locations in Canada and one location in Dubai, U.A.E. For more information and to purchase tickets, visit https://www.thevoid.com/.
About ILMxLAB
"Step Inside Our Stories"
 ILMxLAB was launched by Lucasfilm in 2015 to embrace the next truly transformative opportunity in entertainment. It's immersive storytelling powered by real-time computer graphics. The award-winning team strives to transition from storytelling to storyliving by using VR, AR and other emerging technologies to bring worlds to life and establish deep and intimate connections to characters.
ILMxLAB develops and publishes premium, story-based immersive entertainment experiences for the home, theatre and public venues. For more information follow ILMxLAB on Facebook, Twitter, Instagram and YouTube.
RALPH BREAKS THE INTERNET comes to theatres November 21.
Get your tickets and follow Ralph Breaks the Internet
Fandango | Facebook | Twitter | Instagram