Welcome to the Forever Yours Clean Romance Event! Today, we're featuring author Jennie Goutet and her book,
A Friend in Paris.
A Friend in Paris
by Jennie Goutet
Friendship between a talented young artist and her handsome French neighbor is a promising start—until it's not enough.
April promised her dying father she would study painting in Paris, but friends are few, her budget is tight, and her landlord increasingly won't take "no" for an answer. Then she meets Victor.
Victor is as chivalrous as he is wealthy, and if it weren't for him, April would have already left the City of Light behind. Too bad Victor still has eyes for his ex-girlfriend, who is now back on the scene and wants to get married.
Although April and Victor swore to remain just friends, magical Paris seems to weave a different spell. The more their connection deepens, the more it becomes difficult to keep a proper distance. Or to remember why they should.
Purchase by clicking the banners below
A Friend in Paris is rich with everything a romance needs and more – drama, plot twists, characters you'll fall in love with…and some you'll love to despise. The setting of Paris and the wonderful descriptions are added bonuses! I devoured this book in two sittings.
About the Author Jennie Goutet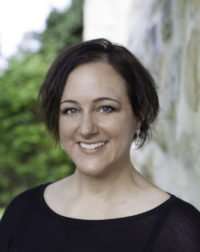 Jennie Goutet is an American-born Anglophile. She lives with her French husband and their three children in a small town outside Paris. Her imagination resides in Regency England, where her upcoming romance, A Regrettable Proposal, is set. Jennie is the author of the sweet, contemporary romances, A Friend in Paris and A Noble Affair, as well as the award-winning memoir, Stars Upside Down. A Christian, a cook, and an inveterate klutz, Jennie writes about faith, food, and life—even the clumsy moments—on her blog, Website.
Website | Amazon | Facebook | Twitter | Goodreads | Instagram
More from Jennie Goutet
More Clean Romance Books
The Glamorous Life of a Mediocre Housewife