Advice for Renovating or Redesigning your Kitchen
If I could renovate one room in my house, it would be my kitchen. When we moved in 25 years ago, it was nice and new and very 90's. Hey, it was the 90's! Fast forward to now, and the only thing that's changed in my kitchen is that there's no more wallpaper. However, it's been years since it's been painted, so it needs to be painted again! I dream about planning my dream kitchen. Maybe one of these days. If you're thinking and dreaming about renovating and redesigning your kitchen, this is the post for you.
Renovating or redesigning your kitchen is a great way to bring new life to your home. You'll make it a more enjoyable place to cook and enjoy meals with your family. Of course, a new kitchen is one of the best ways to add value to your home. Look at home buyer surveys, and you will see that most, if not all, home buyers consider a home's kitchen as its main selling point. However, if your kitchen is old, dark and gloomy, it can be the biggest drawback in your home. So, if you are thinking about selling in the future, your kitchen is a key area to focus on.
Prepare yourself.  Even getting your kitchen ready for a remodel is a massive job in itself. There are lots of questions you'll have and jobs that you will need to do before you are even ready to begin. For instance, if you are completely redecorating and redesigning your kitchen, then you will need to prepare for a tear out where everything is removed before the process of the redesign begins. But, before you can think about the extent of your remodel, it's important to start with the biggest question of all. What's your budget?
Setting your budget
The cost of a kitchen makeover can have a huge range. How much you're going to do depends on how much you have to spend and what you want to achieve with the redesign. The bigger the renovation, the more money you'll need. For instance, you're not going to be able to have a modern, smart kitchen without at least a few thousand dollars. However, you can decorate your kitchen on a tight budget. I've got advice for you at the end of this article. While it might not be like getting a brand new kitchen, you will still get a design that you'll love.
But why do you need to fix a budget? Do you have unlimited funds? I didn't think so! By setting your budget, you can make sure that your kitchen redesign does not exceed the limits of what you can afford. It's not uncommon for homeowners to go into debt over a kitchen remodel. You can easily find yourself in over your head if you are not careful. Just watch Love It or List It! They almost always go over their budget!
When you are setting a budget, it's important that you take all the costs into consideration. That means that you need to consider everything from:
The cost of the contractors you'll need to complete the job

The cost of materials 

The hours of labor it will take

Paying a designer if you choose to use one
Once you do this, you will find that it's easy to put a full budget together. You need to compare costs too if you want to get the best value. By doing this you can find the best prices or rates and hopefully save some cash on renovation or redesigning your kitchen.
Choosing the materials
Think about the materials that you are going to need. There are so many choices out there! From marble to granite, there are plenty to choose from that could be suitable for your kitchen design. Look at the choices here from World Stone Group or a similar business you're familiar with, and you'll see some of the best possibilities available. You can choose to buy the real thing or a less expensive yet still beautiful material. The benefit of a real material is that your home will gain much more value. But you'll have to pay for this level of quality.
If you're working with a tight budget, some materials replicate the aesthetic of popular options like marble, granite, stone and many more. It won't add as much value, but it will provide the look that you wanted for your kitchen. If you're not planning on moving, this is a great budget option.
Be aware that while some contractors will purchase the materials, others will instead ask you to handle this job yourself. This largely depends on the business you choose. Make sure to ask questions about this when choosing a contractor for your kitchen project. You should never be surprised when exploring what jobs are covered by a contractor that you choose.  
Key features and accessories
Of course, when you speak to a contractor, you will want to select and mention some of the features and accessories that you need or want. Maybe you are looking for the latest options in smart technology. There are quite a few possibilities to think about here. For instance, you might want a new smart fridge. Smart fridges are incredibly cool because they can tell you what you need while you're out. They'll help you keep your fridge stocked up for the whole family. They have other cool features too like welcoming you when you get home, and, yes, they're even voice controlled.
Smart tech doesn't stop there. You can also think about asking for smart small appliances to be part of the design. For instance, there are smart kettles and lighting systems for your home too. These can all be built in as part of your new kitchen design.
Of course, while this is just one of the possibilities there are other countless others. For instance, you might be interested in a specific type of material or even design style. You can mention all these options before you get the work completed in your kitchen. You can even think about more specific options like the type of lighting you want. Spotlight lighting is a great choice because by using this you can accentuate key features and areas of your kitchen. For instance, you can make sure that the breakfast bar is the centerpiece of the area.
Remember, when you complete a kitchen redesign you are only really tied down by your imagination and your budget. Stretch these as far as they can go, and you'll be astounded by the gorgeous kitchen that you can create.
What jobs can you DIY
When you're renovating or redesigning your kitchen, one of the ways to cut costs is by figuring out which jobs you can handle yourself. Are you doing a complete renovation? This can be easily handled by you and a few friends. It's a good move if you want to keep the cost of labor hours at a minimum. You might also want to think about handling some of the building work yourself too. For instance, you probably feel comfortable with painting your kitchen and maybe you can even handle putting in new cupboards.
Alternatively, there are other jobs that are best left to the professionals. Anything to do with changes to the electric or plumbing fall under this category. You need to make sure that you aren't creating any danger, and that these jobs are handled the right way.
Finishing touches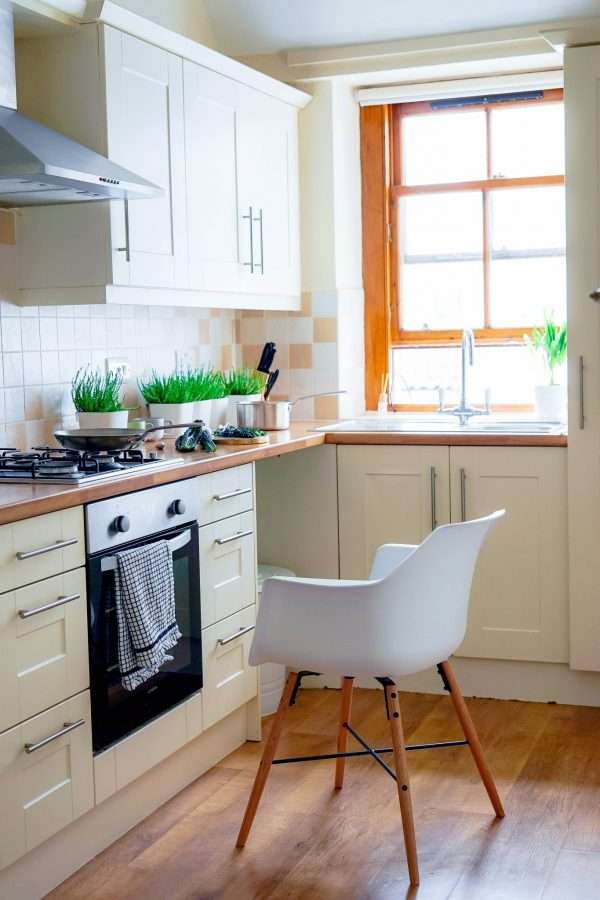 Once you've finished renovating or redesigning  your kitchen, you might want to consider adding some finishing touches to the design. There are plenty of little things that can really make your kitchen your own. For example, you might want to add some green to your kitchen. You can do this by experimenting with plants and shrubs. These go beautifully with a gorgeous cream shade that you might choose for the counter tops and brings the outside in. There are practical benefits too since the planets can clean up the air inside your kitchen.
Do you want to add a little extra to your floors? Try using some epoxy resin. A covering like this will not only protect your floors, it will also make your floors look shiny and ensure that they reflect the light beautifully. It can give any floor the look of water or glass. This is a stunning way to add just a little extra to your kitchen.
You might also want to consider some other aesthetic points as well.  Beautifully placed wall decals will make your home look homey. These decals could have an inspiring cooking message or something simple like 'welcome home.' You'll be delighted and amazed by all the possibilities available to you.
Redecorating on a tight budget
If you are on a tighter budget, you'll be happy to hear that there are ways to keep the costs under control. For instance, you can think about sanding down your cupboards rather than tearing them out. Once you have sanded them down, you can then add a brand new stain or paint that looks great and gives your kitchen a new look or shade. My sister has done this before, and I need to get her over here to do mine!
Take that brand new cupboard look even further by replacing the cupboard door handles. New door handles could be enough to completely alter your kitchen's look. If you like the modern look, go for a sleek and simple design. Do you like shabby chic. Hunt down older, eclectic handles at yard sales or thrift stores. Replacing your faucets can help give your kitchen a better look too.
The best part of this is that you probably won't even spend a hundred dollars by doing some of these things. You can go further in redecorating on a budget by using the items you own as part of the look. This could include pots and pans hung up on the walls. Once again, this will provide your kitchen with character and give it a rustic quality that will make it feel cozy and warm.
I hope you have a lot fun with these ideas. Don't let renovating or redesigning your kitchen stress you out! Use this advice to transform your kitchen into a room you love.