Yes, to the following reviews of The Turn of the Key by Ruth Ware. But, I have to say, I wanted a different ending. Read my book review to find out why I give it 4 stars.
"Truly terrifying! Ware perfects her ability to craft atmosphere and sustain tension with each novel."
—Kirkus Reviews

"This novel did a great job updating some of the creepy aspects of The Turn of the Screw: Technology played a major role in the plot, and the 'smart home' was a convincing twist on the notion of a haunted house. I flew through this novel."
—Bookish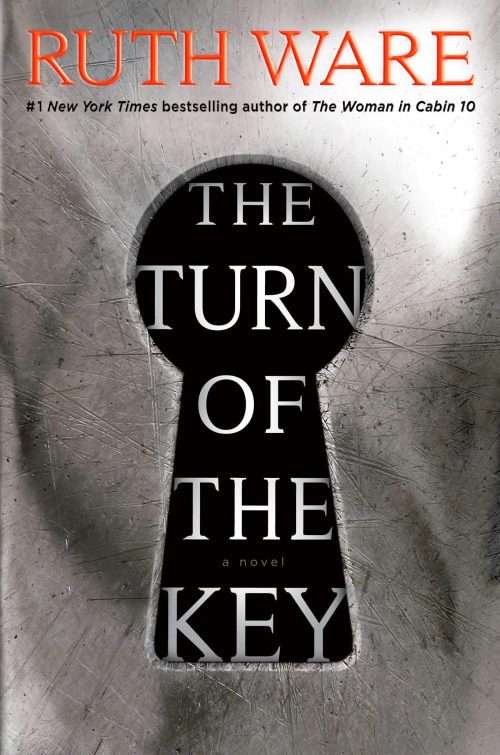 This post contains affiliate links.
The Turn of the Key by Ruth Ware
When she stumbles across the ad, she's looking for something else completely. But it seems like too good an opportunity to miss—a live-in nannying post, with a staggeringly generous salary. And when Rowan Caine arrives at Heatherbrae House, she is smitten—by the luxurious "smart" home fitted out with all modern conveniences, by the beautiful Scottish Highlands, and by this picture-perfect family.
What she doesn't know is that she's stepping into a nightmare—one that will end with a child dead and herself in prison awaiting trial for murder.
Read the full synopsis and pre-order the book below!
My book review
I absolutely loved this book. So why 4 stars? The ending! There is a twist in The Turn of the Key that I would never have expected, and really it was a great twist. But it's not the twist I wanted! I know, it's a selfish reason, but I just feel like the twist that is in the book could have been so much better had the ending been creepy rather than logical. But that's just me.
The atmosphere in The Turn of the Key is dark and Gothic and wonderful. It's one of my favorite types of books. I love feeling as if I'm right there with the main character, in this case Rowan the nanny, as she heads down a spiral to madness (perhaps).
As I said before, I love feeling as if I'm either with the main character, or that I am the main character. The Turn of the Key did that for me. I was in Scotland with Rowan watching her every move. Every decision she made, every creepy thing that happened to her…I was right there. And I began wondering about her. You'll see as you read this novel. Some of the decisions she makes are questionable and made me wonder what she was thinking! If I HAD been there with her, I think I would have smacked her upside the head and told her to use her brain!
You see, Rowan is a child caregiver, and is now a nanny. She's been a nanny before too. So, the way she interacts with the children under her care is sometimes suspicious. I mean, I realize she's not a mom and doesn't have mom instincts, but she's got to have some common sense!
Speaking of common sense, the mother who hires her has none! Would you leave your kids for over a week with someone you met once? Yeah, she's a career woman, but come on! You see, she and her husband are a two person architect team, so they're away often and this happens to be a time she's got to be away. I'd tell my husband to forget it and stay with the person I just hired for at least a week! So, the fact that the parents just leave, along with some happenings, made me think that this would end differently.
Like I said, I loved the story, so I do recommend it if you like twisty, Gothic-like novels. I just had a totally different ending planned. I'll bet when you're reading this, you will too.
Visit Ruth Ware online to find out more about her and her books!