Are you a fan of cozy mystery books? Then you need to check out this week's 99 cent cozy mystery book deals! These books are all by Kathi Daley.
Cozy mystery book deals for 99 cents
This post contains affiliate links. If you make a purchase after clicking the links, I may receive a commission.
The Haunting
by Kathi Daley
Alyson Prescott moves to Cutters Cove, Oregon, after being placed, along with her mother, in the witness protection program. In her previous life, Alyson was an A-list heiress with the excitement of a trend setting lifestyle and the security of old money. After witnessing a murder she is forced to leave her old life behind and become a middle class girl, living in a middle class town. Alyson struggles with the duplicity in her life as she strives to reconcile her new life with the old.
In this seventh book in the series, the gang from Seacliff High are busy planning their annual Haunted Hayride. When strange things begin to happen Alyson suspects the house they have selected to host the party at the end of the hayride might actually be haunted. Alyson decides to pay a visit to the mischievous ghosts who are causing such a ruckus only to find that the ghosts who live there are not at all who she expected to find. Alyson sets out to discover how the ghosts came to be there, how they died, and who killed them in a mystery that will keep you guessing until the very end.
Alaskan Alliance
by Kathi Daley 
Zak and Zoe fly to Alaska after Zoe is asked by her dog trainer friend Peter to fly to Moosehead Alaska to deliver a search and rescue dog to a team who is desperate for some canine help after their own dog is injured during a rescue. Within twelve hours of arriving in the isolated little town, Zoe stumbles onto a murder scene where everything must be questioned because nothing is exactly as it seems.
When a second body is found and a five year old cold case is reexamined, things go from complicated to bizarre. Meanwhile Levi and Ellie are home in Ashton Falls dealing with complex emotions as they solve their own thorny mystery.
Finding Christmas
by Kathi Daley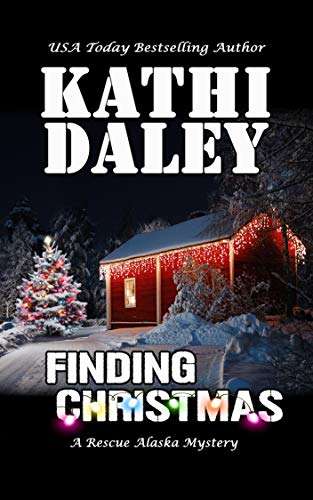 Christmas arrives early in Rescue Alaska as the search and rescue team are tasked with finding a missing Santa. With a new mystery to solve, and a holiday decorating contest to bring light to the long days of winter, the town is steeped in holiday cheer until a surprising murder puts a damper on the annual festivities.
Meanwhile, Harmony tries to help Houston find the Christmas spirit, while Harley is surprised by a visitor from the north.
Rescue Alaska is the eighth series by USA Today Bestselling Author Kathi Daley. It is a fast moving mystery series with a paranormal twist which takes place in a small town in northern Alaska where visitors come to hike and ski. Harmony Carson is a lifelong resident who volunteers as a member of the local search and rescue team. Harmony has a unique gift which she often considers a curse. She is able to 'see' the individuals she is meant to help rescue, and more often than not she can feel their fear and their pain as well. When she isn't aiding in a rescue, Harmony works at Neverland – the bar owned by her brother in law Jake, and volunteers at the local animal shelter. Harmony lives in a rustic cabin with six dogs, four cats, six kittens, eight rabbits, and a blind mule named Homer.
Matrimony Meltdown
by Kathi Daley
After a year and a half of on again off again relationship status, Zak and Zoe are finally getting married. Not only has her own mother morphed into Momzilla, but Zak's mother shows up a month before the wedding with plans to stay until the big day. When the mom's gang up to undo all of Zoe's wedding plans, things become tense. When Zak has to go out of town two weeks before the wedding, things get even worse. But when the assistant to the wedding planner Mother Zimmerman hired ends up dead in the pool, things become outright hilarious. Zoe struggles to maintain her sanity while dealing with a media circus, mom's gone crazy, and a killer on the loose.
Soul Surrender
by Kathi Daley
Now that Zak and Zoe have their house, their lives, and their wedding back, things seem to be on track once again, until a man is found dead and Zoe is once again pulled into a murder investigation. The victim is a well known and liked member of the community who didn't appear to have any enemies until his secret past caught up with him. Zak and Zoe work together to find the killer while Zoe deals with the fact that Levi and Ellie seem to be imploding before her very eyes. Meanwhile Alex shares a shocking piece of news which causes Zak and Zoe to consider taking a huge step which could forever alter their future.
Heavenly Honeymoon
by Kathi Daley
In true Zoe Donovan fashion, Zoe ends up in jail on the second night of her honeymoon after she finds herself the only suspect in the first murder Heavenly Island has seen in a decade. Although she has been ordered to leave the investigation to a man known only as Toad, she can't help but snoop around just a bit while enjoying the tropical paradise with new husband Zak. In the midst of enjoying days at the beach and moonlit walks under the stars, she discovers a truth about the island that might very well put those she loves in danger.
I hope you find your next read in this week's cozy mystery book deals!