If you missed the big news, AVENGERS: ENDGAME is the highest grossing film of all time! During the 2019 San Diego Comic Con Marvel President Kevin Feige announced that it had passed AVATAR which had held the record since 2009. Today we're celebrating AVENGERS: ENDGAME's home release (and this epic milestone) with some Hawkeye Inspired Arrows and Pizza Dip Bullseye.
Hawkeye Inspired Arrows and Pizza Dip Bullseye
And speaking of Hawkeye, if you're a Marvel fan, I'm sure you've seen the news from Hall H! Marvel announced Phase 4, and Hawkeye on Disney+ was part of that announcement! The show is slated for a fall 2021 release. So far, we know that Kate Bishop, also Hawkeye, will be in the series. I'm sure more announcements are coming within the next several months.
This post contains affiliate links.
So let's get down to the good stuff! Crafts and pizza dip. What else do you want? Your kids will love making the Hawkeye inspired arrows, but I'm sure their teachers won't appreciate them bringing weapons to class. Kidding! Sort of.
Hawkeye inspired pencil arrows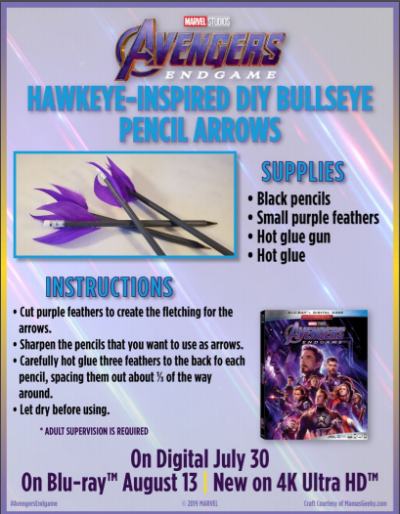 Aren't these cute? All you need are some black pencils, purple construction paper to make feathers or actual purple feathers, and a glue gun!

Hawkeye inspired pizza dip bullseye
Pizza dip? Yes, please! I think this is really cute, but I might try to make a dessert version of this bullseye. I think it would be refreshing during this hot summer!
Download a printable version of the pencil arrows and pizza dip by clicking the image below.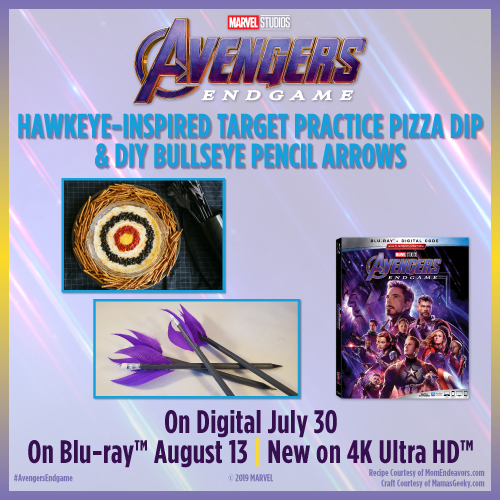 Avengers: Endgame on Digital and Blu-ray
Marvel Studios' AVENGERS: ENDGAME  the climactic conclusion to an unprecedented, 11-year cinematic journey in which the Avengers take one final stand against Thanos, delivered the biggest opening weekend in history and is currently one of the highest-grossing films of all time. On July 30, Avengers fans around the world are invited to assemble once more for the in-home release of "Avengers: Endgame" on Digital in HD, 4K Ultra HD™ and Movies Anywhere, followed by a physical release on 4K Ultra HD, Blu-ray™, DVD and On-Demand beginning Aug. 13.
Check out all of the bonus materials included on the in home versions of the film, and order your copy below!