Movies I Watch Over and Over
Do you have movies that you just love so much that you can watch them over and over? You don't get bored with them because they're just so cute. I do! Here are 5 movies I can watch over and over.
27 Dresses
This movie recently celebrated its 11th anniversary! I can't believe it! Though Rotten Tomatoes wasn't a fan, I love this movie. It is adorable and romantic and just perfect.
27 DRESSES centers on Jane, an idealistic, romantic and completely selfless woman… a perennial bridal attendant whose own happy ending is nowhere in sight. But when younger sister Tess captures the heart of Jane's boss — with whom she is secretly in love — Jane begins to reexamine her "always-a-bridesmaid…" lifestyle.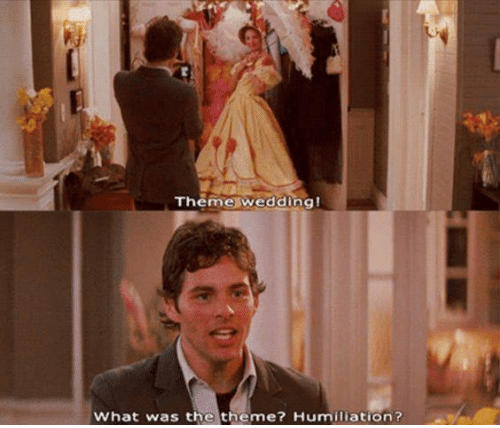 Sweet Home Alabama
If you haven't seen Sweet Home Alabama yet, you are missing out! It is one of the most adorable "chick flicks" I've ever watched. The characters are so much fun because of how talented the cast is. This is a must watch over and over movie!
This delightfully entertaining romantic comedy stars Reese Witherspoon as sophisticated Melanie Carmichael, a rising New York clothing designer who suddenly finds herself engaged to the city's most eligible bachelor. But this is no fairy tale romance for Melanie. She has skeletons in her fashion-filled closet that include Jake — the backwoods husband she married in high school who refuses to divorce her. Determined to end their marriage and sever all ties with her past once and for all, Melanie returns to Alabama. But home starts to tug at her heartstrings, and what she thought she wanted may not be what she wants at all.
While You Were Sleeping
Sandra Bullock. Bill Pullman. Adorable! I just can't believe how old this movie is! 1998?? No. It can't be possible! So, seriously. If you have ever watched WHILE YOU WERE SLEEPING, you know why this is a movie you can watch over and over. Sure, I know the ending; I know what happens. But it still makes me smile and swoon.
You'll fall in love with WHILE YOU WERE SLEEPING, the hit romantic comedy that woke everyone up to adorable Sandra Bullock. As Lucy, a lonely subway worker, she becomes smitten with a handsome stranger. But when she saves his life after he's been mugged and fallen into a coma, his hilariously offbeat family mistakes her for his fiancee! Soon, the mix-ups escalate as Lucy fabricates a life between herself and a man she's never met! And when Lucy falls for his charming brother the situation really gets uproarious as she's forced to make a choice between the two!
The Holiday
It doesn't even need to be Christmas for me to watch THE HOLIDAY. I can't even begin to tell you how much I adore this movie. It is so romantic and the script is perfect!
In THE HOLIDAY, two women trade homes only to find that a change of address can change their lives. Iris is in love with a man who is about to marry another woman. Across the globe, Amanda, realizes the man she lives with has been unfaithful.
Two women who have never met and live 6000 miles apart, find themselves in the exact same place. They meet online at a home exchange website and impulsively switch homes for the holiday. Iris moves into Amanda's L.A. house in sunny California as Amanda arrives in the snow covered English countryside.
Shortly after arriving at their destinations, both women find the last thing either wants or expects: a new romance. Amanda is charmed by Iris' handsome brother Graham and Iris, with inspiration provided by legendary screenwriter Arthur, mends her heart when she meets film composer Miles.
13 Going on 30
This is the movie that made me fall in love with Mark Ruffalo! I can't even tell you how many times I have watched 13 GOING ON 30, but it is definitely a movie I watch over and over. I need a fluffy pillow!
After a humiliating experience with the coolest boy in school, a 13-year old girl makes a desperate wish for a new life. Miraculously, her wish comes true, but it's 17 years later and she's trapped inside her 30-year-old body.
This is just a fraction of the movies I can watch over and over, but I'd have to say they're probably the top 5! What movies do you watch a lot? I'd love to know!