Have you been using to your backyard lately? Are you having cook-outs with friends, or is it a mess? You don't want your friends out there if you don't even want to be out there. Listen, don't let the sad state of your backyard bring you down. Instead, do something about it. Create the ultimate backyard living space with these ideas!
This post contains affiliate links. If you make a purchase, I may receive compensation at no cost to you.
Change the landscape
Patchy grass and weeds can make anyone feel frustrated, so a fantastic place to start is by working on your landscaping. Planting new grass is a start. Pulling weeds may sound like an exhausting afternoon, but look at is as a stress-reliever. You can make your backyard look good and maintain your sanity.
Speaking of sanity, gardening is a source of happiness for many people. Adding rose bushes and perennial flowers means you spend some time loving your land while enjoying the peace that comes with digging in the dirt. If gardening isn't your thing, you can hire a landscaper. But just think how much you're going to enjoy that backyard living space when you're done!
Even if you've got a small backyard, you can still add plants with something like a Best Choice Products Raised Wood Planter Garden Bed Box Stand for Backyard, Patio.
Once the flowers start blooming, you can enjoy the beautiful colors.

Add outdoor structures to your backyard living space
Adding outdoor structures can bring new life to your backyard. It's one of the best options because they can expand your backyard living space. Of course, the first thing people think of when they think of adding backyard living space is adding a deck. And decks are great; however, they're attached to the house.
Gazebos are a great choice if you want a spot that's a little further away from the house. Put like this Sunjoy 10'x10′ Hampton Softtop Steel Gazebo with Netting
out in a shady area of your backyard to create a living space that's a little quieter and a little cooler.
If biting insects are a problem in your area, you could consider this netting will come in handy!
Make your deck a comfy, fun place to hang out
You already know that a deck is a great backyard living space, but if you've got people over, they want to be comfortable. Remember that commercial where the guy is sitting on the cooler? Yeah, that's not an ideal place to sit. I love this Homall 4 Pieces Outdoor Patio Furniture Sets Rattan Chair Wicker Set, Outdoor Indoor Use Backyard Porch Garden Poolside Balcony Furniture Set.
You know that when you get together with friends and family, you've got to eat! You need a great grill for all of that food you'll be cooking. Here are a couple to consider. Get the best of both worlds with this Char-Griller 5030 2-Burner Gas & Charcoal Grill Dual Function. If you don't need a really large grill, you can look at something like this Char-Broil Performance 300 2-Burner Cabinet Liquid Propane Gas Grill.
Though people tend to wander around or just sit on the patio furniture when they're eating, you might want seating around a table, especially if kids are there. This Solaste 7pcs Outdoor Furniture All-Weather Patio Porch Dining Table and Chairs Grey Wicker with Washable Cushions is so beachy looking! If you've got a pool, it would really tie in with it!
Add fun to your backyard living space with a pool
Speaking of pools…
Adding a pool to your yard really makes your backyard living space more fun. Swimming is an excellent exercise, and pools are great for gathering friends and family. Consider the space and your budget before you begin shopping for the pool that you want. Above-ground pools are the most affordable, but they don't last as long as below-ground. Both are great options.
If you know you are going to move in less than 10 years, an above-ground pool is probably a better option for you. My parents had an above-ground pool and my kids loved it! Unfortunately, it got destroyed by a tornado!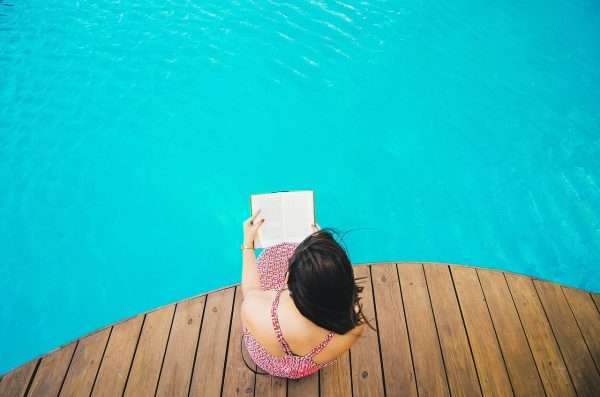 These pool floats are a must if you're hanging out and relaxing in your pool!
A Few More Tips
Before you start planning, take a breath. It is easy to get excited about creating your backyard living space, but you need a careful plan. Write out everything you would like to do, then figure out what your budget is for the project. If you don't have a big budget, prioritize your list in order of what you want to do first. Create a savings plan to meet your needs.
Start small! You don't have to do the biggest and longest project on your list. If you start small and love your results, you are more likely to continue with more projects. Pulling weeds and cleaning up doesn't cost a thing!
A side benefit is that your outdoor living space will add value to your home if you ever decide to sell. Nothing is better than improving  your yard for your own reasons while increasing your home's value.