It's time to bring home THE SECRET LIFE OF PETS 2 on Digital, 4K Ultra, Blu-ray and DVD! I loved this adorable, funny family movie! Hop on over to my review post to see what I loved most about this film. Want to know what bonus features you will get? I've got them all listed here. Today, I've got some THE SECRET LIFE OF PETS 2 crafts for you to try at home.
THE SECRET LIFE OF PETS 2 explores the emotional lives of our pets, the deep bond between them, the families that love them and answers the question: What are your pets really doing when you're not at home?
Terrier Max (Patton Oswalt) is coping with major life changes after Katie's marriage and the arrival of a toddler, Liam. Meanwhile, Gidget (Jenny Slate) tries to rescue Max's favorite toy from a cat-packed apartment with a little help from her feline friend, Chloe (Lake Bell), who has discovered the joys of catnip.
And Snowball (Kevin Hart) believes, despite the other pets' teasing, that he's a superhero after his owner starts dressing him in superhero pajamas. But when Daisy (Tiffany Haddish), a fearless Shih Tzu, shows up to ask for Snowball's help on a dangerous mission, he'll have to summon the courage to become the hero he's been pretending to be.
The Secret Life of Pets 2 Crafts
Speaking of Snowball, the first craft I've got to share with you is a DIY Captain Snowball Ears craft. Transform yourself into the absolutely adorable Captain Snowball with your very own pair of DIY Captain Snowball Ears!
Download the DIY directions here
The Secret Life of Pets 2 Clips
At the vet
Parenting Advice
Cat lessons
Movie inspired crafts
Click on the links to get all of the directions:
Max Paper Bag Craft from Mrs. Kathy King
Duke Paper Plate Craft from Mrs. Kathy King
By the way, she's got a lot more crafts inspired by the movies there too!
Edible Candy Dog Buddy Craft from Desert Chica
DIY Movie Invitations from Cutefetti (Have an in home viewing party!)
Dog Applesauce Craft from See Vanessa Craft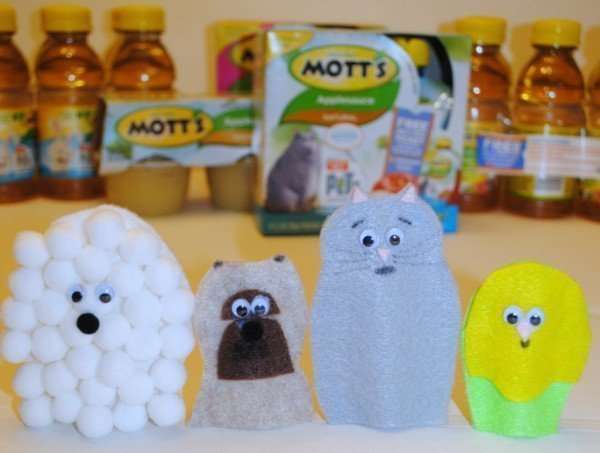 No Sew Finger Puppets from Love Jamie
Pin for later!