There might be parts of your home that you decorate and change all of the time. The rooms that you spend a lot of time in, and really take the time to look at. We spend a lot of time at home, and areas like the lounge and kitchen are always well lived in, so it's no wonder that we get bored, we start to spot things that we don't like, and we're keen to make changes.
Sometimes, these changes might be significant. You might invest in new furniture and appliances. You might paint your walls or go for a completely different theme. On other occasions, the changes might be small. You might move your furniture around, to create a new focus in the room, or move the contents of your kitchen cupboards so that the tools and tableware that you use most often are easier to get to. But, you will probably find that it's always the same rooms and areas that you want to change. Either because you spend the most time in them, or because they are the easiest to move around.
But, there might be other rooms and areas within your home that you completely ignore. That you've stopped seeing, or don't pay any attention to. Or you might have been neglecting them simply because they are areas that only you see, and so decorating seems a waste of time and money.
Doors
Doors are essential, but that doesn't mean that they don't make up part of your decor. Your door is a big part of a room to leave untouched. Focus on color, prints, and patterns for a unique touch. Don't forget your front door! It may be the first thing someone sees. If you're buying a new door and lock, be sure you have extra keys. But when the inevitable happens and you lock yourself out, be sure you've got the number for a good locksmith in your phone.
Your hallway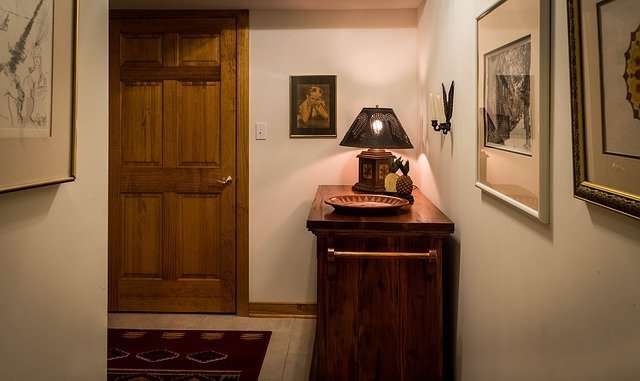 Our hallways tend to be thoroughfares. We walk through them to leave the house or to get to other rooms. We don't spend any real time in them, we don't notice them, and so we don't worry about how they look. But, your hallways are a vital part of your home. You pass through them every time you go anywhere or return home. They greet you and send you on your way. So, your hallway should have practical storage for coats, shoes, and other accessories. But, it should also have style and personality. Look for some quirky hallway ideas to get started.
The ceilings
We only look directly at our ceilings when we spot a cobweb, or a bulb needs changing. But, we see them all of the time. Your ceiling is a big part of your rooms, yet we so rarely do anything with them. Add ceiling tiles, and suddenly your whole room is different.
Window Sills or Ledges
Most windows that don't go to the floor have some kind or ledge or sill. You might want to keep them minimal to maximize the natural light getting into your home, but you could still paint them fun colors, add plants and accessories and even seat pads and cushions to deeper ledges. 
Your home is your castle. It should bring you joy and make you feel happy, safe, and comfortable, and sometimes this means looking at those neglected areas. Making small changes in these neglected areas will make a big difference!