Southern Harm: A Southern B&B Mystery
by Caroline Fardig
I received this book free to review; however, all opinions are my own. This post contains affiliate links. If you make a purchase, I may receive compensation at no cost to you.
Southern Harm: A Southern B&B Mystery
Cozy Mystery
2nd in Series
Publisher: Alibi (November 12, 2019)
Print Length: 263 pages
A little Southern charm never killed anybody—until now—in an enchanting cozy mystery from the USA Today bestselling author of Southern Discomfort and the Java Jive novels.
After solving a murder at a local restaurant, Quinn Bellandini just wants to get back to her comfortable life running her grandfather's B&B in Savannah, Georgia, with her sister, Delilah. But those plans get buried when Quinn and her new boyfriend, Tucker Heyward, dig up an old skeleton while doing some landscaping in his aunt Lela's backyard. Before long, Lela becomes the prime suspect in the thirty-three-year-old unsolved murder of a high school homecoming queen.
Tucker is devastated. But Quinn's conscience won't let her risk an elderly woman spending her twilight years in jail for a crime she didn't commit. And Delilah, bored by the quiet B&B biz, has been itching to do some more investigating of her own.
Soon they're questioning a growing list of suspects, from nosy neighbors and snooty Savannah socialites to mild-mannered teachers and old high-school friends of the victim—including Quinn and Delilah's own parents. But no one is safe from a killer who's totally old school.
Amazon | Barnes & Noble | Kobo
My review of Southern Harm
Do you have sisters? Or siblings in general? I do! I've got two sisters, and I can easily picture us playing detective like Quinn and her sister Delilah do! In fact, we used to cut pictures out of magazines, glue them into notebooks, and create suspect profiles for them. That's what Nancy Drew will do to you!
So, let me back up. Sisters Quinn and Delilah run a B&B with their Grandpa Sal, but they are much too inquisitive and energetic to just do B&B work! Thank goodness for the skeleton that shows up in Quinn's boyfriend Tucker's aunt Lela's backyard. Well, not good for the skeleton. And not good for Aunt Lela since she ends up in jail for the murder!
Quinn and Delilah are eager to clear Aunt Lela's name since she's the only relative that Tucker is close to. They promise not to put themselves in danger, and Tucker needs help. Since they're "not" looking for suspects, only looking for anyone who can help them prove that Aunt Lela couldn't have done it, Tucker agrees to let them help.
I'm sure you can guess how well the not looking for suspects part goes! I really enjoyed the characters in Southern Harm. Quinn and Delilah's mom is a trip; their grandpa makes me want him as a grandpa; Aunt Lela is a spitfire…you'll enjoy getting to know them all.
You'll also enjoy trying to find the killer along with Quinn and Delilah. I'm sure you'll have several suspects just like the girls (and I) did. Narrowing it down to "the one" wasn't easy until close to the end.
Since this is only the second book in the series, I'm looking forward to seeing what else these sisters get themselves into! Cozy mystery readers, add this one to your Goodreads lists today!
About the author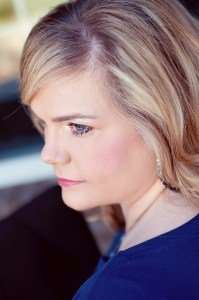 CAROLINE FARDIG is the USA TODAY BESTSELLING AUTHOR of the Java Jive Mysteries series and the Lizzie Hart Mysteries series. Fardig's BAD MEDICINE was named one of the "Best Books of 2015" by Suspense Magazine. She worked as a schoolteacher, church organist, insurance agent, funeral parlor associate, and stay-at-home mom before she realized that she wanted to be a writer when she grew up. Born and raised in a small town in Indiana, Fardig still lives in that same town with an understanding husband, two sweet kids, two energetic dogs, and one malevolent cat. I've read her book Bitter Past which isn't a cozy mystery, but it is a great mystery!
Website | Blog | Twitter | Facebook
Don't miss Caroline Fardig's thrilling Java Jive mysteries, which can be read together or separately:
DEATH BEFORE DECAF | MUG SHOT | A WHOLE LATTE MURDER | BREW OR DIE | MURDER OVER MOCHAS
ENDED
Follow the December tour for more
3rd – Here's How It Happened – SPOTLIGHT
4th – eBook Addicts – SPOTLIGHT
5th – FUONLYKNEW – SPOTLIGHT
6th – Literary Gold – SPOTLIGHT
7th– Laura's Interests – REVIEW
8th – OFF
9th – I Read What You Write – REVIEW
10th – TBR Book Blog – REVIEW
11th – Mystery Thrillers and Romantic Suspense Reviews – SPOTLIGHT
12th – Baroness' Book Trove – REVIEW
13th
Christy's Cozy Corners – REVIEW
Cozy Up With Kathy – REVIEW
14th – The Book Diva's Reads – SPOTLIGHT
15th – The Pulp and Mystery Shelf – SPOTLIGHT
16th
My Reading Journeys – REVIEW
Brooke Blogs – REVIEW
17th 
Diary of a Book Fiend – REVIEW
Cassidy's Bookshelves – SPOTLIGHT
Elizabeth McKenna – Author – SPOTLIGHT
18th
Island Confidential – SPOTLIGHT
The Book's the Thing – REVIEW
Socrates Book Reviews – SPOTLIGHT
19th 
Celticlady's Reviews – SPOTLIGHT
MJB Reviewers – REVIEW
20th 
I'm All About Books – SPOTLIGHT
Melina's Book Blog – REVIEW