Welcome to The Roaring 20s Giveaway Hop! Can you believe it is 2020? Like, I still think the 90s were 10 years ago! Time must be speeding up! Anyway, I've got a copy of Naughty Ninja Takes A Bath for one of you courtesy of the sponsor. I am also giving the winner $5 PayPal cash to celebrate the new year. Be sure to enter all of the giveaways in the hop below!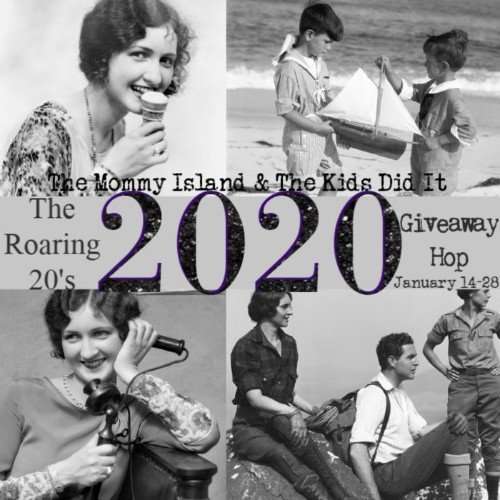 Thanks to our hosts, The Kids Did It and The Mommy Island.
I received this book free to review; however, all opinions are my own. This post contains affiliate links. If you make a purchase, I may receive compensation at no cost to you.
by Todd Tarpley, illus by Vin Vogel
Jan 1, 2020
Two Lions
ages 3-7
32 pages
After crossing raging rivers and tromping through the jungle, Naughty Ninja returns to his secret ninja training camp for lunch. But when he gets inside, his parents tell him he needs a bath. Before Naughty Ninja gets in the tub, he notices poisonous flies and an angry alligator circling his dad, who doesn't even seem to know he's in trouble. Good thing Naughty Ninja is around to save the day!
Amid sudsy fun, a boy's imaginary ninja life and his everyday world collide in the ultimate bath time adventure.
Praise for the book
"Good fun for all little ninjas and their parents." —Kirkus Reviews
"This book does a wonderful job of demonstrating how a child's imagination can turn any ordinary experience into a rollicking adventure." – School Library Journal
My review of Naughty Ninja Takes A Bath
Naughty Ninja Takes a Bath is a silly, fun book about an imaginative little boy named will who is always coming to the rescue. He's always coming in from his adventures covered in mud and smelling like the jungle. On this particular day, Will AKA Naughty Ninja, comes in from his adventures very hungry. However, before mom will let him have his ninja nuggets, dad's got to give him his bath.
Like the good ninja he is, Naughty Ninja notices that dangerous prey are stalking dad. Dad knows what comes next…ninja craziness! "Ninja to the rescue!" shouts Will and chaos ensues. Somehow during the chaos, Will AND the house get cleaned! Thank goodness he's saved dad again.
Your kids are going to love having you read Naughty Ninja Takes a Bath to them, and you'll love this imaginative book too! I appreciate authors who "get" kids with huge imaginations.
The newer LEGO commercials make me so happy because they're taking kids' imaginations into consideration. Sure, building the sets with the directions is fun, but that's hard for little ones. You can take LEGO bricks or Lincoln Logs or sticks and mud and create a whole new world.
Screen time in moderation is fine, but kids have got to be given the opportunity to use their imaginations. It expands their minds. My favorite memories aren't of TV shows, though I did have my favorites, but of coming up with games and scenarios in which my sisters and I came up with elaborate, imaginative things to play.
Read Naughty Ninja Takes a Bath with your child, and talk about it! Ask questions, and let your child tell you a story where he or she is a ninja or a pirate or a princess or whatever! Childhood is precious! Don't let your kids waste it in front of a screen.
About the author and illustrator
Todd Tarpley is the author of a number of picture books, including Three Grumpy Trucks, illustrated by Guy Parker-Rees; How to Become a Knight, illustrated by Jenn Harney; Beep! Beep! Go to Sleep!, illustrated by John Rocco; and Ten Tiny Toes, illustrated by Marc Brown. He lives in New York City. Visit him online at www.toddtarpley.com.
Twitter: @toddtarpley
Instagram: @toddtarpley
Vin Vogel is the author-illustrator of A Home for Leo, The Thing About Yetis, and Bedtime for Yeti. He is also the illustrator of a number of books, including the Bob and Joss series by Peter McCleery and Maddi's Fridge by Lois Brandt, which won a Christopher Award. Vin lives in Rio de Janeiro, Brazil, where he can be found with his two cats and his single-fin surfboards. Learn more about Vin at www.vinvogel.com.
Twitter: @vin_vogel
Instagram: @vinvogel
Enter the giveaway
One lucky winner will receive a copy of Naughty Ninja Takes a Bath, courtesy of Two Lions (U.S. addresses). I am also giving the winner $5 PayPal cash to celebrate the new year.
This giveaway is open to the US only to ages 18+. This giveaway is void where prohibited. By entering this giveaway, you're agreeing to the privacy policies of this blog. Entrants need a profile picture on their social media accounts from which they're entering, or entry will be void. The winner has 48 hrs. to claim the prize or another winner will be chosen.