Just like their human owners, dogs can suffer from anxiety from time to time. And the reasons for their anxiety are similar to those that are experienced by their owners.
Causes of dog anxiety
Fear – such as the fear of new environments, loud noises, and visits to the vet's office.
Separation – being left alone for a long time is agonizing for some dogs.
Age and health – These go hand in hand, as the health issues that come with old age, such as those that relate to cognitive dysfunction, can lead to confusion and anxiety in our four-legged friends. Other ailments, such as those that can cause pain, can also lead to anxiety.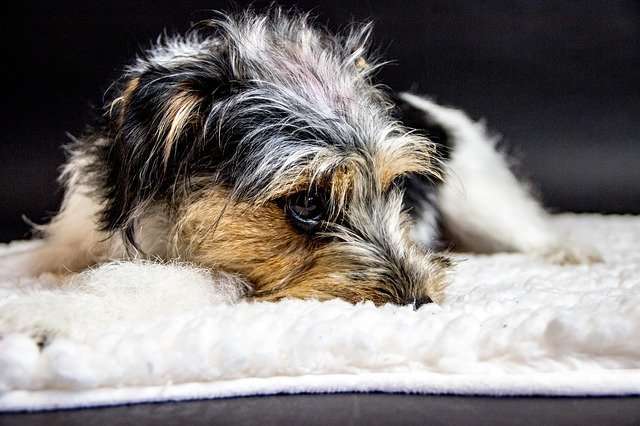 As I said, these anxieties are not dissimilar to those that we suffer from. Of course, we can find ways to help ourselves, perhaps by meditating or exercising. But our four-legged animals can't be proactive like we are. They certainly wouldn't start meditating after anxiety had taken hold! It's important to know the signs of doggy anxiety then, as we will then have the incentive to care for our animals.
Signs of anxiety
Aggression – When feeling fearful, your dog might act out against humans or other animals. They might also tear up your household furniture!
Toileting accidents – If you have ever come home from work and discovered a nasty mess in your living room, it might be that your dog has been suffering from separation anxiety.
Depression – If your dog isn't his usual happy and bouncy self, it may be that he is ill or anxious about a change in your household. Some of those changes include moving, bringing home a new baby, or a new pet.
Compulsive behaviors – Endlessly washing themselves, tail chasing, and chewing on their fur are just some of the compulsive behaviors that indicate anxiety.
How you can help
As a caring pet owner, you will understandably be concerned when the signs of dog anxiety are spotted. Thankfully, you can help your dog before a full-blown anxiety disorder sets in.
You can deal with separation anxiety by asking a friend, neighbor, or family member to pop in to see your dog when you're at work. You can also house your dog for the day with a sitter or a Dog Daycare service.
When it comes to health-related anxiety, you should seek the assistance of your vet. They will deal with the ailments that are causing your dog to stress and act out. You should also seek the advice of your vet if your dog is anxious for any other reasons. Medications and natural therapies can be prescribed to calm your jittery pet.
For those fear triggers that cause your dog anxiety, you should avoid certain situations where possible, or gently get your dog used to them. So, if your dog was fearful of other dogs, for example, you could gradually socialize them with the pets of your friends and family.
And as we have discussed on this site, there is more you can do. Check out our tips on helping your dog to de-stress for some other useful ideas.
Anxiety isn't a pleasant feeling – you probably understand that for yourself. So, keep an eye on your dog. Be vigilant to the signs of anxiety that might surface, and take action to protect your pup from mental harm. He will be happy that you cared for him, and you will be happy when you see him back to his usual self again.