Here Comes the Body (A Catering Hall Mystery)
by Maria DiRico
Here Comes the Body (A Catering Hall Mystery)

Cozy Mystery
1st in Series
Publisher: Kensington (February 25, 2020)
Mass Market Paperback: 304 page
After her philandering husband's boat went down, newly single Mia Carina went back to Astoria, the bustling Queens neighborhood of her youth. Living with her Nonna and her oversized cat, Doorstop, she's got a whole new life—including some amateur sleuthing . . .
Mia is starting work at Belle View, her father's catering hall, a popular spot for weddings, office parties, and more—despite the planes that occasionally roar overhead on their way to LaGuardia and rattle the crystal chandelier. Soon she's planning a bachelor party for a less-than-gentlemanly groom. But it goes awry when the gigantic cake is wheeled in and a deadly surprise is revealed . . .
Since some of her family's associates are on the shady side, the NYPD wastes no time in casting suspicion on Mia's father. Now, Mia's going to have to use all her street smarts to keep him out of Rikers Island . . .
Italian recipes included!
SPANAKOPITA (Spinach Pie) Recipe
Thank you to the author for providing this recipe!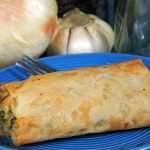 SPANAKOPITA
Ingredients
4

eggs

2

cloves

garlic

minced

1/2

tsp

kosher salt

2

shallots

chopped

2

bunches

green onions

chopped

10

oz

crumbled feta

I like to use Trader Joe's Fat Free Feta

16

oz

frozen spinach

thawed and drained*

8

oz

phyllo dough

thawed, sheets that are approx. 9'' x 13'' in size

1/2

cup

olive oil
Instructions
Preheat oven to 325 degrees.

Grease the bottom and sides of a 9'' x 13'' baking dish.

In a medium to large bowl, beat the eggs with the salt and garlic. 

Add the shallots and green onions.

Add the feta cheese and stir to combine.

Do the same with the spinach until all the ingredients except for the olive oil and phyllo dough have been mixed together.

Layer two sheets of phyllo dough on the bottom of the baking dish. Brush the top sheet with olive oil. Repeat until you've layered eight sheets of phyllo dough.

Spread the spinach and feta mixture evenly over the phyllo dough base.

Cover with two sheets of phyllo dough, then brush the top sheet with olive oil. Repeat until you've used up the sheets of phyllo dough.

Bake uncovered for 1 hour, or until the top of the pie is brownish gold and crisp.
Recipe Notes
*To drain the spinach, I line a strainer with paper towel, spoon the spinach into it, and press down with the back of a large spoon. Once the spinach has drained, I transfer it to the egg and feta cheese mixture.
About the author

Maria DiRico was born in Queens, New York, and raised in Queens and Westchester County. She is a first-generation Italian-American on her mother's side. On her father's side, her grandfather was a low-level Jewish mobster who disappeared in 1933 under mysterious circumstances. She also writes the award-winning, bestselling Cajun Country Mystery series under the name Ellen Byron.
Website – https://www.ellenbyron.com/catering-hall-mysteries
Facebook – https://www.facebook.com/CateringHallMysteries/
Twitter – https://twitter.com/ellenbyronla
Purchase Links – Amazon – B&N – Kobo – Google Play – IndieBound
Enter the giveaway ENDED
TOUR PARTICIPANTS
February 24
The Avid Reader – REVIEW, EXCERPT
This Is My Truth Now – AUTHOR INTERVIEW
I'm All About Books – SPOTLIGHT
February 25
Socrates Book Reviews – REVIEW
Ascroft, eh? – GUEST POST  
Gimme The Scoop Reviews – REVIEW
February 26
Reading Is My SuperPower – REVIEW
Escape With Dollycas Into A Good Book – REVIEW
Laura's Interests – SPOTLIGHT, EXCERPT
February 27
The Power of Words – REVIEW
 MJB Reviewers – REVIEW, AUTHOR INTERVIEW
Jane Reads– GUEST POST
February 28
Ruff Drafts – AUTHOR INTERVIEW
Christy's Cozy Corners – SPOTLIGHT, RECIPE
February 29
Books a Plenty Book Reviews – REVIEW
A Holland Reads – REVIEW  
March 1
StoreyBook Reviews – REVIEW
Brooke Blogs – SPOTLIGHT, RECIPE
March 2
That's What She's Reading – SPOTLIGHT, RECIPE
TBR Book Blog – REVIEW, EXCERPT
March 3
Cozy Up With Kathy – REVIEW, RECIPE
Baroness' Book Trove – REVIEW
March 4
Melina's Book Blog – REVIEW, CHARACTER GUEST POST
A Wytch's Book Review Blog – REVIEW, CHARACTER INTERVIEW
Have you signed up to be a Tour Host?
Click Here Find Details and Sign Up Today!