Get ready for epic fun and super-sonic action! Everyone's favorite hedgehog is here in the blockbuster hit SONIC THE HEDGEHOG. Because of the new social distancing during this time, the film debuted early on Digital. The film will be available on 4K Ultra HD, Blu-ray, DVD and for rental on demand or disc May 19.
Sonic the Hedgehog
Powered with incredible speed, Sonic the Hedgehog (voiced by Ben Schwartz), aka The Blue Blur, embraces his new home on Earth. That is, until he accidentally knocks out the power grid and sparks the attention of super-uncool evil genius Dr. Robotnik (Jim Carrey).
Now it's super-villain vs. super-sonic in an all-out race across the globe to stop Robotnik from using his unique power for world domination. Sonic teams up with The Donut Lord, aka Sheriff Tom Wachowski (James Marsden), to save the planet in this action-packed hit that's fun for the whole family.
U.S. Rating: PG—Action, some violence, rude humor and brief mild language
Sonic the Hedgehog Activity Book
As Sonic races his way onto your screen at home, we've got a whole book full of AWESOME activities for you and the kiddos! Download it now at and have fun!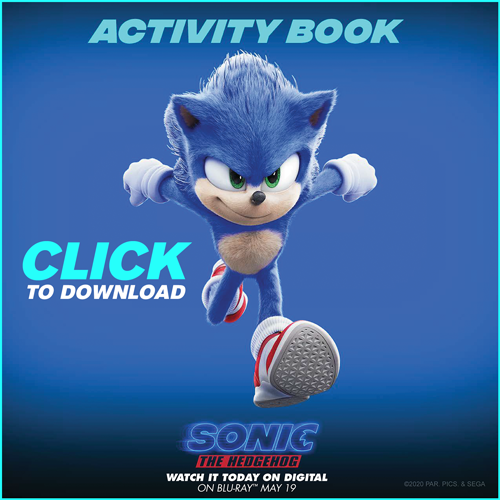 BONUS FEATURES
Commentary by director Jeff Fowler and the voice of Sonic, Ben Schwartz
Around the World in 80 Seconds—See Sonic's next adventure!
Deleted Scenes—Director Jeff Fowler introduces deleted scenes
Bloopers—Laugh along with Jim Carrey and the cast
"Speed Me Up" Music Video
For the Love of Sonic—Jim Carrey and the cast discuss what Sonic the Hedgehog means to them
Building Robotnik with Jim Carrey—See Jim Carrey bring supervillain Dr. Robotnik to life
The Blue Blur: Origins of Sonic—Explore the origins of the legendary Blue Blur
Sonic On Set—Visit the set with the voice of Sonic, Ben Schwartz
Review
SONIC THE HEDGEHOG is such a fun family film! Back when my son was little, he wanted all of the old video game systems. Thankfully, people were buying new systems, so they were selling old ones at yard sales. Then the Sonic playing commenced! Sonic's been popular for so long that I'm sure everyone is familiar with the super fast hedgehog and has fond memories surrounding him. In the bonus features, the cast also talk about what Sonic means to them. That love of Sonic unites us all, doesn't it?
This isn't just a movie for kids. It's got lots of laugh out loud moments as well as sweet, heartwarming moments. I think James Marsden, Tom, is an underrated actor. I've loved everything I've seen him in…especially 27 Dresses and Enchanted. He's so good in SONIC THE HEDGEHOG. It can't be easy acting with a blue hedgehog…oh wait. He's not a real hedgehog; he's an alien hedgehog too! You can find out more about the Origins of Sonic in the bonus features.
I love Crazy Carl who's been insisting there's a "blue devil" in town. Be sure to watch the deleted scenes because you'll see more of Crazy Carl.  Tom's sister-in-law, Rachel, is another great side character. Though she's only got a small part, she's hilarious.
I really think you'll enjoy SONIC THE HEDGEHOG. It's great fun!
Sonic on social media and for sale!
www.SonicTheHedgehogMovie.com
Facebook: http://www.facebook.com/sonicmovie
Twitter: http://twitter.com/SonicMovie
Instagram: https://www.instagram.com/sonicmovie/
Amazon: http://paramnt.us/GetSonicTheHedgehogBlu-ray
Apple TV: http://paramnt.us/WatchSonicTheHedgehogAppleTV