Welcome to the Great Escapes Virtual Book Tour for Fireworks, A Firecracker & Foul Play by D.E. Haggerty. Stop by each blog on the tour for interviews, spotlights, reviews and more! 
Fireworks, A Firecracker & Foul Play (Death by Cupcake)

by D.E. Haggerty
This post contains affiliate links. If you make a purchase, I may receive compensation at no cost to you.
Fireworks, A Firecracker & Foul Play
Cozy Mystery
5th in Series
Independently Published
Number of Pages: approximately 200 (including recipes)
How do you plan the perfect July 4th wedding with the groom in jail for murder?
Anna is not about to find out. And no way is she getting married in the jail house. Not happening. Instead, she's off to uncover the actual murderer, because there's no way her fiancé Logan would hurt anyone. Yeah, sure, he looks kind of intimidating, but he's a cop. He fights crime. He doesn't commit it!
Will the gals of Callie's Cakes solve the mystery before Anna's wedding is ruined?
Cupcakes not included, although recipes for all the delicious cupcakes Anna bakes are.
Character Interview
What is your full name?
Anna Moore, soon-to-be Anna Allen.
How did you and Callie become friends?
The other kids were teasing me about my pink hair on the first day of junior high. Callie told me my hair was cute and offered me a cupcake. We've been best friends ever since.
What is your favorite cupcake to bake?
I love to bake really extravagant cupcakes. Whatever cupcake matches the current season. At the moment, I'm loving Triple Chocolate, Double Graham Smores Cupcakes. Yeah, they are a ton of work, but any day I get to use the chef's torch is a good day in my book.
And which is your favorite to eat?
I do love a red velvet cupcake. I have a thing for cream cheese. Plus, I can whip up a batch in no time.
How did you meet your fiance?
He snuck into my house and I threw a Pillsbury dough boy at him. He scared the bejesus out of me. Trust me, it's a long story.
Is your wedding themed around Independence Day?
Not really, but I couldn't resist the chance to dye my hair red, white and blue. Who could?
Thanks for answering our questions! I'm sure you'll get your fiance's name cleared in time for the wedding!
About D.E. Haggerty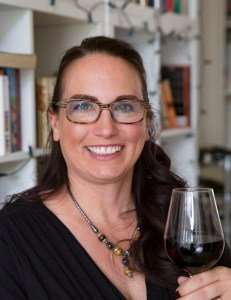 D.E. Haggerty is actually just plain old Dena, but she thinks using initials makes her sound sophisticated and maybe even grown up. She was born and raised in the U.S. but considers herself a Dutchie and not only because it sounds way cooler. After a stint in the U.S. Army, she escaped the US to join her husband in Holland. She fled Holland over ten years ago when she couldn't stand the idea of being a lawyer for one single second more. Turns out Bed & Breakfast owner in Germany didn't do it for her either. When the hubby got a job in Istanbul, she jumped ship and decided to give this whole writer thing a go. She's now back in Holland, which she considers home. Sorry, Mom.
Author links
Website: http://dehaggerty.wordpress.com
Blog: https://dehaggerty.wordpress.com/category/mymusings/
Facebook: https://www.facebook.com/dehaggerty
Twitter: https://twitter.com/dehaggerty
Instagram: https://www.instagram.com/dehaggerty/
Goodreads: https://www.goodreads.com/author/show/7210211.D_E_Haggerty
Amazon author page: http://www.amazon.com/D.E.-Haggerty/e/B00ECQBURU/
Newsletter signup: https://mailchi.mp/027b2768aa1c/newsletter-sign-up-for-a-writers-life-by-de-haggerty
Pinterest: http://www.pinterest.com/denahaggerty/
Bookbub author page: https://www.bookbub.com/profile/d-e-haggerty
LinkedIn: https://www.linkedin.com/in/d-e-haggerty-4b49a29/
Purchase Links
Enter the giveaway ENDED
TOUR PARTICIPANTS
May 6
My Journey- The Journey Back – CHARACTER GUEST POST  
May 7
I'm All About Books – SPOTLIGHT
Mysteries with Character – GUEST POST
May 8
Literary Gold – CHARACTER GUEST POST
May 9
Gimme The Scoop Reviews – SPOTLIGHT
May 10
Mystery Thrillers and Romantic Suspense Reviews – SPOTLIGHT
May 10
StoreyBook Reviews – REVIEW
May 11
Hearts & Scribbles – SPOTLIGHT
May 12
eBook Addicts – SPOTLIGHT
May 13
Ascroft, eh? – AUTHOR INTERVIEW
May 14
My Reading Journeys – REVIEW
Brooke Blogs – SPOTLIGHT
May 15
Books a Plenty Book Reviews – REVIEW
May 16
Christy's Cozy Corners – CHARACTER INTERVIEW
May 17
Escape With Dollycas Into A Good Book Tour – AUTHOR INTERVIEW  
May 18
Diane Reviews Books – GUEST POST
Celticlady's Reviews – SPOTLIGHT
May 19
Ruff Drafts – SPOTLIGHT
Have you signed up to be a Tour Host?
Click Here Find Details and Sign Up Today!