Welcome to the Great Escapes Virtual Book Tour for Nearly Departed (An Eve Appel Mystery) by Lesley A Diehl. Stop by each blog on the tour for interviews, spotlights, reviews and more!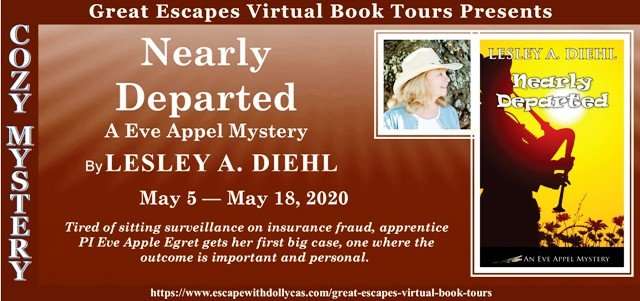 Nearly Departed (An Eve Appel Mystery)

by Lesley A. Diehl
This post contains affiliate links. If you make a purchase, I may receive compensation at no cost to you.
Nearly Departed (An Eve Appel Mystery)
Cozy Mystery
7th in Series
Publisher: Epicenter Press (January 14, 2020)
Print Length: 180 pages
Tired of sitting surveillance on insurance fraud, apprentice PI Eve Applel Egret gets her first big case, one where the outcome is important and personal. Eve's best friend Madeleine has few relatives, so her Uncle Shamus is special, but someone is determined to kill him and has tried several times. Eve is certain she can identify who is after him, but this time she may have taken on more than even our self-confident Eve can handle.
Coping with a growing toddler and a teenager, devoting time to the consignment shop and finding someone who can go undercover in a sexual harassment case all vie for Eve's attention. Eve knows she cannot fail Madeleine. This is more than her favorite uncle's life. His death would mean devastating loss for Madeleine and call into question Eve's commitment as a friend and her ability as a PI.
Character Interview
What is your full name?
My name is Eve Appel Egret.
Can you tell us about your family?
I am married to Sammy Egret, a member of the Miccosukee Tribe of Florida. We adopted three boys, orphaned when they lost their parents, and there is our daughter, Nettie, our biological child. I was raised by my grandmother (everyone calls her Grandy) because my parents drowned in a boating accident when I was in elementary school. My best friend and business partner is Madeleine Boudreau Wilson. She and I are as close as sisters, having known each other since sixth grade so I consider her, her children and husband as family also.
Madeleine and I moved from Connecticut to rural Florida to open a consignment shop which has been successful, but since its opening I have branched out and am apprenticing as a PI. My friends and family are supportive of my investigating work because they know what a snoopy gal I am, and they think learning the kills necessary for professional work may keep me out of trouble. They're probably wrong because trouble seems to find me whatever I do. It's lucky I have people who love me and are willing to help me out when I get into a pickle.
How did you meet your best friend?
When Madeleine moved into town in the sixth grade, the bullies in the class liked to pick on her because she was such a tiny thing. Because of her size and her carrot top of unruly red hair, they called her "Shrimp" and teased her. I could have stepped in to defend her, but I thought it was important she learned how to take care of herself, so I told her to throw a punch at the next boy who bothered her. She did, trying to hit him in his face, but because she was so short, her blow landed below the belt. Need I say more? No one tormented her after that.
And Madeleine, because she had a way with words that I did not, interceded for me, on one occasion making up a grand story that my new hairdo (the result of my dumping a bottle of peroxide on my hair and cutting it with nail scissors one day when I got mad) came from a salon in New York City, the work of a famous hair dresser. So no harassment from the girls. Instead out of jealousy, they tried to emulate my look. I still have the hairdo. No one can carry off a spiky, gelled do like Eve Appel!
You've got a lot on your plate! Can you tell us how you juggle being a wife, mom, business owner, and PI?
Juggle is the right word. You'd think I would have gotten better organized over the years. Although I have learned to stop and think before I impulsively take off after the bad guys (and gals), my life is still a jumble of adventures from trying to wrangle an impetuous daughter who is wise beyond her years but as reckless as I to taking down a killer in the swamps with only my stiletto heels as a weapon, I'm clever and can ferret out clues better than many, but I still forget that even a sassy gal detective may need the help of a friend in some criminal matters. I have several friends who are willing to partner with me including my police detective friend, Frida Martinez, my grandmother from whom I inherited my curious nature and Nappi Napolitani, a suave, sophisticated fellow whom we all believe to be "connected."
When you do get time to relax, what do you like to do?
I eat, sing karaoke with Frida and Madeleine at a local cowboy bar and restaurant, but who has time for relaxation with everything I'm involved in?
Thanks for sharing a bit of your life with us! One final question, and it may be the most important…what is your favorite dessert?
Oh that's easy, and you're right, it is important. Anything chocolate—ice cream mousse, pie, cake, a candy bar, or dark chocolate candy. Grandy warns me that someday all my eating will catch up with me. As long as I keep moving, I don't think that will happen.
About Lesley A. Diehl
Cows, Lesley learned as a child growing up on a farm, have a twisted sense of humor. They chased her when she went to the field to herd them in for milking, and one ate the lovely red mitten her grandmother knitted for her. Determining that agriculture wasn't her career path, she took a job as a stripper, book cover stripper for a publishing company, that is.
Now after many years as a college professor and university administrator, she has returned to the world of books and uses her country roots and her training to concoct stories designed to make people laugh in the face of murder. "A good chuckle," says Lesley," keeps us emotionally well-oiled long into our old age."
Author Links
Website – www.lesleyadiehl.com
Blog – www.lesleyadiehl.com/blog
Facebook – www.facebook.com/lesley.diehl.1
Facebook Author Page – www.facebook.com/Lesley-A-Diehl522270901254754
GoodReads – www.goodreads.com/3414925.Lesley_A_Diehl
Purchase
Enter the giveaway ENDED
Nearly Departed Tour Participants
May 5
Cassidy's Bookshelves – REVIEW
May 6
I'm Into Books – SPOTLIGHT
StoreyBook Reviews – CHARACTER GUEST POST
May 7
Brooke Blogs – SPOTLIGHT
Christy's Cozy Corners – CHARACTER INTERVIEW
May 8
Baroness' Book Trove – SPOTLIGHT
May 9
MJB Reviewers – SPOTLIGHT
May 10
eBook Addicts – SPOTLIGHT
May 11
Literary Gold – CHARACTER GUEST POST
The Pulp and Mystery Shelf – AUTHOR INTERVIEW
May 12
Mysteries with Character – AUTHOR INTERVIEW
May 13
My Reading Journeys – REVIEW
May 14
Ascroft, eh? – AUTHOR INTERVIEW
May 15
My Journey Back – CHARACTER GUEST POST
May 16
FUONLYKNEW – SPOTLIGHT
May 17
Diane Reviews Books – GUEST POST
Because I said so — and other adventures in Parenting – REVIEW
May 18
Escape With Dollycas Into A Good Book – GUEST POST
Have you signed up to be a Tour Host?
Click Here Find Details and Sign Up Today!