I'm a fan of creepy things. That's not to say that I'll watch all horror; I'm picky! I don't like the type of horror that uses gory stuff for shock value. I'd rather watch a psychological horror, and that's what films and TV shows based on Stephen King novels almost always are. I haven't watched them all, so I can't say for sure! The Outsider on HBO is based on the Stephen King novel by the same name, and it's available to own now!
I received this Blu-ray free to review; however, all opinions are my own. This post contains affiliate links. If you make a purchase, I may receive compensation at no cost to you.
The Outsider is a new drama series that follows a seemingly straightforward investigation into the gruesome murder of a local boy.
When 11-year-old Frankie Peterson's body is found mutilated in the Georgia woods, police detective Ralph Anderson (Ben Mendelsohn) sets out to investigate – with eyewitnesses and physical evidence pointing to Terry Maitland (Jason Bateman), a popular high school teacher, Little League coach, doting husband and father.
While the case appears ironclad, Ralph is baffled by the emergence of contradictory evidence that places his suspect in a neighboring city at the time of the murder. The mysterious set of circumstances surrounding this horrifying crime leads Ralph, a seasoned cop still grieving the recent death of his own son, to bring in unorthodox private investigator Holly Gibney (Cynthia Erivo), whose uncanny abilities he hopes will help explain the unexplainable.
"The Outsider is not just for Stephen King fans, as there is something for everyone in this captivating series," said Rosemary Markson, WBHE Senior Vice President, Television Marketing. "HBO's most watched new series in the last three years has mesmerized audiences through its incredibly talented actors, thrilling plot twists, and true to life themes of grief and trauma, which will keep you glued to the screen until its electrifying climax."
My thoughts on The Outsider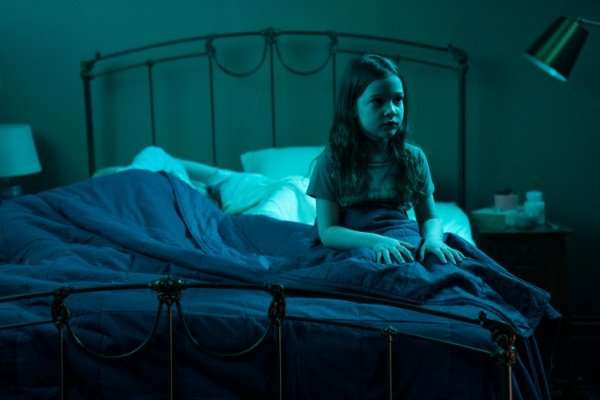 Full-disclosure: I still have either 3 or 4 episodes to watch, so I'm not sure if I will love the end or not! But I usually do. Also, I don't believe that this ends on a cliffhanger, but I'm not positive. If you've watched Castle Rock, which is inspired by Stephen King books, you'll know that each season has a conclusion that ends that particular story.
Anyway, back to our regularly scheduled program….
I am loving The Outsider, but my boyfriend thinks it moves too slowly. He likes the story but not the pacing of it. I think it's fine, but then again, I watch a lot of this type of program. There's a slow build, and you've got to pay attention to the subtleties in the characters' personalities. So, there isn't a lot of action in The Outsider, but a lot of weird, unexplainable things happen.
Like in any Stephen King novel, there are some characters that are a little odd and some that are bizarre. The actors playing these characters are so believable!
I really like trying to figure out what supernatural thing is happening, but I was very wrong at the beginning. They still haven't quite explained everything that's going on (remember, I'm not done yet), but what they have revealed is so creepy.
I definitely recommend The Outsider, but remember…it's not for kids! (As if you didn't know….)
Bonus features
EL CUCO. THE BABA YAGA. THE OUTSIDER – All New Featurette
Invitation to Set
Stephen King and The Outsider
Jason Bateman and The Outsider
Adapting The Outsider
Analyzing Holly Gibney
The Outsider: Inside Episodes 1-10
Ten one hour episodes
Fish in a Barrel
Roanoke
Dark Uncle
Que Viene el Coco
Tear-Drinker
The One About

The

Yiddish

Vampire

In the Pines, In the Pine

s

Fox

h

ead

Tigers and Bears
Must/Can't