Welcome to the Great Escapes Virtual Book Tour for Three Treats Too Many (A Sarah Blair Mystery) by Debra H. Goldstein.  Stop by each blog on the tour for interviews, spotlights, reviews and more!
When a romantic rival opens a competing restaurant in small-town Wheaton, Alabama, Sarah Blair discovers murder is the specialty of the house . . .
Three Treats Too Many (A Sarah Blair Mystery)
by Debra H. Goldstein
This post contains affiliate links. If you make a purchase, I may receive compensation at no cost to you.
Three Treats Too Many (A Sarah Blair Mystery)
Cozy Mystery
3rd in Series
Publisher: Kensington (August 25, 2020)
Mass Market Paperback: 304 pages
For someone whose greatest culinary skill is ordering takeout, Sarah never expected to be co-owner of a restaurant. Even her Siamese cat, RahRah, seems to be looking at her differently. But while Sarah and her twin sister, Chef Emily, are tangled up in red tape waiting for the building inspector to get around to them, an attention-stealing new establishment—run by none other than Sarah's late ex-husband's mistress, Jane—is having its grand opening across the street.
Jane's new sous chef, Riley Miller, is the talk of Wheaton with her delicious vegan specialties. When Riley is found dead outside the restaurant with Sarah's friend, Jacob, kneeling over her, the former line cook—whose infatuation with Riley was no secret—becomes the prime suspect. Now Sarah must turn up the heat on the real culprit, who has no reservations about committing cold-blooded murder . . .
Includes quick and easy recipes!
Character guest post
Fluffy – Second Fiddle in the Sarah Blair Mystery Series by Debra H. Goldstein
My name is Fluffy. I prefer being a second fiddle, but in Three Treats Too Many, the third book in the Sarah Blair mystery series, I sort of come into my own. Don't get me wrong, I have a few moments that I'm highlighted, but RahRah, Sarah's Siamese cat, rules the roost.
I think I enjoy being a secondary character because I spent a good part of my life hiding in yards and scrounging for food. It took me a long time to trust Mr. Rogers, Sarah's former neighbor and the man who kept putting out food and water for me. I was too scared he might hurt me to get near to him, but he was very patient with me.
Ironically, it took something happening to him to make me forget about myself and run to check on him. Do you know what he did as I licked his face? He gently cuddled me and made me feel safe. Here I was trying to take care of him, and he turned the tables on me.
While I lived with him, he treated me well. But the day he couldn't take care of me anymore, I panicked. I was frightened what might happen to me. I'd gotten used to being loved.
Happily, Mr. Rogers' friend, Maybelle, convinced her daughter, Sarah, to take me in. Sarah already had RahRah, but Sarah opened her house and heart to me.
Though RahRah immediately let me know who was the boss, he's proved to be an okay guy. If I stay in my place, we don't have any problem with each other. It's okay with me, because playing second fiddle to RahRah still means I get lots of love and attention from Sarah. What more could I want?
About Debra H. Goldstein
Judge Debra H. Goldstein writes Kensington's Sarah Blair mystery series (One Taste Too Many, Two Bites Too Many, Three Treats Too Many). She also wrote Should Have Played Poker and IPPY winning Maze in Blue. Her short stories, including Anthony and Agatha nominated The Night They Burned Ms. Dixie's Place and Derringer Finalist Pig Lickin' Good, have appeared in numerous publications. Debra serves on the national boards of SinC and MWA and is president of SEMWA.
Author Links
Purchase Links – Amazon – B&N – Google Play
Enter the giveaway ENDED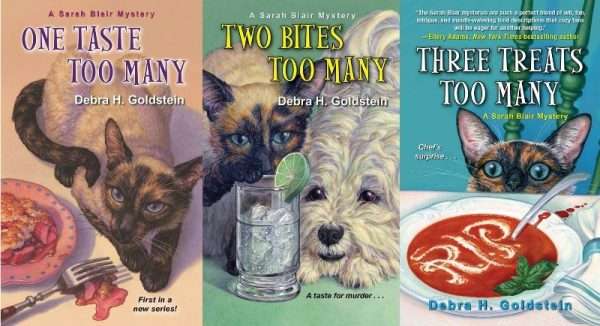 Three Treats Too Many Tour Participants
August 18
I'm All About Books – SPOTLIGHT
The Pulp and Mystery Shelf – GUEST POST
August 19
Maureen's Musings – SPOTLIGHT
Socrates Book Reviews – SPOTLIGHT
August 20
Celticlady's Reviews – SPOTLIGHT, RECIPE
FUONLYKNEW – SPOTLIGHT
August 21
Reading, Writing & Stitch-Metic – SPOTLIGHT
August 22
Mystery Thrillers and Romantic Suspense Reviews – SPOTLIGHT
Books a Plenty Book Reviews – REVIEW, GUEST POST
August 23
Christy's Cozy Corners – CHARACTER GUEST POST
Baroness' Book Trove – REVIEW
August 24
Gimme The Scoop Reviews – SPOTLIGHT, RECIPE
August 25
Cozy Up With Kathy – REVIEW, CHARACTER GUEST POST
Sneaky The Library Cat's Blog – CHARACTER INTERVIEW
August 26
Island Confidential – SPOTLIGHT
My Journey Back – CHARACTER GUEST POST
August 27
Mysteries with Character – REVIEW
Readeropolis – SPOTLIGHT
August 28
Elizabeth McKenna – Author – SPOTLIGHT
August 29
Diane Reviews Books – REVIEW
August 30
Brooke Blogs – REVIEW
August 31
Literary Gold – SPOTLIGHT
My Reading Journeys – REVIEW
Have you signed up to be a Tour Host?
Click Here Find Details and Sign Up Today!