Welcome to the Great Escapes Virtual Book Tour for Dog-Gone Dead: A Low Country Dog Walker Mystery by Jackie Layton. Stop by each blog on the tour for interviews, guest posts, spotlights, reviews and more!
Who'd have thought mulch could cause such a stink?
Dog-Gone Dead: A Low Country Dog Walker Mystery
by Jackie Layton
This post contains affiliate links. If you make a purchase, I may receive compensation at no cost to you.
Dog-Gone Dead: A Low Country Dog Walker Mystery
Cozy Mystery
2nd in Series
Publisher: Bell Bridge Books (June 26, 2020)
Paperback: 248 pages
Low Country dog walker Andi Grace Scott is happy to score some free mulch from one of her brother's landscaping jobs—until she discovers the dead body buried beneath the bark.
Worse, her brother's landscaping tools were used to commit the murder. Once the police arrest her brother and seem happy to have "caught their man," Andi Grace has no choice but to track down the real killer. She'll risk everything to prove her brother's innocence. Even if it means turning over every rock in town.
If you love small-town coastal life, dogs, and strong heroines, you'll love Dog-Gone Dead.
Character guest post
I'm Andi Grace Scott, and I live in the Low Country of South Carolina. What exactly is the Low Country? Or is it lowcountry? Which is correct? It turns out, both are right. Another confusing thing is the exact geographical area. Generally it's acceptable to say from Beaufort up to Pawleys Island makes up the low country.
The low country is more of a feel than just geography. There are marshes, alligators, beaches, the Atlantic Ocean, dunes, sea grass, crabs, boats, fishermen, piers, haint blue porch ceilings, oak trees with Spanish moss, plantations, and beach bungalows. You can enjoy low country cuisine like shrimp boils, grits, and the freshest seafood around.
In Dog-Gone Dead, I'm pulled into solving another murder when my brother is accused of killing a local man. Besides trying to prove my brother's innocence, I'm expanding my dog walking business. I'm also working with my best friend to turn an old Southern plantation to a Bed-and-Breakfast. Juliet thrives on creating new recipes, decorating rooms to make them cozy and inviting, and welcoming guests to the B&B.
I'd like to share the recipe for cheesy grits Juliet uses:
Cheesy Grits Recipe
3 & 1/4 cups whole milk
1 cup quick cooking grits
½ stick of butter
¼ cup grated cheddar cheese
½ teaspoon salt
Pinch pepper
Bring milk to a boil over medium heat. Add grits, salt, butter and pepper. Stir until grits are tender. Remove from heat and add cheese. Serve hot and enjoy.
Optional add bacon or green chilies.
About Jackie Layton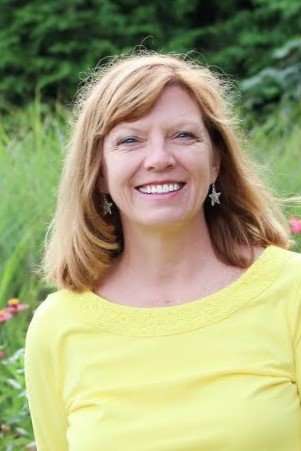 Former Kentucky pharmacist Jackie Layton loves her new life on the coast of South Carolina. Jackie always dreamed of living near a beach but never thought she'd truly end up just a golf cart ride away from the nearest beach in the Low Country. Despite two injuries on beach vacations and dealing with two hurricanes, Jackie and her husband love beach life.
Jackie inherited full ownership of her son's dog Heinz when Scott started college. Heinz is fourteen now and spends his days hanging out with Jackie while she writes. At fourteen, he still has plenty of spunk and keeps watch for strangers. Heinz also makes sure Jackie gets fresh air and exercise throughout the day.
Heinz's sister Chole lives with Jackie's oldest son Bill and his family. Heinz and Chole make brief appearances in A Low Country Dog Walker Mystery series.
Jackie can often be found on social media, and she enjoys connecting with her readers.
Author Links
Blog: https://jackielaytoncozyauthor.com/
Twitter: @Joyfuljel
Website: https://bit.ly/2WOPe42
Facebook: https://www.facebook.com/JackieLaytonAuthor
Pinterest: https://www.pinterest.com/jackielaytonauthor/
Instagram: https://www.instagram.com/jackielaytonauthor
Amazon: https://amzn.to/3gIC1RI
BookBub: https://www.bookbub.com/profile/jackie-layton
Purchase Links – Amazon – Kobo – Barnes & Noble – Google – Apple
Enter the giveaway ENDED
Dog-Gone Dead Tour Participants
September 2
I'm All About Books – SPOTLIGHT
Reading, Writing & Stitch-Metic – GUEST POST
September 3
Jane Reads – GUEST POST
Ascroft, eh? – CHARACTER INTERVIEW
September 4
Sneaky the Library Cat's blog – CHARACTER INTERVIEW
Cassidy's Bookshelves – CHARACTER GUEST POST
September 5
FUONLYKNEW – SPOTLIGHT
Reading Is My SuperPower – REVIEW
September 6
eBook Addicts – SPOTLIGHT
T's Stuff – SPOTLIGHT
September 7
Hearts & Scribbles – SPOTLIGHT
September 8
Mysteries with Character  – AUTHOR INTERVIEW
I Read What You Write – CHARACTER GUEST POST
September 9
The Pulp and Mystery Shelf – AUTHOR INTERVIEW
My Reading Journeys – REVIEW
September 10
The Avid Reader – REVIEW
Angel's Guilty Pleasures – SPOTLIGHT
September 11
Brooke Blogs – GUEST POST
Literary Gold – SPOTLIGHT
September 12
The Book Decoder – REVIEW
Christy's Cozy Corners – CHARACTER GUEST POST
September 13
Mystery Thrillers and Romantic Suspense Reviews – SPOTLIGHT
September 14
Here's How It Happened – SPOTLIGHT
Socrates Book Reviews – SPOTLIGHT
September 15
Celticlady's Reviews – SPOTLIGHT
Cozy Up With Kathy – AUTHOR INTERVIEW
Have you signed up to be a Tour Host?
Click Here Find Details and Sign Up Today!